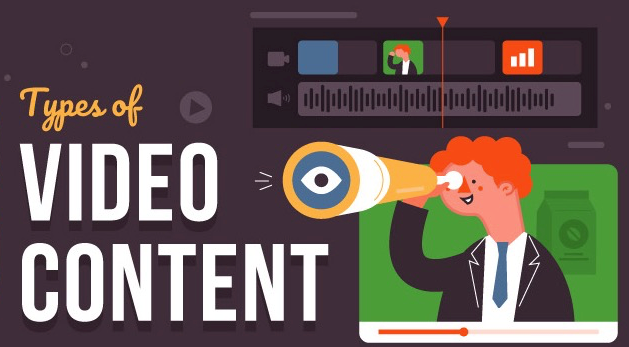 Every brand needs a marketing strategy to promote the business. In this case, a content marketing campaign is ideal for this purpose as it helps brands achieve their goals seamlessly. Videos are one of the best options to go when it comes to running a campaign.
The reason is that videos are much more appealing than other types of content. The moving pictures and sounds are great in attracting the audience's attention at a single glance. The information conciseness is another reason why more and more people are attached to videos.
Besides, we're on the way to the post-text world in which online reading information will be out-dated soon. Thanks to the advent of social media, visual content is now very much appreciated than the other way round. This has shaped today's customers' preferences.
Choosing the right type of marketing video is a crucial step to succeed in a marketing campaign. That's because every video aims for a different purpose in the marketing funnel. Here are the top five to consider if you're looking for the perfect type of video content to improve your campaign.
1. Explainer Videos
Are you looking for the best way to represent your brand in public? Explainer videos are experts in this field. This video content includes every piece of information about your brand and delivers it in an entertaining way.
Due to its engaging content in nature, explainer videos can turn even complex data into a remarkable presentation. Not to mention how informative this video is without leaving the audience bored for a second.
Usually, explainer videos come in the form of animated video with a stellar narration to support them. This unmatched combination makes it easy for viewers to digest the crucial information. This video is your take-on when you seek educational content that expresses your brand well.
2. How-To/Tutorials
How-to or tutorials is another video content to hook your audience's attention. This video is unquestionably easy to consume as it portrays how something is made or done.
Have you ever wondered why any tutorial video gets more views than other types of content? The reason behind this data isn't rocket science. People are curious about things.
So, when there's a tutorial about making bizarre stuff, people would love to see it badly. It's no surprise that how-to videos always get one of the highest engagement rates of all.
The best thing about this kind of video is any industry can produce it for their own benefit. You can definitely use tutorials to succeed in your campaign.
3. Product Demo Videos
When you've retained the audience's interest, it's time to influence them further with content in the decision stage. Product demo videos are simply content about your product or service that you sell. The videos include detailed information such as features, benefits, and functions.
Interested viewers will take your video seriously and use it as the main source of their decision. If your video serves the most wanted information, it's more likely to get higher conversion in the end.
However, if you ignore the importance of providing a well-serving product video, you'll miss out on the opportunity. Product videos are one of the reasons why people decide to purchase from you.
4. Testimonial Videos
A great way to convince the target audience is by persuading with customers' proof on your side. In this case, you can use testimonial videos to level-up your campaign game as they serve as social proof about your brand.
The beauty of this video is that your own existing customers do all the talking. They can brag about your product and how it helps them in their way. With how enthusiastic customers talk about your brand, they can easily influence other people to join their bandwagon.
After all, that's how a community works. People listen to each other. They can trust what the others say simply because of the latter talk in their perspective. Testimonial videos aren't about the brand anymore, not technically.
5. Culture Videos
Another type of video that you can use to persuade more people is company culture videos.
Company culture videos (also called cultures) heavily showcase your brand in a more personal approach. You get to present how your company looks like, how everything works behind the curtain. For example, you can incorporate the production process to demonstrate how serious you're in the business.
Some other strategies are to show the work ethic in your company to impress potential customers and business partners, as well. This video is excellent when you aim for a segmented market as it presents your brand in a more smooth, professional way.

Takeaway
Having the right video content in your marketing campaign can help you achieve the goals much more effectively. However, failing to select the video type will only hinder you from success.
Therefore, it's important to know your purpose before deciding to use any content. For example, if you aim to raise awareness, you need to consider using how-to/tutorial videos in the campaign.
On the other hand, implementing testimonials is excellent to convince the audience to take immediate action. The past customers' review is another way of persuading potential clients based on their perspective. This video will influence others to consider your brand right away.