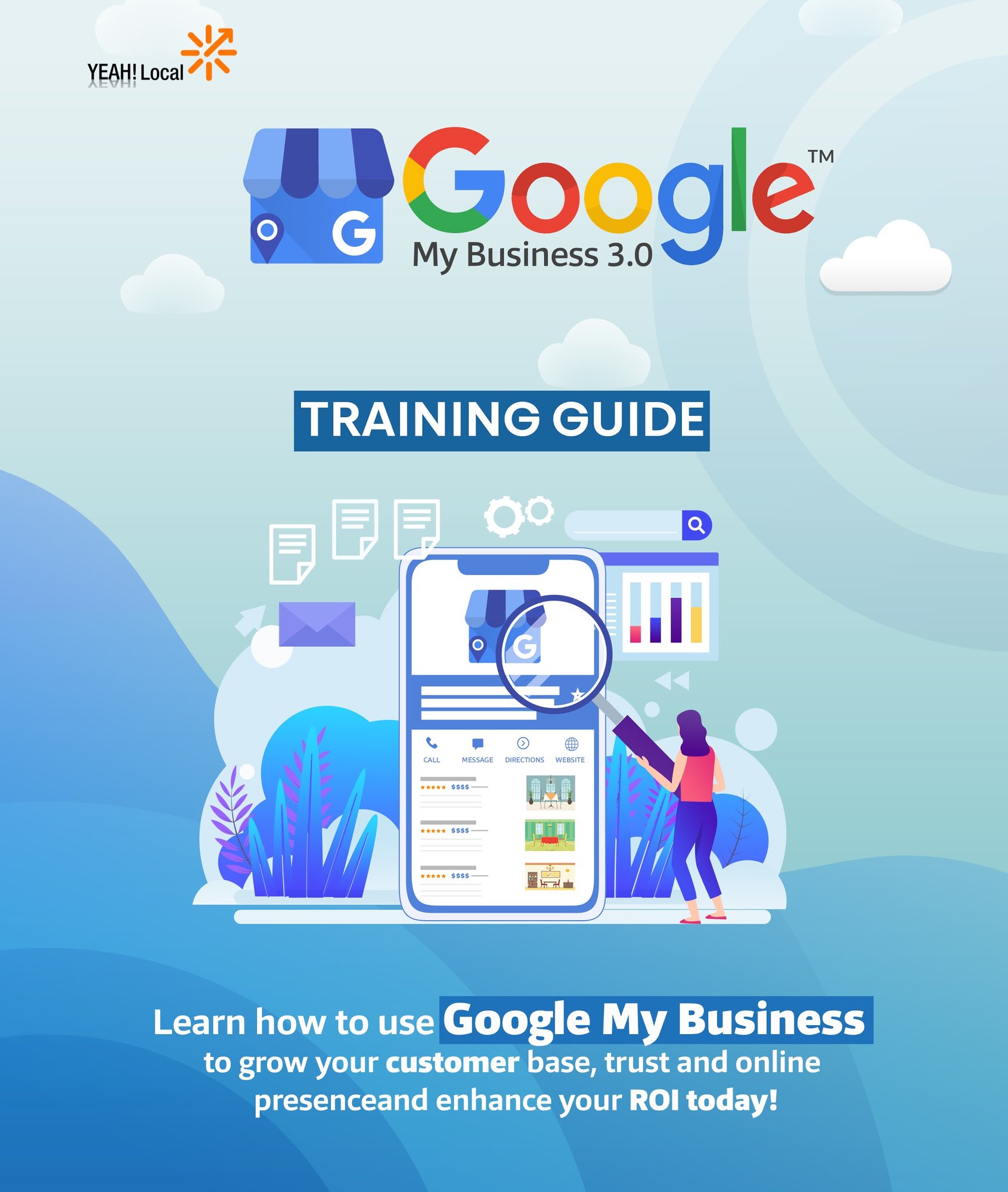 Introduction to Google My Business
Google My Business results have become a big part of the online presence of brick and mortar businesses. If someone searches for "electrician near me" or "electrician + LOCATION," they do not want to explore websites. They want to find an electrician.
Google understands this and has started showing real businesses at the top of their search results.
Our complete guide to Google My Business will show you how to master the platform and get the best results for your business. We will show you how to create your Google My Business account, list your business, optimize your listing, and more.
Bonus Material: FREE Google My Business Checklist
This step-by-step guide will help you understand Google My Business inside and out so that you can improve your Google Map rankings, communicate with customers, control your online presence, and generate more leads.
Happy Learning!
What Is Google My Business?
Google My Business (GMB) is a free tool which allows business owners to manage how their business appears on Google Search and Google Maps.
When prospective customers or clients perform a Google search, they will see a map and a list of three local listings which are typically nearby and relevant to their query. This is called the Local 3 Pack and is the Google My Business profile of each business.
You can see how much information your customers can Justinnd about your business almost immediately. They have the option to choose your business or 2 others. They also have enough information to make a purchasing decision.
The main information a business owner can showcase includes the business name, category, address, hours, phone, website, appointments, reviews, photos, videos, questions and answers, products, services, business description. Other information can be available for other industries such as hotels and restaurants which may have additional options.
Below is a Knowledge Panel which relays all the information you can provide in your GMB profile. The more the profile is filled out, the more information the Knowledge Panel will show.

This is the Google Local 3 Pack. Most of this information is being pulled from the Google My Business listing as well. Ranking in the Local 3 Pack provides a huge boost in reputation, recognition, and sales for your business.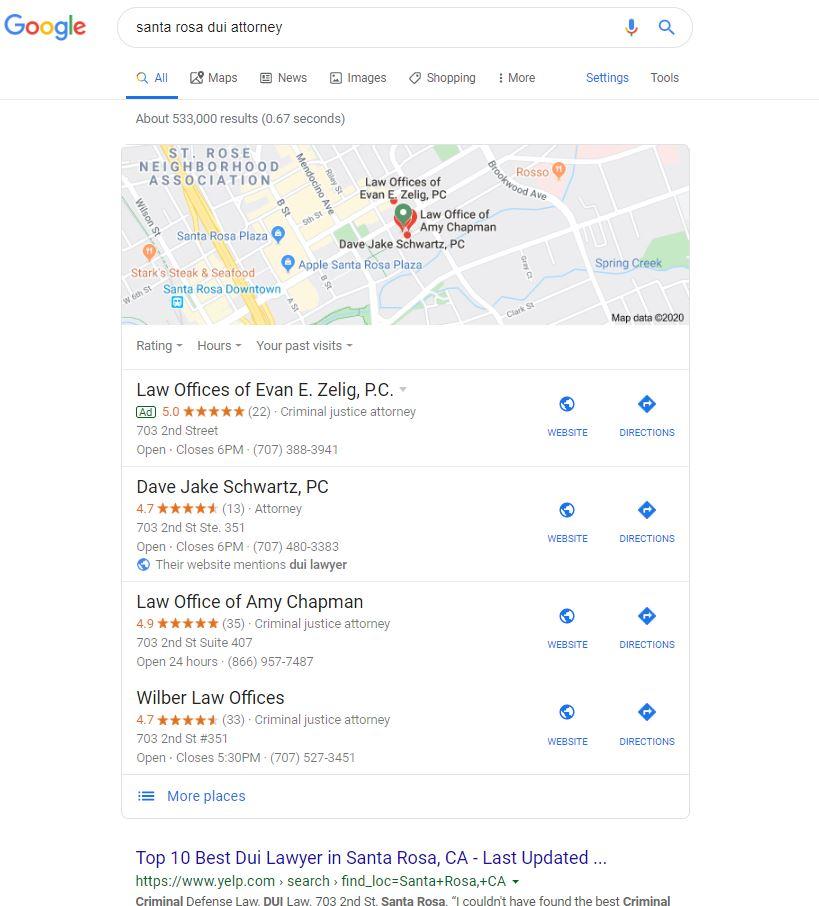 Google My Business Listings Top Local Search Results
A local search phrase includes keywords like "near me," or a specific location like a city, district, or address. For local searches, Google no longer gives websites the prime real estate. Right beneath the ads, at the top, you do not see the top SERPs. You see the top local business listings. And that is a big deal.
Local searches have become a qualified step in the buyer's journey. Most of the time, consumers that look for more product information on their phone end with a local Google search.
A whopping 82% of smartphone shoppers make a "near me" or local search before deciding on a business. You do not want to miss out on more than 8 out of 10 potential customers.
Together with Google Ads for local businesses, this helps you cash in on local searches. And that is not the only benefit.
Knowledge Panel for Branded Searches
With a Google My Business listing, a "knowledge panel" for your business will show up on the right side of the search results for branded or relevant searches.
You can see the same summary of your business available on Google Maps. Your address, average rating, business hours, directions, and some general business information.
If competitors are running ads against your business name, the knowledge panel can be a great way to grab the attention of potential customers instantly. The panel helps draw their attention away from Google ads directly below the search bar to your business.
Features of Google My Business
What does Google My Business offer business owners?
Here is a few of the most popular features:
Insights: Google's dashboard provides key customer activity and interaction, allowing businesses to learn what is working—and what is not—on their listing. In addition, it can help them understand their community better as they target new customers. How did searchers find your business? Where did they come from? How are your photos performing? Google My Business insights highlight the answers to these questions and help businesses optimize and improve over time.
Bonus Material: FREE Google My Business Checklist
Posts: Easily post custom updates and offers on your local listing, inviting customers to make return visits and engage further with your business. Updates can be made anytime from your phone, tablet, or computer for on-the-go maintenance. Not sure what to post about? Try a few ideas we know customers will love, like limited-time offers, contest promotions, and partnership announcements.
Bookings: Allow customers to schedule an appointment or book services directly from your listing with a simple click. Integrated scheduling partners help you easily organize, track, and manage your bookings in one place.
Review Management: Did you know? 91% of consumers read online reviews, and 84% of people trust reviews as much as personal recommendations from friends. Online, reviews are everything. Engage customers in two-way communications as you receive and respond to reviews.
Q&A: Respond to customers' direct questions about your business and pin frequently asked inquiries for easy viewing.
Photos: Strong visuals are crucial for good first impressions—and they are key to a more well-clicked business listing. Google My Business allows you to upload your best photos and videos to entice customers to visit you.
Accuracy Across the Web: Google is Google. It powers so much of the internet, and many third-party sites use Google for their info. Meaning, the business info you post on your Google My Business listing helps disseminate consistent and accurate info about your business across the web.
Research shows that 60% of consumers have searched for a business at least six times in the last year. So if your business checks these initial boxes, Google My Business could help you become a more accurately represented, visible, and visited business. 
Ready to set up your GMB listing? Read further to learn how to create, verify, and optimize your Google My Business listing.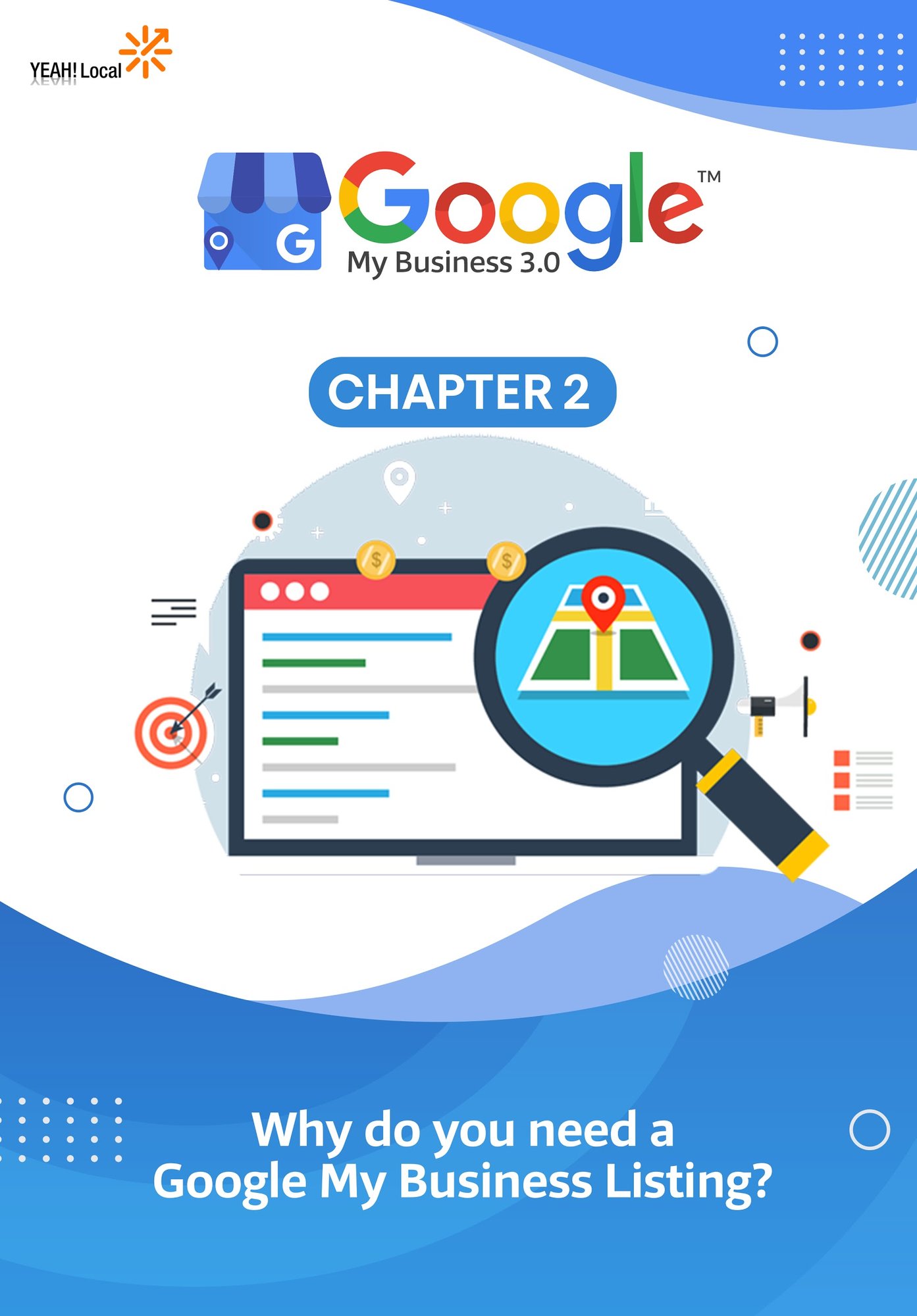 Why Do You Need a Google My Business Listing?

Thanks to today's technology, it is now faster and easier to promote your product or service. According to Search Engine Watch, 50% of the people who use mobile phones for local searches end up visiting a store.
Considering almost everyone uses a smartphone nowadays, can you imagine the potential sales you can get just through organic search and Google My Business?
Creating, verifying, and properly optimizing your Google My Business account is an invaluable opportunity, which is why you should utilize this feature to its fullest extent.
1. GMB Allows You to Appear in Maps and Local Pack Listings
Notice the highly visible map and the list of business names that appear right on top of the page whenever you search for places on Google? That is called the Local Pack, and there are two reasons why you should pay attention to it.
It is Highly Visible
The Local Pack takes up huge real estate on page one of Google search results, and it's the first thing any Google user will see after they type in their query.
It Enables Users to See the Information They Need briefly
The Local Pack is a Search Engine Results Page (SERP) which displays the places related to your search. It also includes a bunch of other relevant information that any potential customer might want access to — where it's located on the map, the business's contact number in case potential customers have additional questions or want to make a quick reservation, store hours, and even the establishment's star rating. It's a convenient feature for both the business and the customers.
According to Moz, GMB is the biggest determining factor of local pack rankings. So, if you are aiming to connect to your target audience — in this case, the people who are within your service area — verifying, updating, and optimizing your online information through Google My Business can help.
2. GMB Allows People to Leave Reviews of Your Business
One must never underestimate the power of customer reviews, especially when it comes to search rankings. Another study by Moz shows that online reviews are thought to make up 10% of how search engines rank results.
Thus, if you want your business to be visible in the search results, using GMB to make it easy for your customers to leave positive feedback about your business is a must. Here are other reasons why you need people to leave reviews.
Reviews Improve Local SEO
Many rely on reviews when making decisions about their purchases. In fact, as much as 93% of customers might be influenced by online reviews. In other words, almost all of them.
It is because these little blocks of text are testimonies of actual consumers who weren't paid by the company to promote their product or service. Thus, people feel that they are more credible, and so, many believe what they say.
More and more people are checking out customer reviews before choosing a local business. Since people love reading reviews, search engines use them to rank search results. If you can properly utilize this GMB feature, it can have a huge impact on your business.
Reviews Increase Sales
Positive reviews matter. They not only improve your search engine ranking but also serve as free and reliable ads for your products or services. For instance, customers are more confident to try out a product with many positive reviews as opposed to one with a lot of criticisms.
It is important to gain positive reviews but remember that even the best businesses get negative reviews. If this happens to you, handle them in a professional matter. Do not take these criticisms personally. Instead, use them to improve your product or service. Negative reviews, when properly utilized, can provide useful information to help your business advance.
Reviews Show What Customers Think About Your Business
Reviews provide business owners with a glimpse of how customers see your brand. They allow you to view how consumers are using your products or services, what strategies you ought to keep, what things you must change, or the areas you should improve on.
Whether they are good or bad, reviews can help you understand what your clients think. View them logically and take them into consideration.
3. GMB Provides Insights That Give You Helpful Information
GMB is a helpful tool for your business. It not only promotes your product or service; it also helps you understand the market. How is this possible?
Google My Business comes with powerful features that provide insights on important areas to assist you in creating strategies and in making decisions. This tool enables you to access statistics and insights that can help determine where your audience is coming from.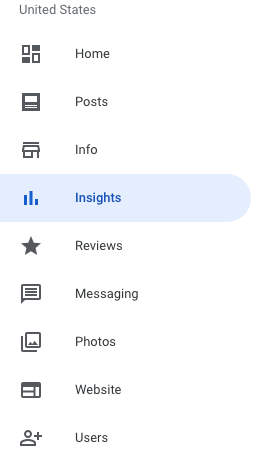 Views
GMB can show you the number of views your business profile, photos, and posts are getting. This is especially important to verify the effectiveness of your campaigns — whether they are working well and getting the attention you want or aren't doing anything for your business.
Search Queries
GMB provides a report where you can learn and understand how consumers find your business. It shows how people are searching — specifically what keywords they input — to find your listing.
Knowing what keywords are relevant to your online presence can help you significantly boost traffic. For example, you can dominate relevant long-tail keywords to seriously increase clicks to your webpages. GMB can provide this information.
Bonus Material: FREE Google My Business Checklist
Engagement
GMB can show you just how your audience is interacting with your posts. It enables you to see what posts they share and what types of comments they leave. This way, you will have an idea of the types of material that work well for your business.
Audience
GMB has a section where you can find a summary of the profile of people following you. You will be able to check out the age groups, gender, and even the countries they're from. These are all helpful when you are building a campaign.
Clicks on Website Link
GMB can also show you the number of clicks on your website link.
Quantifying the information and knowing these statistics can help you create sound strategies. If you want to improve your audience engagement, website traffic, and boost company sales, you should take some time to study the numbers.
4. It is Free and Easy to Use
No matter how helpful a product is, its potential will not be maximized if it is overly costly, impractical, and difficult to use. Fortunately, that is not the case when it comes to Google My Business.
This efficient tool is free and easy to use, so even local businesses can utilize it to promote their business. Creating and verifying your profile can be done in a matter of hours. Once that is done, you are ready to rock page one of Google. Plus, it has great tools to help you analyze performance so you can find ways to improve your business's ranking.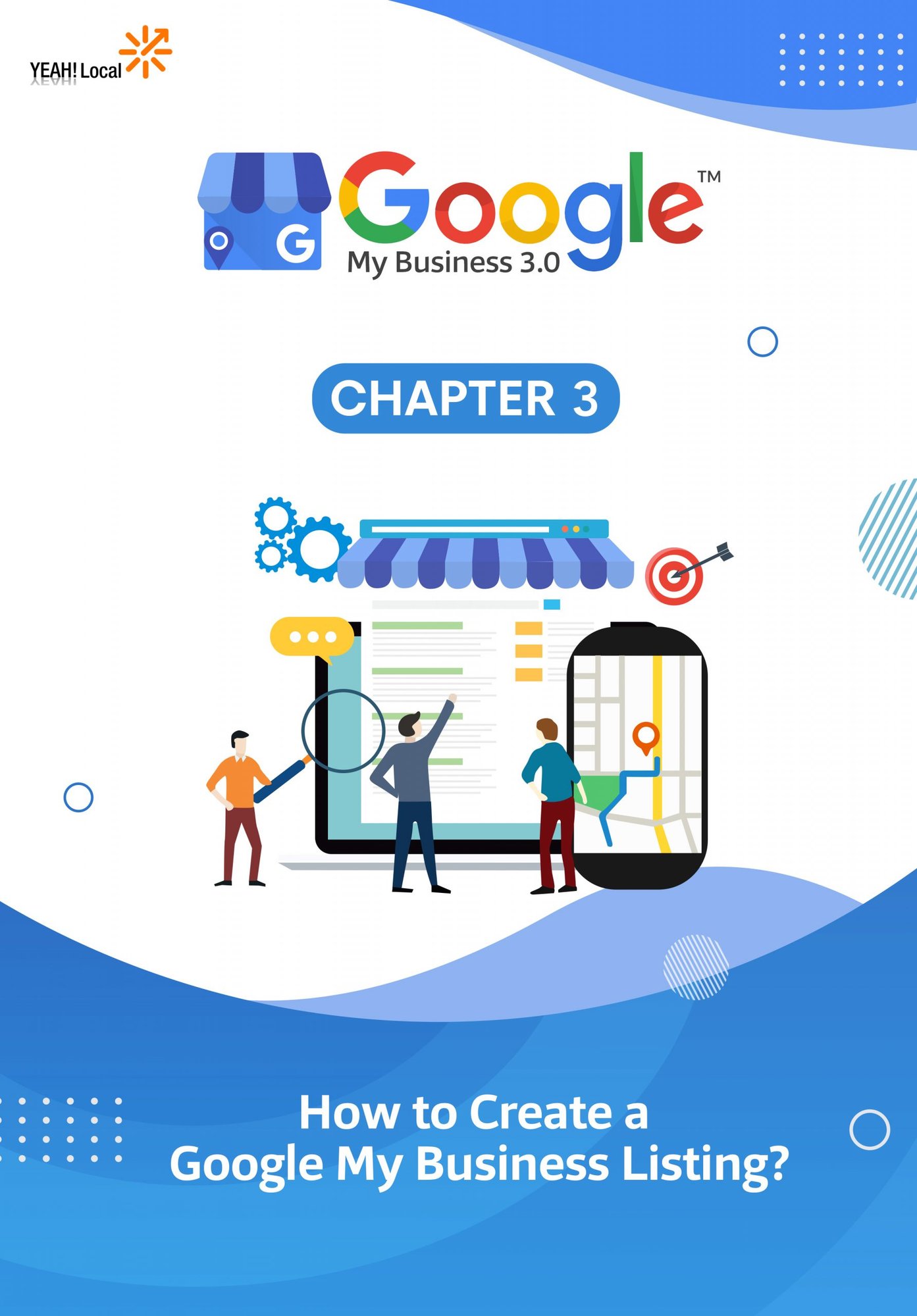 How to Create a Google My Business Listing?
If you have not already created a business listing on Google My Business, it is past time for you get started and create one. Below, we quickly outline all the necessary steps to creating your first listing.
Step #1: Log in to Your Google Account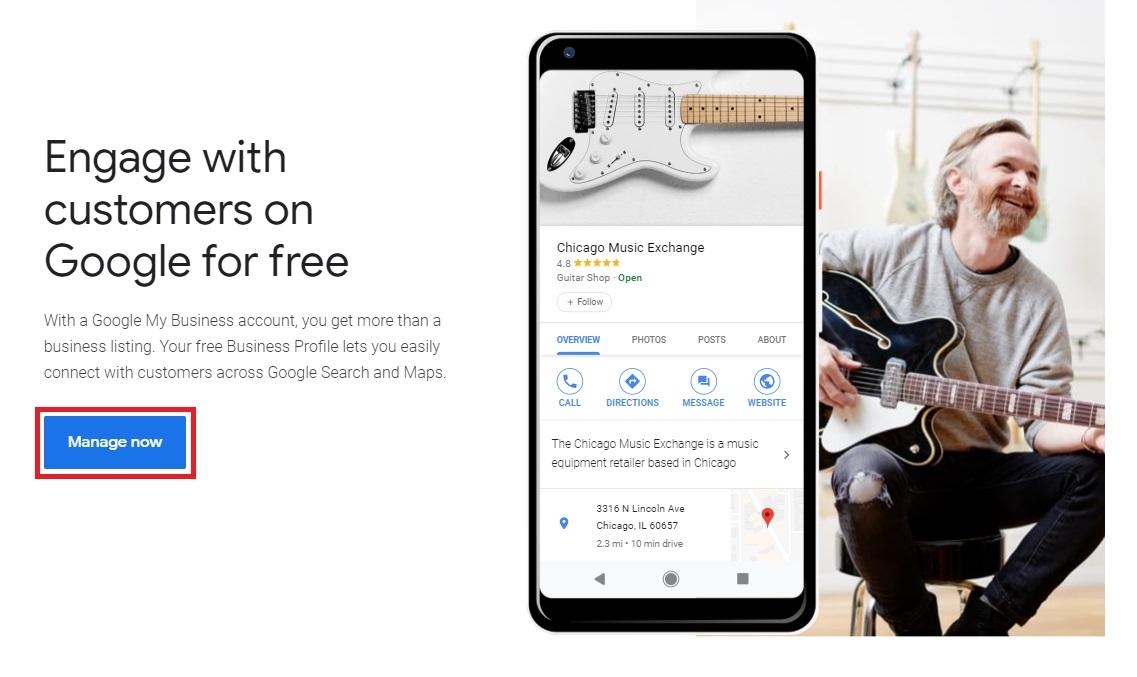 Next, the website will prompt you to log in to an existing Google account.
The email and username you use for Gmail, Google Docs, Google Analytics, or any other Google product will work.
If you are a member of the minority that doesn't already have a Google account, you need to create one.
Once logged in, Google will automatically start the process of creating your first listing.
Step #2: Find Your Google Maps Listing if It Exists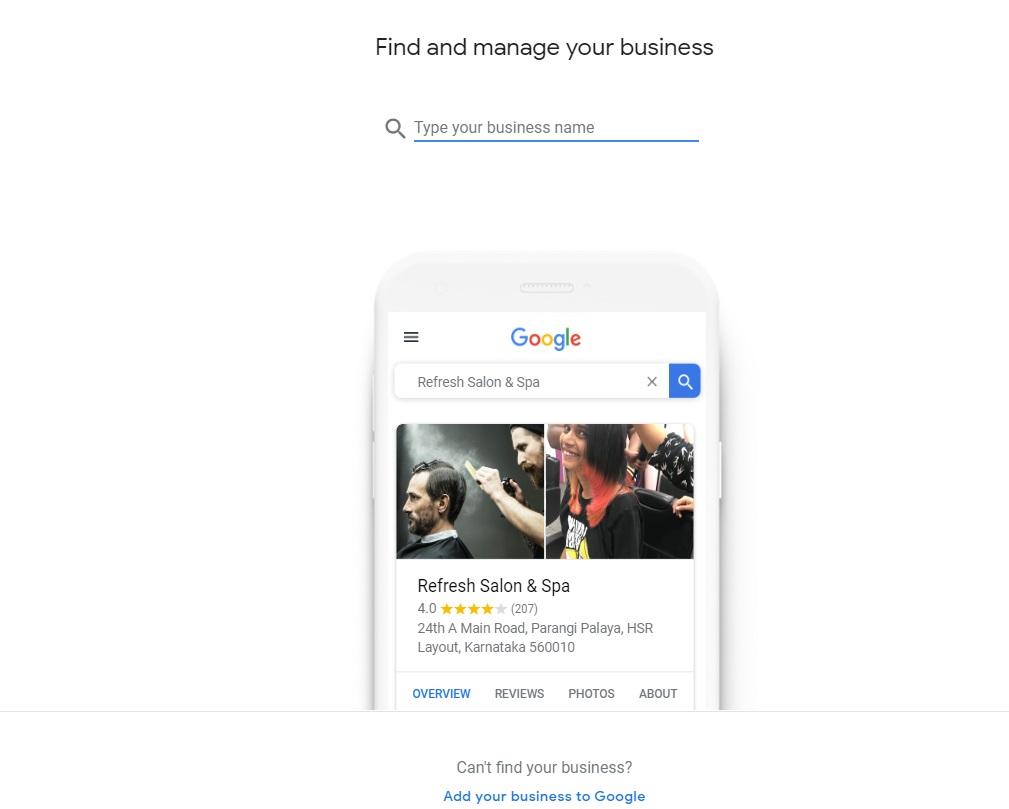 Even if you, the business owner or manager, haven't created an official business listing for Google, your customers may have created a profile for you. It is particularly common in typical consumer-facing brick-and-mortar businesses like restaurants, hair salons, shoe stores, etc.
Type in your exact business name and location to check if your business already exists on Google Maps.
If you find an existing listing, select it and move on.
If there is no existing listing, click the "Add your business to Google" link at the bottom of the page.
Note: Do not Search on Google Maps
If you are trying to claim ownership of your listing, do not do the searching from within Google Maps and click the "Suggest an edit" option.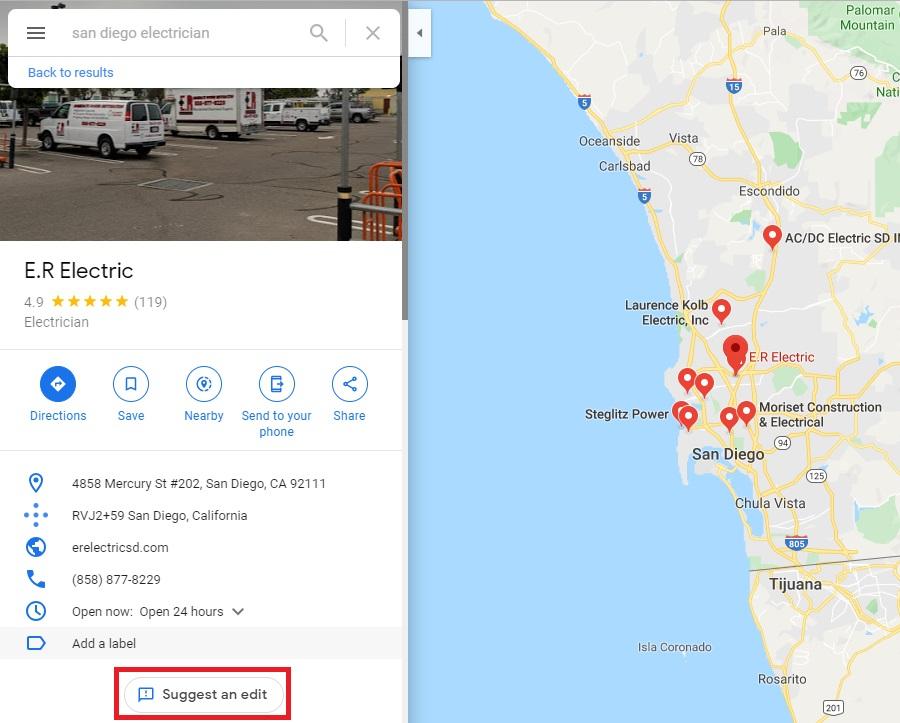 This function taps into Google Maps' system for user-generated content for new information about businesses.
You can suggest edits, and Google may implement the changes, but you will not have any ownership over your profile.
You will not be able to answer questions or messages or set specific cover images.
Step #3: Set Your Business Name
The next step is exceedingly simple. All you must do is type in the name of your business and click the "Next" button.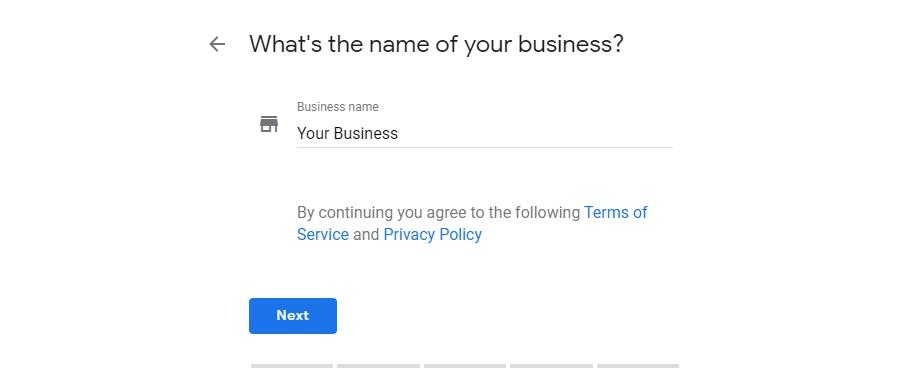 If you have a common business name, or if you are managing a chain store/restaurant, make sure you include the location in the name.
Depending on the size of your city, a city, district, or street name will be appropriate.
Step #4: Choose Your Business Category
Once you have set the name for your business, Google wants to know how to categorize it.
Focus on getting it right from the get-go, as it will help searchers find your business.
Typing something into the "Business category" field will prompt a drop-down menu of related options.
Make sure you select a specific option that is relevant to your ideal customers.
For example, if you are managing a restaurant, unless you're in a small town, you probably don't want to settle for "Restaurant" as your business category.
Choose a suitable option that reflects your cuisine or theme of your restaurant, for example, "Japanese restaurant" or "Art cafe."
Once you have settled on the right option, click the "Next" button to proceed.
Step #5: Add Your Business Location
If you have a physical location for your business, other than a home office, you need to add the address of your business.
First, select "Yes" and click the "Next" button when prompted if you want to register a location.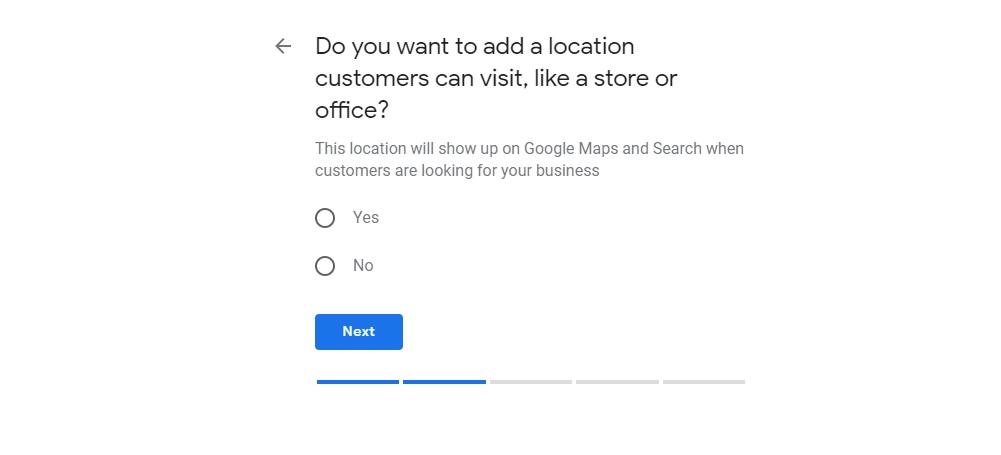 Then, type in your registered street address, including street numbers, building names, and floor/room number.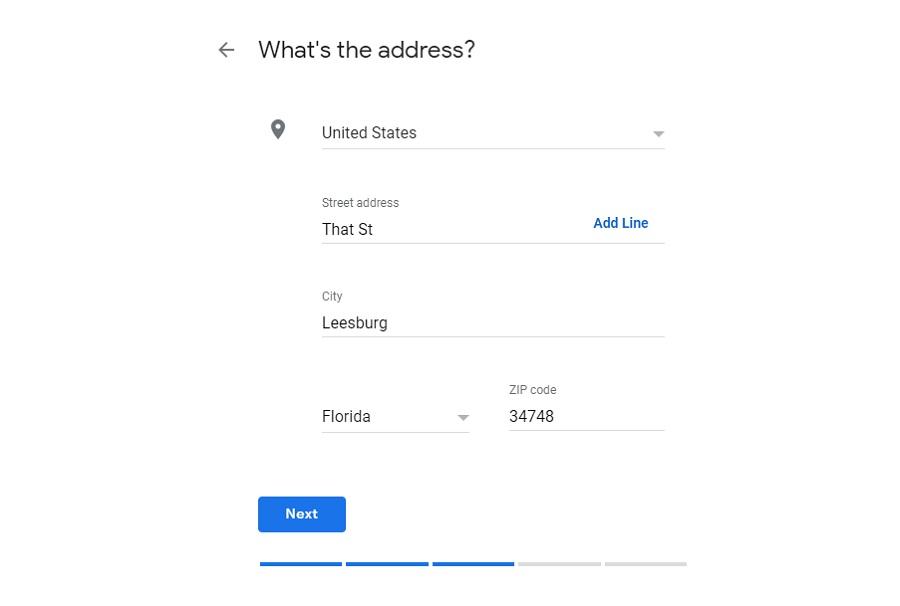 Proceed with the "Next" button.
Google will now show you a list of potential businesses that might be your listing.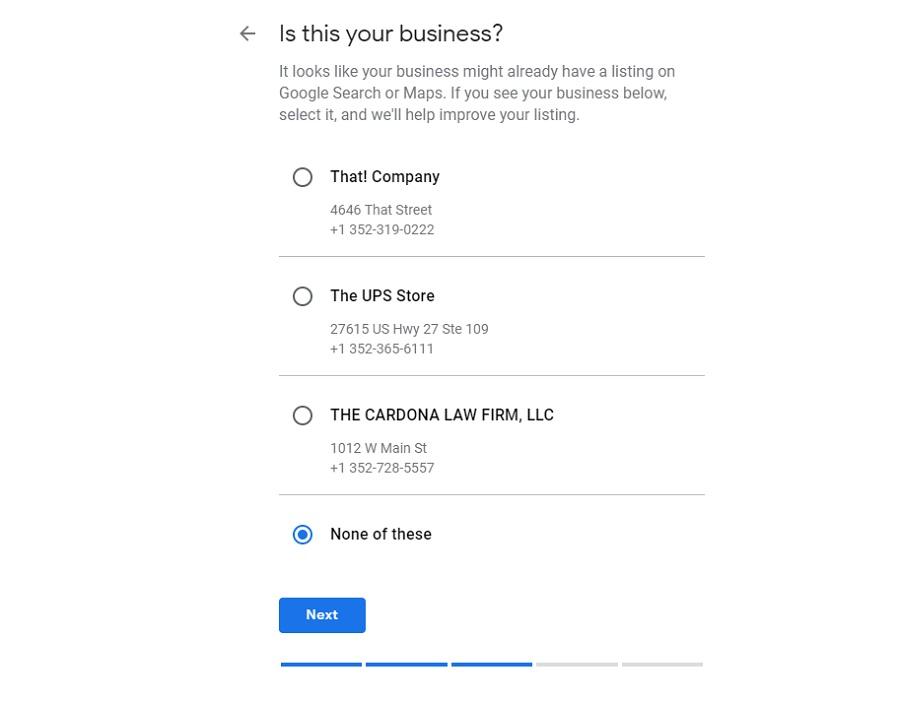 Answer the "Is this your listing?" prompt and click "Next" to move on.
Finally, Google will want to confirm your location by dropping a pin on the map.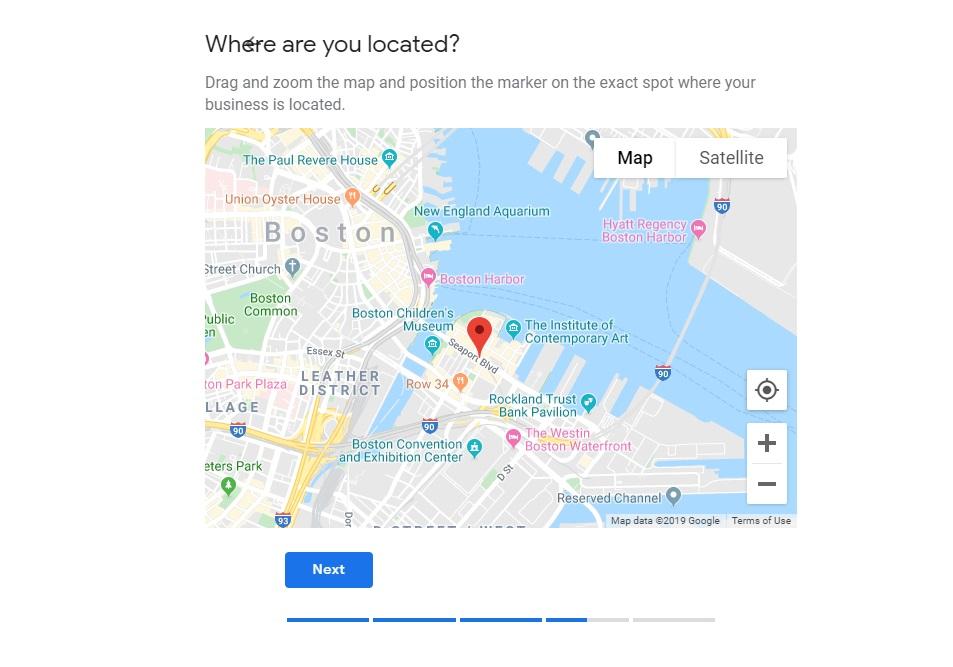 If the original pin Google suggests is correct, click "Next" to confirm the location of your business and move on.
Step #6 (Optional): Set Your Delivery/Service Area
If you offer delivery or have a set service area for your business, you can choose to register this as well.
First, select the "Yes, I also serve them outside my location" option, and click the "Next" button.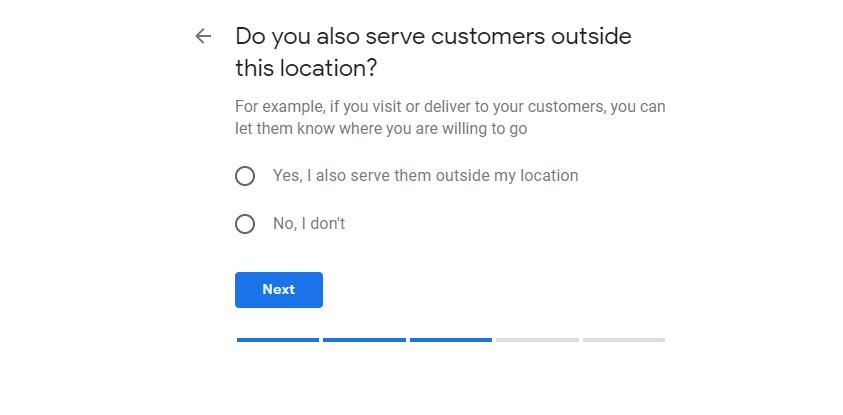 From here, you can search and select larger areas in your city that your business serves.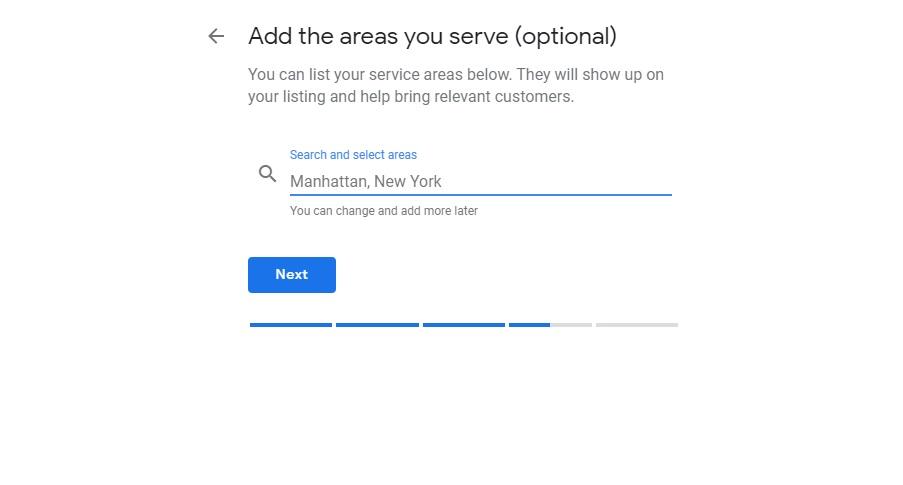 Once you have selected the main areas, click the "Next" button to save and move on.
You can also edit or add more areas after you have already created your listing.
Step #7: Set Your Contact Details
The next step is to register your contact details.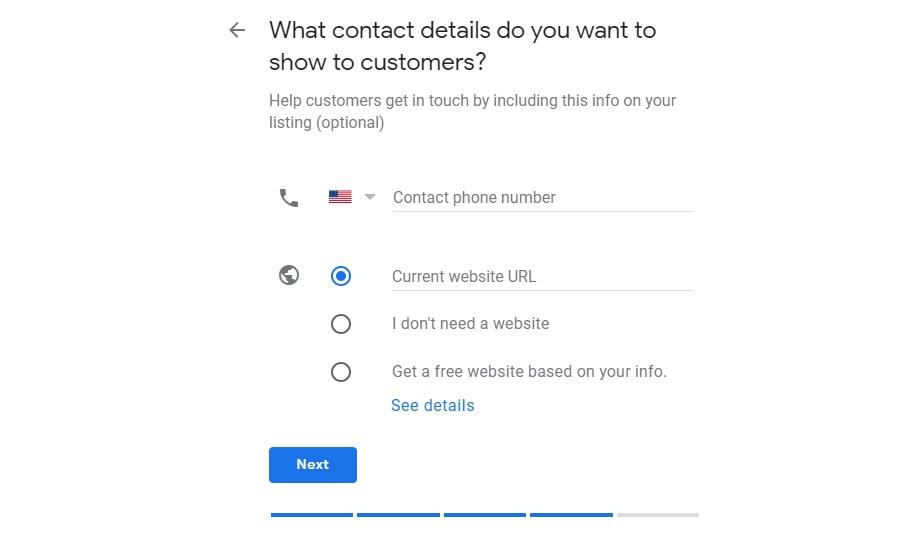 Set your business phone number and website URL and click the "next button" to move on to the next step.
Step #8: Toggle Email Notifications
The last step before you can take your listing live is to toggle whether you want to receive tips, recommendations, and notifications about your business profile by email. If you are a consumer business with a lot of clients that leave reviews or ask questions, having email notifications turned on can help you be prompt with responses.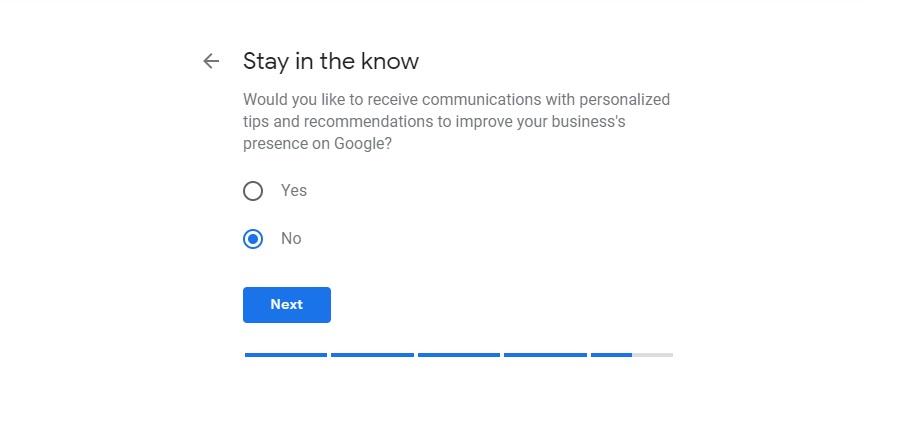 If all you want is to create and optimize your business profile, and you're an inbox zero follower, select "No" and continue.
Step #9: Finalize Your Listing
You have reached the final step.
Clicking "Finish" will save your business profile and data, but you're not officially in control of the listing yet.
Bonus Material: FREE Google My Business Checklist
Before you get full control over your Google listing and can interact with your customers through answering reviews, questions, and messages, you need to verify that you are the owner of the business that you created the profile for.
How to Verify Your Google My Business Listing
After you have created your listing, you need to convince Google that you are the actual business owner. The standard option is to validate your business by receiving a confirmation code in a snail mail letter to your business address.
Log in to your Google My Business dashboard.
Make sure you select the right Google User when logging in.
If you have just created your listing, you should still see a prompt like this at the top of the page:

For most businesses worldwide, a postcard is the only way to verify your business.
Type in the contact name, your name or the business owner's, and click "Mail" to proceed.
After requesting the letter with the verification information, your listing status will still look the same, and it will say "Verification needed" until you have received the postcard and entered the code.
Once you have received the postcard, follow the instructions and enter the code on the card to verify your account.
Select businesses may be able to verify their business by phone or email instead. If your business is eligible, you may select either option from the "more options" section.
Confirm that your email or phone number is correct, and then select the verify option.
Enter the verification code you receive to verify your Google My Business listing.
How Do you Optimize your Business Listing on Google?
To optimize your Google My Business listing, you should focus on three main things:
Showcase pictures that appeal to your ideal customers.
Highlight information that is relevant to your ideal customers.
Actively respond to and manage your reviews.
If you want to get to the next level, use business posts to keep customers up to date on menus and offers, get a booking button, add a product catalogue, and handle messages directly through your profile.
Choosing the Right Google My Business Category
If you are unsure of what category is the right category, you can search for the type of business you run in Google and see what categories your competition selected. If you see a trend them amongst all of them then you can probably assume that is the category you should choose.
In the example above we can see that most construction businesses in the Murray area have themselves categorized as some type of contractor.
Feel free to be specific if you primarily provide one type of service.
Optimizing the Services Section
From your Google My Business Dashboard go to the Info Screen
Scroll down until you see the section titled Services, click on it.
You can create a section or add a service to a pre-existing section.
Once a section is made you can add a Service that you offer.
You are given the option of listing a price as well.
Click Add once you have added the info and that's it!
Attributes & Highlights
The Attributes/Highlights section allows you to add items depending on the industry your business falls into.
These can include things like:
Woman-Led
Veteran-Led
Wifi
Wheelchair Accessible
Google My Business Photo Guidelines
Format: JPG or PNG
Size: Between 10 KB and 5 MB
Minimum Resolution: 720px × 720px
Quality: Use high-quality images. They should be in focus and well-lit and have no significant alterations or excessive use of filters. In other words, the image should represent reality.
It is especially important to add a profile photo to your listing. Customers who see a nice profile photo are a lot more likely to click on your listing than another one that does not include a photo.
Ensure that your photos are optimized for SEO by naming them appropriately.
Do not upload images with generic file names (or file names like IMG2018_05_21). Instead, think of a proper name like (boxing-up-pizzas-for-hungry-customers.jpg).

What Types of Photos Can I Add to Google My Business?
Cover Photos
Profile Photos
Other Photos
Other people can add photos to your listing as well. Do not just upload random photos of your business. Make sure they are high-quality photos with good lighting and relevant. Your photos should portray what your business does.
Also use photos that perform well in both square and landscape mode because your images will be formatted as rectangles on phones and squares on desktops. So, make sure the primary focal point of your photo is near the middle.
Profile Photo Size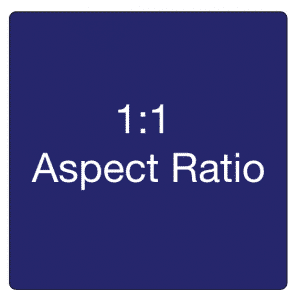 250 x 250 pixels (minimum 120 x 120; maximum 5200 x 5300)

Cover Photos
Choose your cover photo carefully as it will be the primary image that appears whenever your business is viewed in the search results.
Get a professional cover photo that will appeal to your ideal customers and as always, make sure that it accurately represents your business.
A new photo module has also been added to listings. Photos uploaded by the business will show up instantly in this module.
Cover Photo Size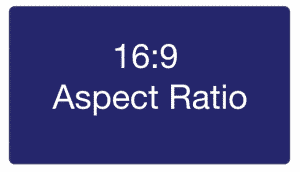 1080 x 608 pixels (minimum 480 x 270; maximum 2120 x 1192)
Shared Images Size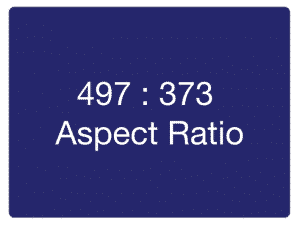 497 x 373 pixels (minimum width 497; maximum 2048 x 2048)
Logos
If you have your logo set it will begin being displayed in the listing as well (like the way your favicon is being displayed next to your website listings on mobile searches). You can set your logo by going to your GMB Dashboard and clicking on Photos in the left-hand menu.
You can click the pencil icon next to your logo if you want to modify one you have already set in the past.
Google My Business Video Guidelines
Video content performs very well online and is growing rapidly. Do not just add random videos. Ensure your videos are not shaky and are not shot in portrait mode.
Google My Business Video Requirements
Video posted on your listing must be:
30 seconds or shorter
100 MB or smaller
720p resolution or higher
Google My Business Review Guidelines
You want your customers to leave online reviews. You can encourage customers to leave reviews by simply asking them and by also responding to reviews that customers to leave you. Make sure you are following the rules though. Do not forget to get reviews across other major online platforms as well.
When customers see that you engage with the people who post on your listing it makes them much more likely to say something as well.
If a review is positive, thank the customer.
If they are negative, be kind and attempt to make things right if you can.
⚠️Do not get into a war with someone just because they leave you a bad online review.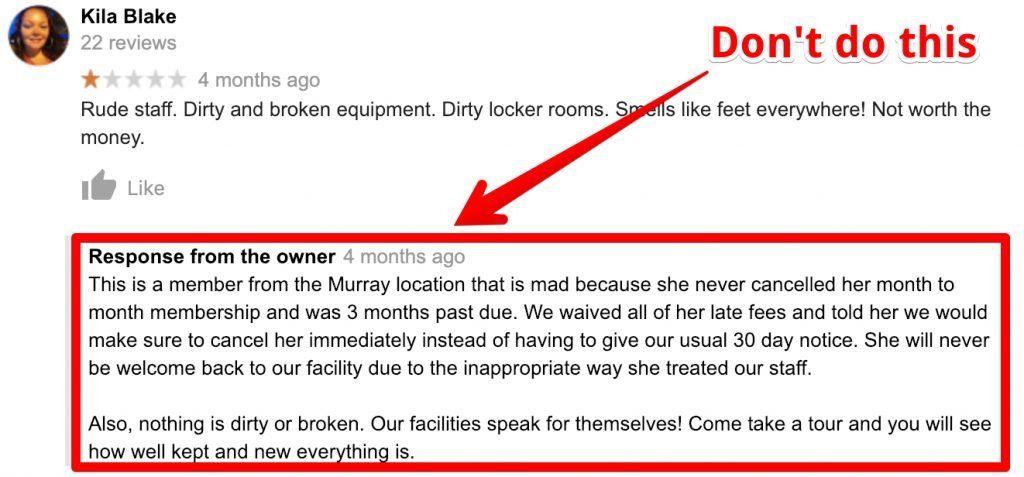 How Can I Remove Negative Reviews from My Listing?
You cannot a remove customer reviews from your listing just because it is negative. However, Google does allow you to dispute fake reviews. Note that there is no guarantee that it will be removed just because you dispute it though.
How Do I Dispute a Fake Review on My Google Listing?
From your Business Dashboard click on Reviews (located on the left side)
Find the review you want to flag, click on the three little dots in the upper-right hand corner of the review.
Click "Flag as inappropriate"
You can follow up on the status of your dispute by clicking on the Support option from the left-hand menu.
How Do I Turn Off Reviews for My Google Listing?
There is no way to turn off your reviews on Google. If you do not like the reviews people leave your best bet is to respond kindly to those reviews and attempt to resolve the issue.
Even if it is a fake review; respond to it as if it were a legitimate complaint while you are waiting for Google to decide after you have flagged it for a dispute.
While it may seem unfair or scary to let the reputation of your business be in the hands of the consumer — the truth is, it has always been this way. It is just more apparent now. Do not live in fear of reviews. Instead, handle yourself professionally online when responding to them and you will still look good to the people who matter — your ideal customers.
Can I Embed My Google Reviews on My Website?
Yes. There are a variety of options to embed your Google reviews on your website.
Activate Your Booking Button
Having a booking button on your GMB listing can be a powerful addition to your ability to generate leads. Businesses in supported regions that have integrated with one of Google's supported booking/reservation partners will be eligible to active this enhanced GMB feature.
Google My Business Messaging
If your business listing has been verified, you can enable messaging. Messaging is a powerful tool to utilize, especially if you are trying to attract younger audiences to your business.
If you're uncomfortable having clients text your cell number you can download third-party applications or even the official Google Voice app and let them text that application instead. They will never know the difference and you can usually restrict the times in which an app will send you notifications by tweaking your app settings on your phone.
Do not underestimate how many leads you could lose out on by not enabling this option. It is not uncommon for a person under 35 to never become a lead because they just do not like talking on the phone.
To Enable Messaging for GMB:
From the Dashboard click on Messages on the left-hand side.
Click Enable
Google provides extensive guidelines to abide by for business owners using the Messaging feature. Once enabled, the option to message you will show up for users on mobile.
Can I Manage GMB Messages from My Desktop Computer?
It is now possible to manage your messages from your desktop computer (laptops as well). Google has allowed potential customers to message business from Google Maps and Google Search so long as they had Google My Business set up.  The downside was that you had to message folks back using your GMB app, as there was no way to do it via a computer. 
Google My Business Posts
Think of GMB Posts in a similar fashion to posts on Facebook.
Google offers another avenue to provide potential customers with info about your business. Keep things active on Google and maintain an omnichannel approach to marketing.
Where Do Google My Business Posts Appear?
These posts appear in the posts tab for users on mobile and on Google My Business Websites. According to Google, posts may also appear on Maps, Search, and the Overview tab for listings based on various signals.
What Can Google My Business Posts Contain?
Google My Business Posts can contain text, photos, and videos.
Types of Posts
Right now, there are 4 types of posts:
What's New Posts: These are posts containing general info you want to provide to the public.
Event Posts: If you are planning on hosting an event, you can use this post to promote that. These are great for venues and restaurants, but Universities can take advantage of this feature as well. These types of post require:

Title
Start/End Dates/Times
You can also add a photo/video to posts like this, CTAs, and other information.
Offer Posts: If you are offering any type of promo deal you can use this type of post to let people know.
Product Posts: You can use these to really highlight a specific product your business sells. For example, a clothing store may highlight a line of shoes they carry.
How to Edit Your Business on Google
Need to edit information on your Google My Business profile? Here's how:
Sign in to Google My Business.
Open the location you'd like to edit.
In the menu on the left, click Info.
Click the pencil icon to make your edits. If you want to remove a section, click the X. When you are finished, click Apply.
Keep in mind that it can take up to 60 days for the edit to appear. There may be some information, from other sources, that cannot be edited.
Bonus Material: FREE Google My Business Checklist
How to Add Multiple Locations on Google My Business
If you have opened a new location or just created a profile and need to add additional locations, follow these steps.
From your Google My Business dashboard, click Manage locations in the left-hand menu.
Click the blue Add location button on the right.
Type in your business name and click Create a new business with this name.
Fill in the information and request verification.
Another option is to go to Google Maps and drop a pin on the location you would like to add. Click Add a missing place in the left menu. Fill in the details then select Claim this business. If you have more than 10 locations, you can add them in bulk.
How to Mark a Business or Location as Temporarily Closed
If you need to close seasonally or temporarily, mark your business as temporarily closed. Doing this ensures customers are up to date without affecting your local search ranking.
How to Mark Your Business as Temporarily Closed:
Sign in to Google My Business.
Click Info in the left menu.
Look for the Close this business on Google section on the right.
Click Mark as temporarily closed.
To set special hours for holidays or other circumstances, click Info in the left menu, then Special Hours.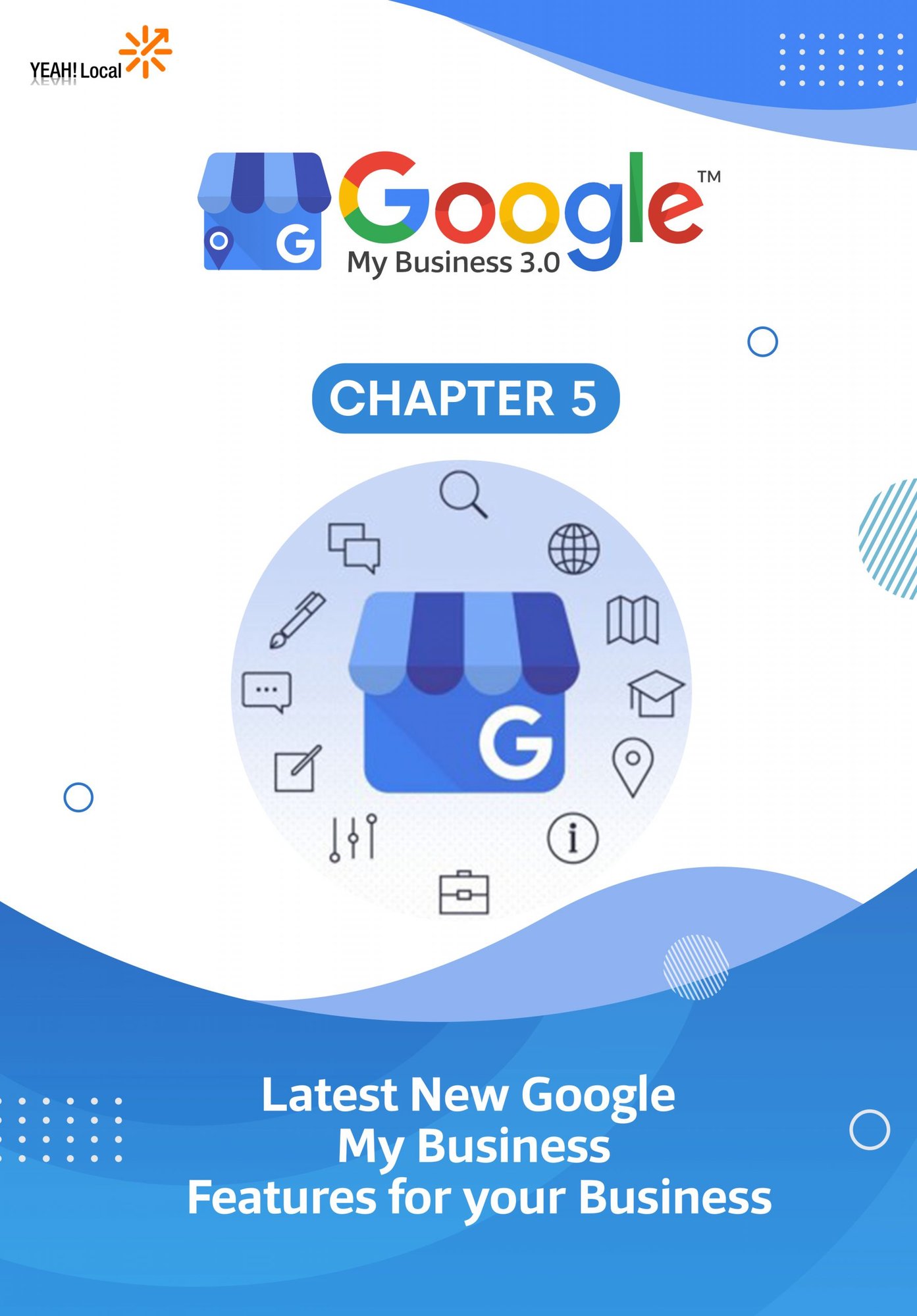 Latest Google My Business Features for Your Business
Google My Business is constantly announcing innovative and exciting new features that can help both local and national business owners make the most of their listings. We have put together a list of our top new elements that Google has rolled out.
COVID-19 UPDATES
Support Links
Google has rolled out a new feature where businesses can ask for the financial support of their customers via gift card purchases or donations.
Utilizing the COVID-19 Support feature in the posts section of the GMB back end, owners can create a post that includes gift card and/or donation links for customers accompanied by a short message from the business.
As of June 2020, Google supports the following providers: for gift card purchases, the business website, Square, Toast, Vagaro and Clover; for donations, GoFundMe and PayPal. To be eligible for use of this feature, the business must have a physical storefront and the GMB listing must have been verified by March 1st, 2020.
COVID-19 Scheduling, Hours, and Posts
With social distancing requirements changing the way we do business; many businesses have adjusted their business operations and hours. Google has revamped existing features and added new ones to allow business owners to share these changes with their customers. In the back end of Google My Business, listing managers are invited to update their online estimate links and business hours and add a COVID-19 post.
The Online Estimate feature draw attention to the Appointment Links section of the listing. If your business already makes use of the Appointment Link feature, selecting the Online Estimate button will autofill your existing Appointment Link URL. If your business does not already have an Appointment Link, you are prompted to one to the appropriate page on your website.
Business hours can be updated in three locations in the GMB back end, normal business hours, special hours (for holidays, etc.) and under the newest feature – More Hours. The More Hours section provides space for a business to describe business operations such as delivery, takeout, and drive-through.
Adding a COVID-19 specific post to your Google My Business profile is another new feature Google has rolled out because of the pandemic. Accessed under the Posts tab in the back end, users can select the "COVID-19 Update" option to highlight business updates related to the virus. These posts are prioritized at the top of your GMB profile, just below the business name and website link.
Temporary Business Closures
If your business is temporarily closed due to the COVID-19 outbreak, you are now able to disclose this information on Google My Business. Marking your business "temporarily closed" will trigger a red bar below your business name on your GMB listing that alerts customers of your temporary closure.
From an SEO standpoint, this change will not affect local search ranking and it will be treated like open businesses. If your business is operating at a modified capacity and still offering services such as pickup or delivery, do not mark the business "temporarily closed" as functionality showing these services will be limited.
Attributes
Under the Info section in GMB, owners can now list attributes of their business as another way to stand out to customers and highlight specific services, features, and other business qualities.
Attributes provide customers with helpful information about your business, featuring amenities such as online-scheduling and Wi-Fi, or wheelchair accessibility, if the business is women- or veteran-led. The availability of these attributes depends on the type of business you operate, ensuring different types of businesses provide information that is relevant to their industry.
Below is a list of some of the Attributes Google My Business currently offers, but keep in mind your business category determines the attributes available for your Business Profile, so you will not see all of these.
Accessibility

Wheelchair accessible elevator
Wheelchair accessible entrance
Wheelchair accessible parking lot
Wheelchair accessible restroom
Mobility scooter rental

Amenities

Gift wrapping
Online scheduling
Wifi (Free or Paid)
Restroom
Unisex restroom
Bar onsite
Good for kids
Restaurant
Baggage storage

Highlights

Veteran-Led
Women-Led
Active military discounts
Live performances
Play area

Offerings

Same-day delivery
Assembly service
Installation service
Repair services
Coat check
Help desk

Payments

Cash only
Checks
Credit Cards (American Express, China Union Pay, Diners Club, Discover, JCB, MasterCard, VISA)
Debit Cards
NFC mobile payments

Planning

LGBTQ friendly
Transgender safe space
Shortname
Sharing your GMB profile is now easier than ever. The short names feature has cleaned up long, messy URLs. Located in the Info tab on GMB, you can add a short name for your business by clicking on the @ symbol. Once completed, you are ready to share your new, clean listing URL.
Service Areas
Struggling with local SEO because your business doesn't have a physical location? The new Service Areas feature on GMB addresses that problem. Service Area Businesses can now define their service areas by region, city, or ZIP code without having a physical business address.
Products
Google recently rolled out their new Products feature, which allows businesses to catalogue their products right on their GMB profile. This feature is a great way to stimulate consumer interaction, all without leaving your GMB profile. Users can scroll through a carousel of product images, each opening into their own page with more details, pricing, and related products from your business.
Each individual product page is an opportunity for a link to its relative page on your business' website. Products can be grouped into Collections, allowing businesses to organize the listing as you see fit.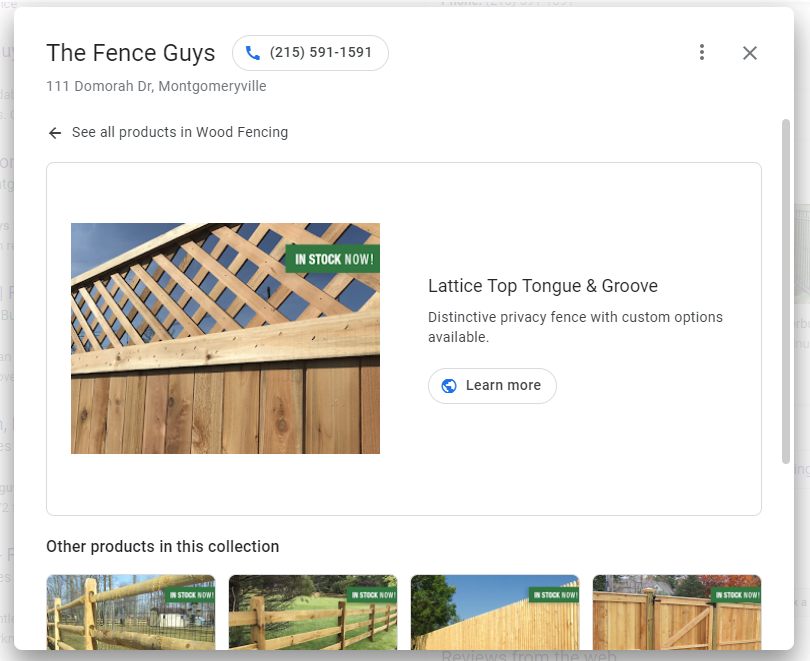 Social Icons
Google My Business has been hot and cold about linking social profiles to local business listings, but it looks like they are here to stay! Located at the very bottom of the knowledge panel, icons for Facebook, Instagram, LinkedIn, Twitter, YouTube, Myspace, Pinterest, SoundCloud, and Tumblr can be displayed.
The process of adding these social links deviates from the norm, requiring some quick coding that will alert Google which social profiles are associated with your business website. With the help of Google's Structured Data Markup Helper, generating this code is as easy as copying and pasting after your site's <header> code.
Google Marketing Kit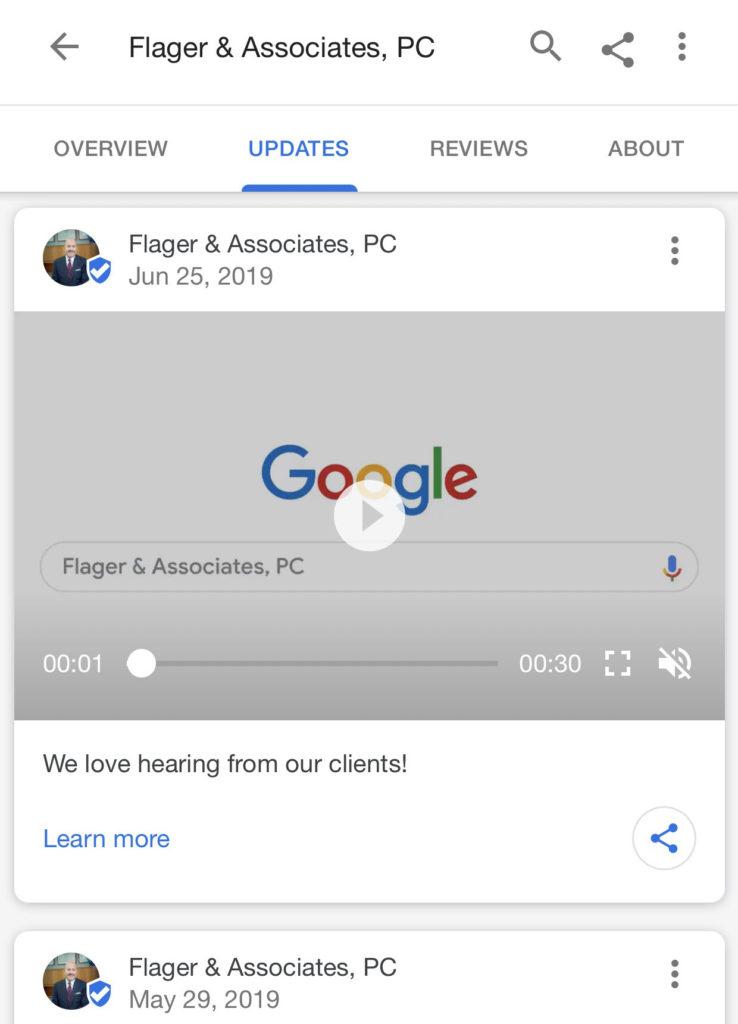 The Google Marketing Kit gives businesses the ability to showcase outstanding customer reviews from Google My Business on other platforms and in real life! Users can now create custom posters, social posts, and videos that highlight 5-star reviews, and other business details.
The Google Marketing Kit even offers free stickers to businesses that promote interaction with their GMB profile, inviting customers to review, follow, or book with the business on Google.
Photos & Videos
GMB now offers businesses more control over photos displayed on their profile. Businesses can choose the logo and cover photo that will be highlighted at the top of the GMB listing, as well as a variety of additional photos throughout. Logos were previously only displayed at the top of the listing but are now featured on Google Maps and search results.
Appointment URLs & Online Reservations
Google My Business now features the ability to provide a second link to your site, known as the Appointment URL. This link is meant to direct search users directly to the place on your site where they can schedule an appointment, place an order, or contact you for more information.
User experience is prioritized with this feature, as they are sent exactly where they want to go – minimizing the time users spend clicking around on your site in search of your contact page or form. For businesses that offer Online Reservations, GMB partners with your site to allow users to book without ever leaving your listing!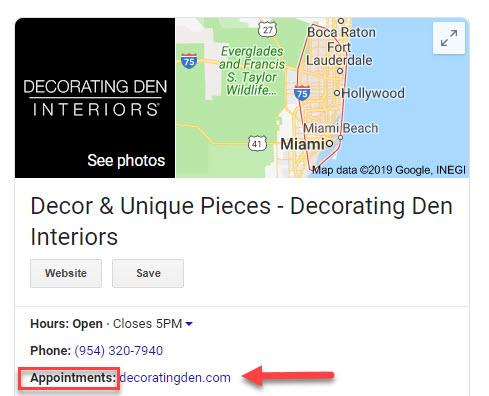 GMB App Exclusive Features
Welcome Offer
Welcome Offers are a new feature that are, as of now, available exclusively to business owners who utilize the Google My Business app. Owners can now create special Welcome Offers as a way to incentivize search users, on any platform, to become new followers of their business by offering a unique promotion.
Request a Quote Communications
Google has rolled out a new messaging feature that allows search users to directly contact businesses without ever leaving the Google My Business listing. Business owners now can communicate with their customers directly from their GMB app.
Bonus Material: FREE Google My Business Checklist
Once this feature is turned on, a "Request a Quote" or "Get a Quote" button will appear on the GMB listing. When clicked on, the button prompts users to select a Service Type, Date and Time (When), input their Zip Code, and provide optional project details. Service Types are determined based on the Services that the business listing has already provided.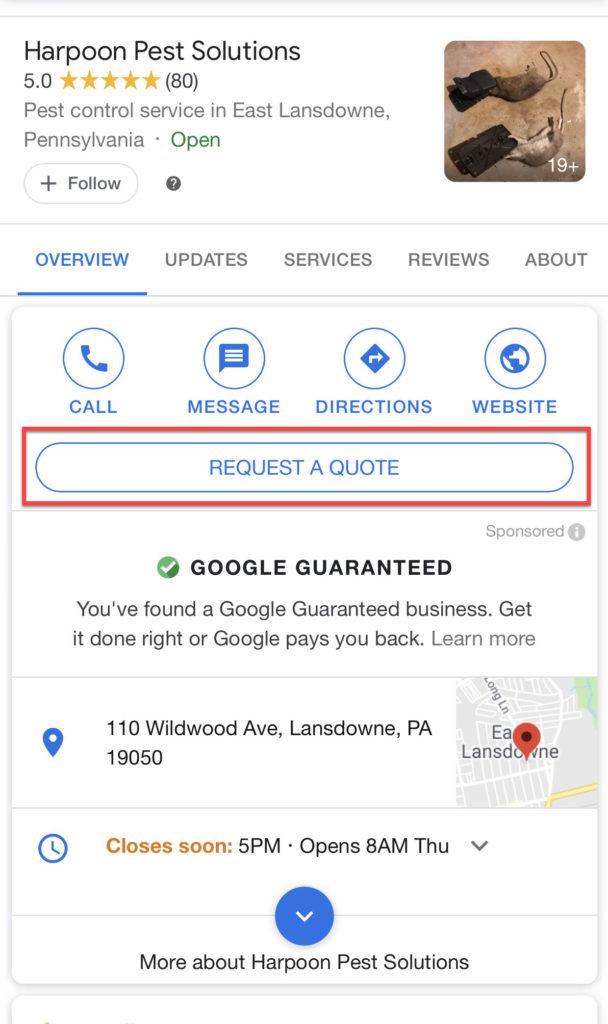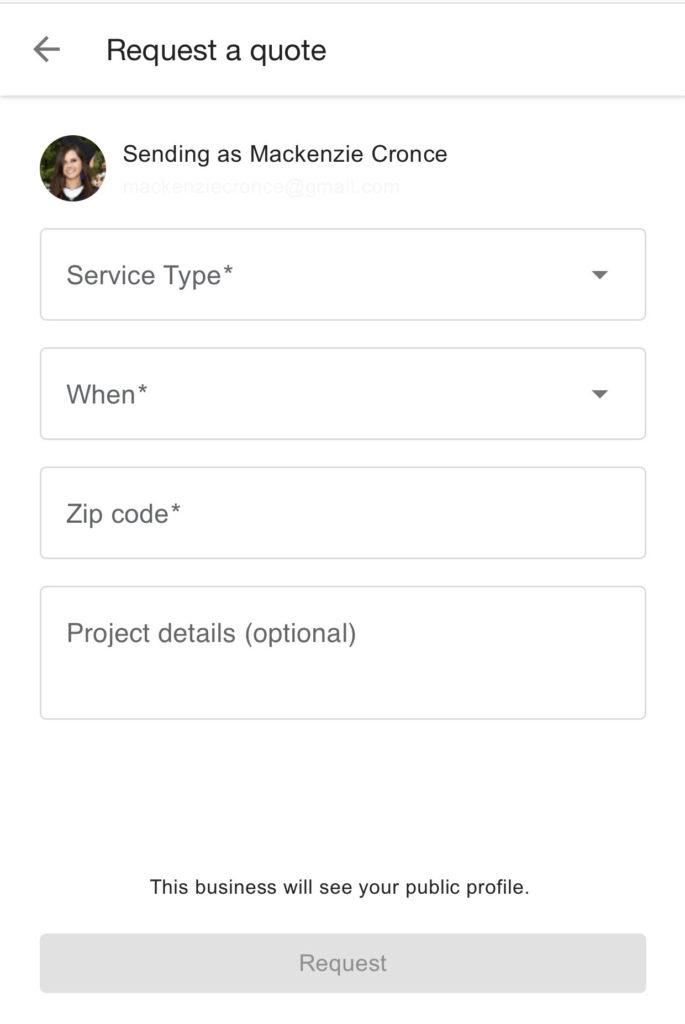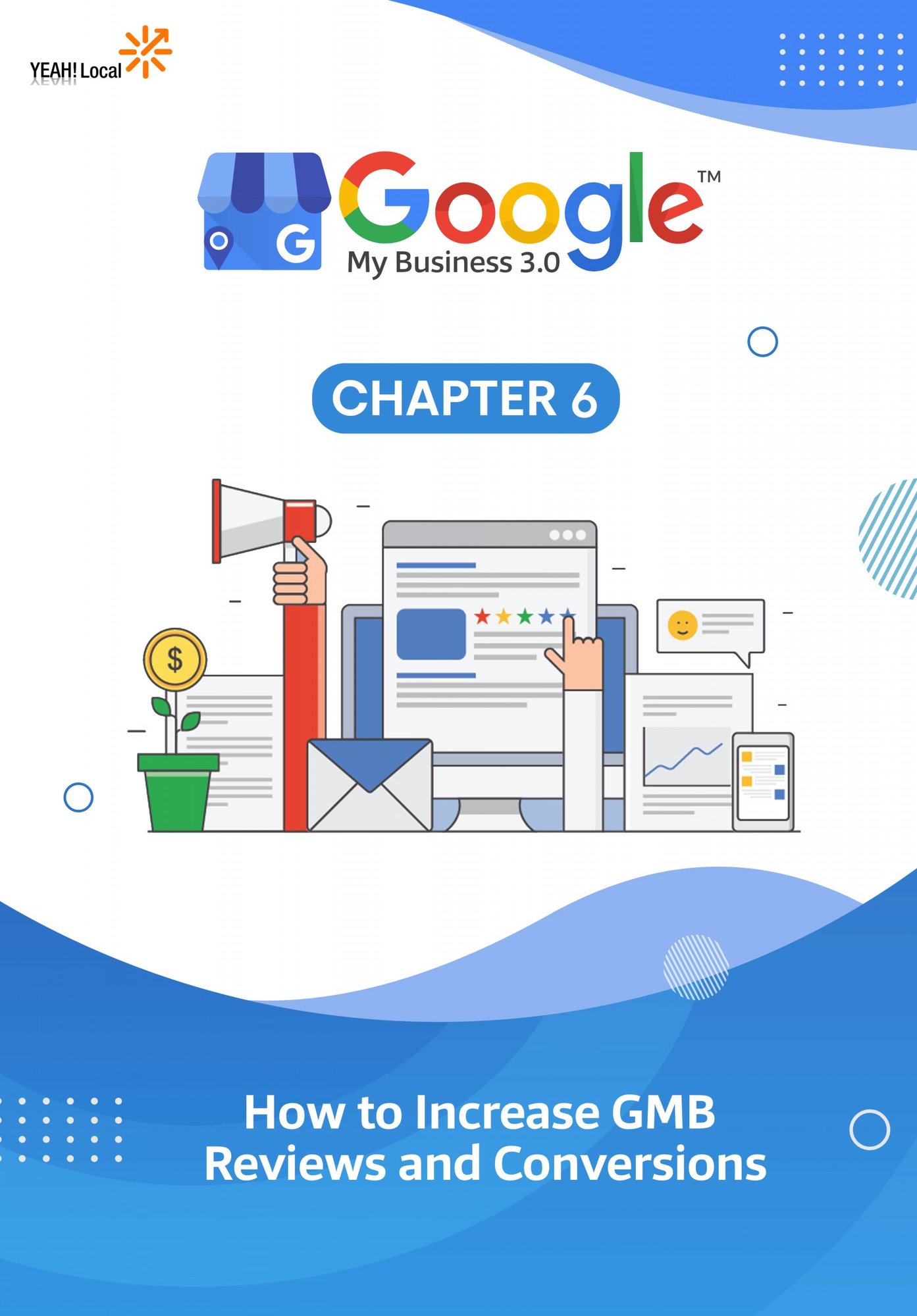 How to Increase GMB Reviews and Conversions
Reviews are incredibly important to your business and they can influence customer decisions in several ways. This includes both positive and negative reviews.
Positive reviews may be sponsored or false, whereas no company will pay for negative reviews. However, public negative reviews are a way for a business to showcase their customer service. These complaints work as a powerful counterweight to increase the validity of positive reviews. All of this depends on your business receiving any reviews at all.
Here Are Our 11 Tricks to Increase Google Reviews
1. Make Sure Users Can Leave Reviews
The number one thing you need to do to build up your Google reviews is to make sure you have a Google My Business (GMB) listing. It may seem obvious, but many small businesses do not realize they are not just given a GMB listing simply because they exist. Registering your business as an LLC or corporation is not enough. You need to register and optimize your GMB listing as well and fill out all the information completely.
Once that listing is created and verified, it can begin to collect reviews. Older businesses with a Google Places page will find that it has been transferred to a local GMB listing , offering a solid starting point for a fleshed-out profile.
2. Ask!
Most times, the easiest way to get more reviews is to ask for them. Often, your customers will purchase a product and have a satisfactory experience using it, but they will never think to go back to your page and leave a review.
The same goes for services, though some industries — hospitality and restaurants in particular — find it easier to accumulate reviews. Ideally, they will have followed one of your social media accounts or signed up for your newsletter as part of the purchase process. These are avenues you can use to ask your customers for honest reviews. Even mediocre reviews are better than no reviews at all.
3. Make it Easy to Leave a Review
To gather as many reviews as possible, link as closely to the review form as you can. Instead of linking to your basic GMB page or your website itself, link directly to the review page. Ensure a user must click as few times as possible to reach the review page. If they must hunt through your profile or your website for your GMB Local page and then hunt through that page for where to leave a review, they probably won't leave a review.
Consider each additional step a point of failure where you will lose some percentage of your possible reviews.
4. Avoid Buying or Faking Reviews
Writing reviews of your own business from personal accounts or buying reviews from accounts that leave purchased reviews are all signs that your business has something to hide.
An additional risk of purchased reviews is that, when those false accounts are removed, your reviews may be removed as well. At the very least, they lose credibility. Fake reviews hide the truth and the truth is what you want to promote.
5. Get Reviewed Elsewhere
Bringing in reviews through GMB is one thing, but you do not want to put all your eggs in one proverbial basket. Plenty of users prefer to find reviews through Yelp, Angie's List, or one of the many other sites offering business reviews.
If you have no reviews on any of these sites, but plenty on GMB, your reviews look purchased. When asking for reviews, ask for them through any popular review site, not just Google. Allow your users to choose the site of their preference. Some users will also go the extra mile to post reviews on several sites.
6. Address Negative Reviews Quickly and Personally
You will inevitably garner a few bad reviews. One- or two-star reviews should be addressed as they appear, which means you need to monitor your reviews frequently. Do not delete bad reviews; users will know you are doing so, and they do not forget. Instead, address each negative review in the comments on that review. Ask the reviewer to get in touch with your customer service department and work with them to make things right.
If they cannot be satisfied — and some will not — do not sweat, it. If you can satisfy others, ask them to reply to their original review.
7. Use QR Codes to Link to Review Pages
Mobile devices are ubiquitous among most shoppers today. This means nearly every consumer can scan a QR code and visit the site it links to. Printing a QR code on your promotional material, receipts, or any other location that users see is a great way to link directly to a review page. This passively and effectively encourages users to leave reviews once they scan the code and see where it leads.
8. Encourage Public Testimonials
Nearly every business will receive an unsolicited review at some point. These comments, when negative, present an opportunity to provide customer service. What do you do, then, when they are positive?
A private communication cannot be taken and used publicly without the permission of the sender. What you can do, however, is reply and ask them to post their review on GMB and other review sites. This allows you to bring private reviews, which are doing you no good, into a public spotlight.
9. Add a CTA via Your Newsletter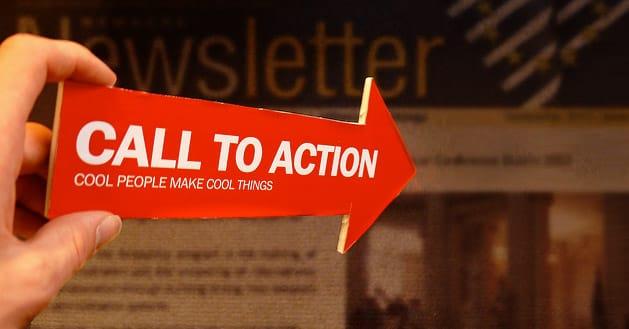 The footer of your newsletter is a great place to add a link to your GMB profile, with an attached call-to-action. The users on your mailing list generally like your products or services and they are typically willing to leave reviews when they think about it and have the time.
An appropriate time when they often are in the right mindset to leave a review is when they are reading your newsletter. A link at the bottom of that newsletter is amazingly effective.
Bonus Material: FREE Google My Business Checklist
10. Review Partners and Other Businesses
You do not have to get all your reviews from customers. Many businesses have partners in the industry. One trick you can use is to leave reviews of those businesses on their pages. It will not always work, but occasionally those businesses will reciprocate by leaving their own reviews on your page. This helps build your business relationship and boosts your reviews at the same time.
11. Provide Review-Worthy Service
You can use all the tricks in the book to bring in reviews, but they will not help you if you do not provide a stellar service or product worthy of those reviews. If no one is satisfied with your service, no one will want to leave a positive review on your page. Make sure your customer service is up to snuff and your products are satisfactory.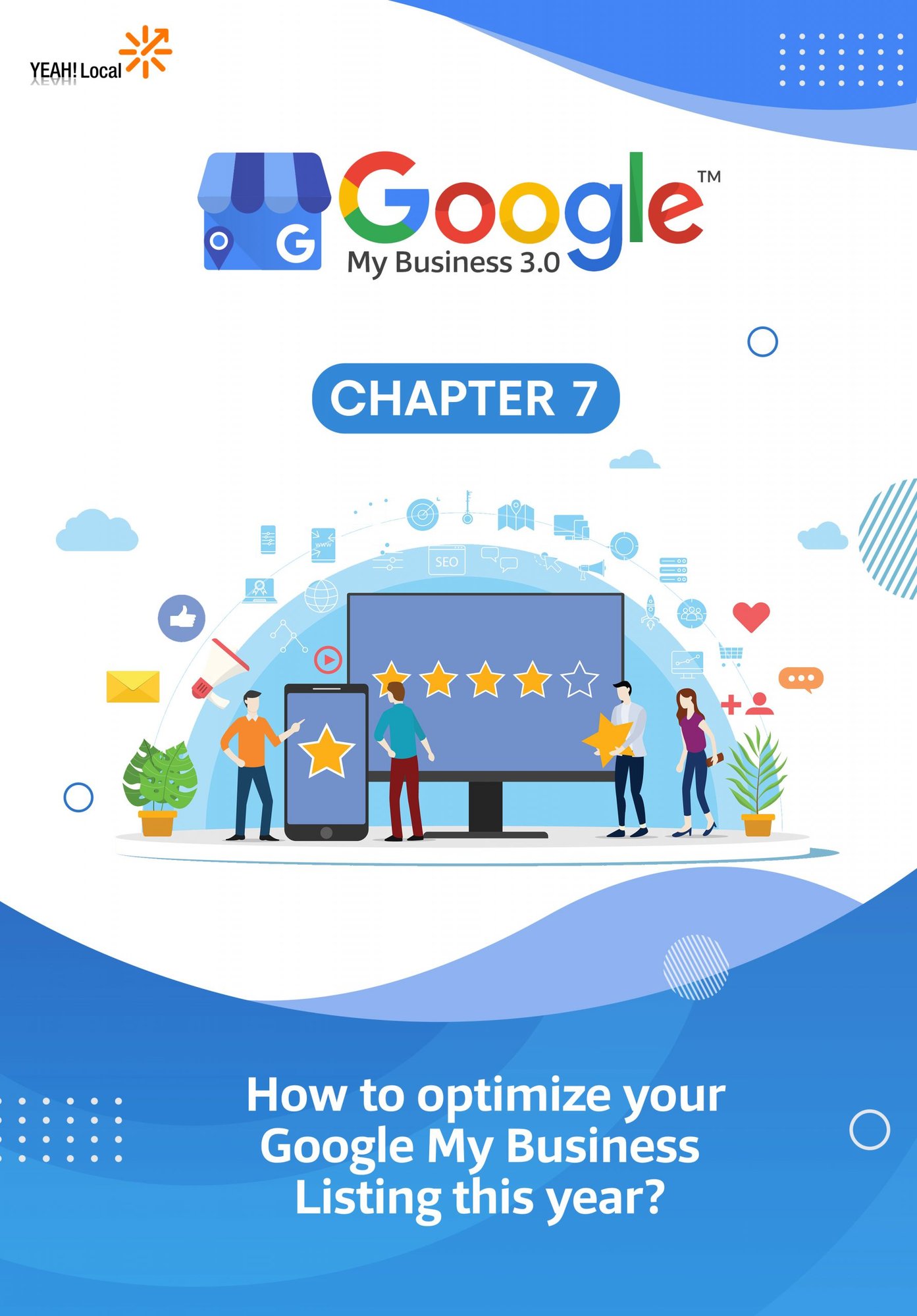 How to Optimize Your Google My Business Listing this Year?
Any business today needs targeted visibility on Google. Most businesses know that this requires optimizing their website and Google Ads, but what most do not know is that there is a third entity that also needs optimizing: their Google business listing.
Officially known as your Business Profile, this powerful listing is a dynamic snapshot of your business that highlights your best features and enables potential customers to quickly find, learn about, and engage with you—all from the SERP. The best part? It is completely free.
What Does an Optimized Google Business Profile Look Like?
Before we get into the strategies, let us make sure we are on the same page about what an optimized Business Profile looks like and why you need one. To help you visualize what you are striving for and why, let us look at a mockup of an incomplete Google Business Profile versus a complete and optimized one.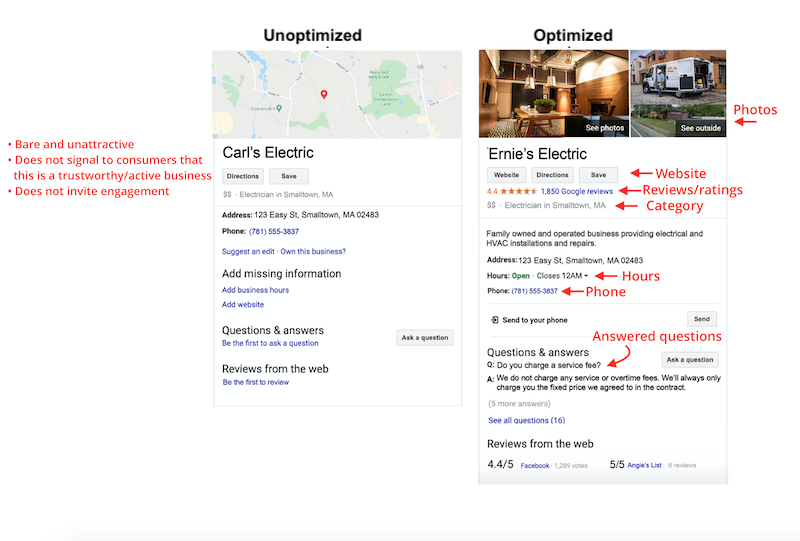 Here, Carl's Google Business Profile is a short box, but Ernie's Business Profile would show even more when you scroll. This diagram does not encompass all the features of an optimized Google Business Profile, but it does give you an idea of how much more attractive and engaging an optimized profile is.
How to Optimize Your Google Business Profile
Now that you see optimizing your Google Business Profile is the key to getting found in local search, standing out above competitors, and winning customers online, it's time to get to work on doing just that.
Here are 13 ways you can turn your Google Business Profile into a 24/7 marketing and lead generation tool for your local business.
1. Create a Google My Business Account
First and foremost, it is important to note here that a Google Business Profile is a separate entity from a Google My Business account. The latter is used to gain access to and optimize the former which means that to make the optimizations laid out in this guide, you need to have a Google My Business account and then tell Google to connect it with your Google Business Profile.
To create an account, head to Google.com/business and sign in with the regular Google/Gmail account you use for your business (as opposed to your personal Gmail, if you have one).
2. Complete Every Section
The completeness of your Google Business Profile not only helps Google to rank you higher in local search results, but it also increases the number of actions customers take when they find your profile. There is a lot of information to provide, so here are some guidelines for prioritizing.
These aspects of your profile should be completed right away:
Name
Address
Phone
Website
Hours
These sections take a bit more time and thought:
Category and Attributes
Products and services
From the business
Questions and answers (Owner-generated queries)
These sections are ongoing:
Posts
Reviews
Questions and answers (Consumer-generated)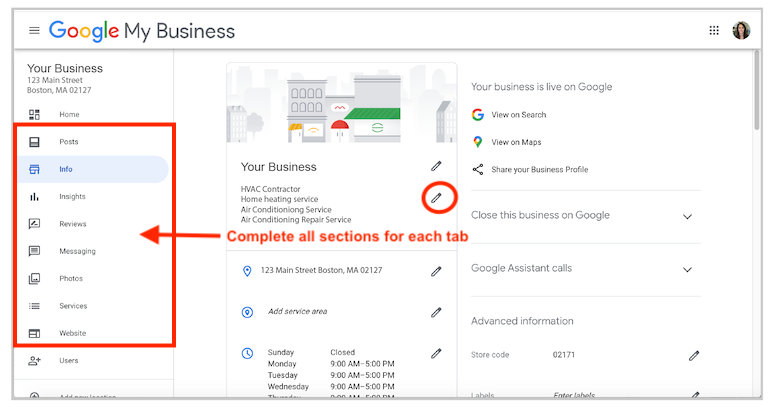 3. Be Meticulous With Contact Information
Here are the steps for optimizing the contact information in your Google Business Profile:
Make sure your business name is identical to the one you use on your store signage. In other words, exactly as it appears in the real world. Adding location name (unless it's in your brand name) or keywords is considered spam by Google and you could be penalized.
Make sure that both your business name and address exactly match your other listings across the web. This means using "st" vs "street" or "co" vs "company" consistently.
Indicate both your regular and holiday hours. This encourages customers to visit you and avoids the potential of a negative review left by someone who took the trip out to your store only to find it was closed.
4. Write Your "from the business" Description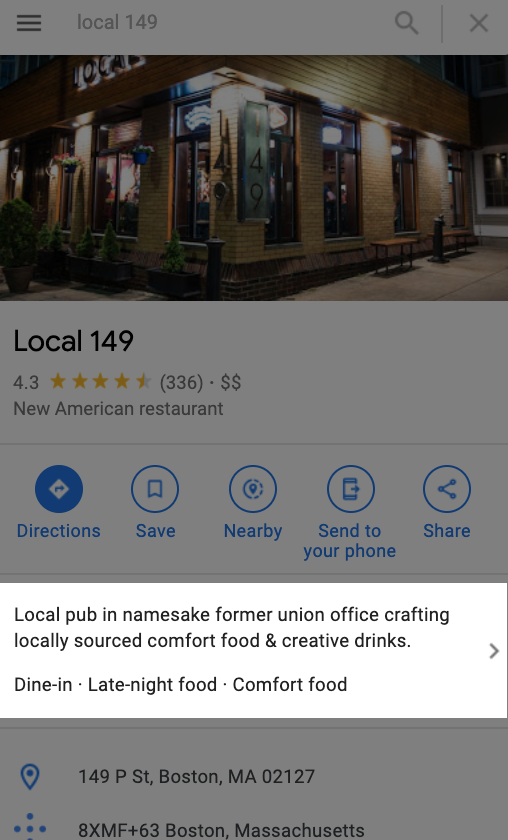 The first thing to note is the brief description that appears just below your business name in your Business Profile is not actually in your control. This is the editorial summary that Google writes to ensure consistency across the platform.
This description is not in your control. But the good news is Google does a fairly good job at coming up with descriptions.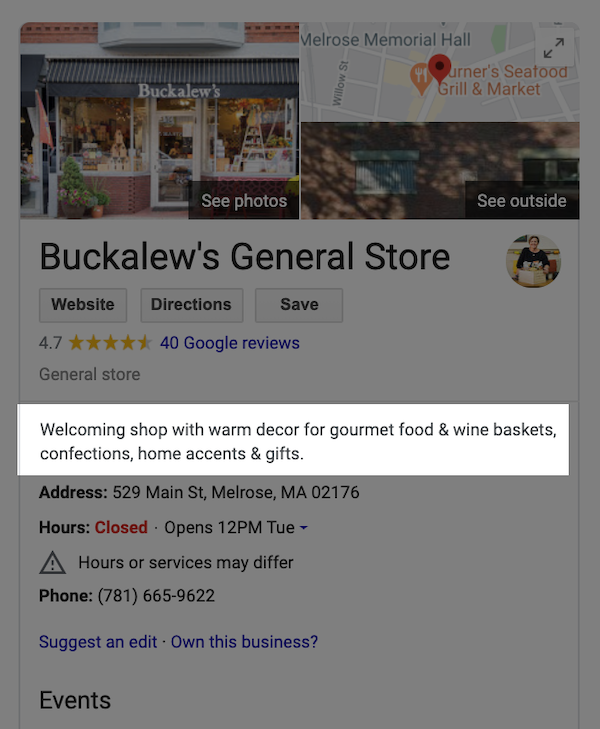 The description you do have control over is the "from the business" section in your Google My Business account dashboard. This section appears lower in your profile, often under the reviews section.
To optimize the "from the business" section of your Google Business Profile:
Use all 750 characters, with key information in the first 250 characters.
Repurpose content from your "About Us" page or mission statement.
Use keywords your audience uses to find businesses like yours.
Do not repeat any information already visible in the other sections of your profile. Use this space to talk about what sets you apart from competitors and what customers like most about your business.
Do not include links or HTML.
5. Choose a Category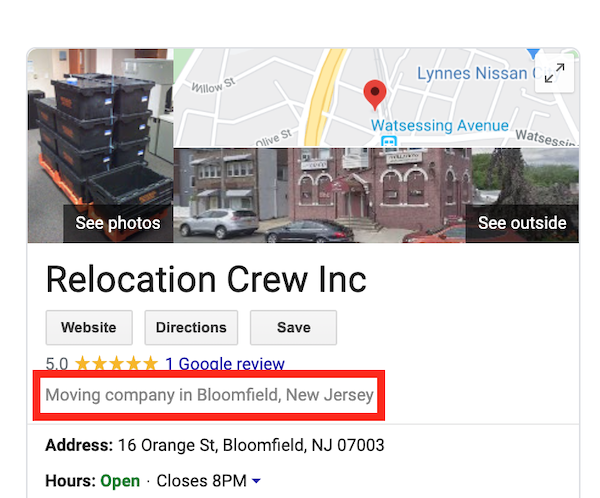 Your category appears in the top portion of your Google Business Profile.
Google offers a set number of categories, so it is important to choose the correct ones.
Here is how to optimize your Google Business Profile using categories:
Be specific. If you are a nail salon, choose "Nail Salon" and not just "Salon." If you are a restaurant, choose "Egyptian Restaurant," "American Restaurant," etc., rather than simply "Restaurant." A drop-down list of categories will appear once you start typing, but you can also see a full list of GMB categories here to ensure you find the most specific one for your business (there are over 4,000 categories so it's worth the look).
Choose secondary categories. Many businesses fall into multiple categories. Set your primary category to your chief offering (for example, "Grocery Store") and then choose additional categories that apply, such as "Grocery Delivery Service" or "Gourmet Grocery Store."
Do not overdo it. You want Google to connect you with consumers who need your service, so choose only categories that match your offering. For example, if you are an appliance repair business, select "Appliance Repair" only, not "Appliance Parts Supplier." Technically you do supply service parts, but this is not a standalone offering of your business. (Pro tip: Do not confuse categories with products or attributes, which are separate sections.)
Also, keep in mind that Google might ask you to verify your business if you edit your category list or add multiple. This is just to ensure accuracy across their platform.
6. Select Applicable Attributes
As we just mentioned, once you choose a category, Google will give you a list of attributes you can check off to further describe your business. Attributes are special features potential customers seek out, like "gift shop on-site" or "free wi-fi."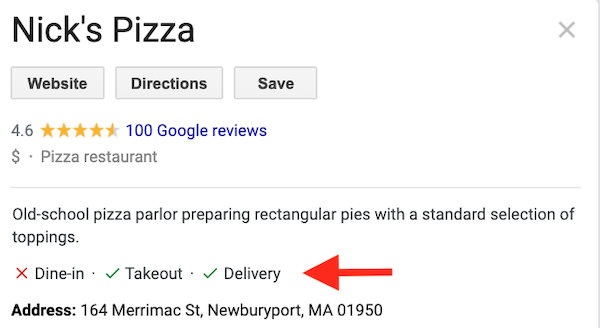 Attributes are not specific to the Google My Business platform (review sites like Yelp have them, too). But Google's attributes get granular, like "good for working on laptop" or "popular for travelers".
7. Add Photos
According to Google, customers are 42% more likely to request driving directions to a business if its Business Profile has photos, and 35% more likely to click through to its website. Furthermore, a BrightLocal study showed businesses with more than 100 photos get 520% more calls, 2,717% more direction requests, and 1,065% more website clicks than the average business.
This doesn't mean you should go crazy and add a hundred images to your profile at once.
Follow these tips to use photos to optimize your Google Business Profile:
Add at least one new photo every seven days.
For your thumbnail photo, upload your logo.
For your cover photo, use something that best represents your brand—but don't fuss over this because Google will display different feature photos depending on the search query.
For other general photos, refer to Google's photo guidelines for specifications, but be sure to include happy customers, interior and exterior views, and team photos.
No stock photos, and no photos with special effects or branding. Google is trying to represent your business as it appears in the real world.
Focus on quality images that have clear depictions (to align with image-enriched results).
Google will pull a specific photo from a Business Profile and display it directly in local results if it matches the keyword searched.
Add videos, too!
Use Google's Street View app to add a 360º photo to your profile.
8. Get Google reviews
If you were to get a list of businesses in search results like the one below, which one would you be most likely to choose? The one with four attractive yellow stars or one of the two below with no reviews at all?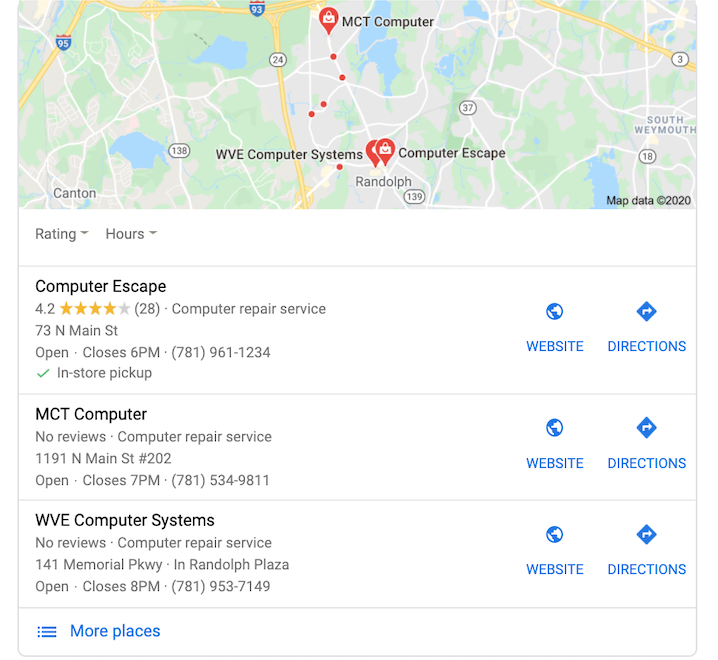 Google knows reviews are the #1 influence on consumer buying, so this is a ranking factor in their algorithm. For most searches performed on Google, the first three local results that appear (in what is known as the "Local 3-Pack") are the ones with multiple reviews and solid star ratings: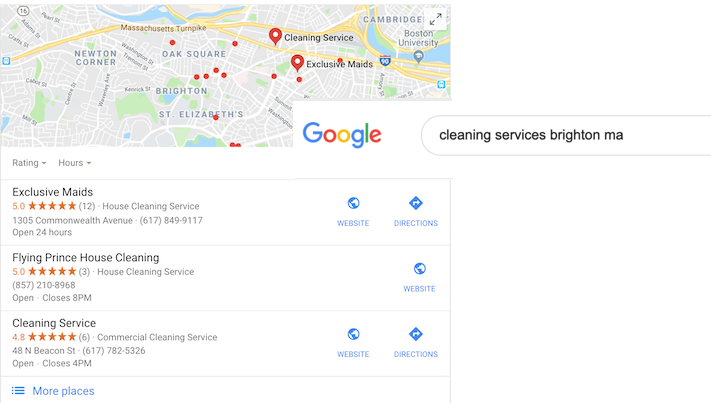 In addition, Google may also display a Business Profile in search results if it has reviews containing those keywords. Google will bold keywords in your reviews to further validate relevancy.
To optimize your Google Business Profile with reviews, follow these tips:
Start with your long-time, loyal customers to get the momentum going.
Make it as easy as possible for customers by creating a review shortcut link or using Whitespark's shortcut link generator (both are free).
Ask! 62% of customers will write a review if asked. Do so via email, text, social media, and in-person conversations.
Remind customers reviews are not just for your benefit. They help people who have the same pain points as them to find a solution and make informed decisions.
Have a "Reviews" page on your website with a CTA to leave one.
Respond to reviews. This feedback incentivizes additional customers to leave theirs, reveals a lot about your business to prospects, and improves your local SEO.
Be careful not incentivize reviews with discounts, gifts, or cash, though—that is not allowed.
9. Post to Your Google Business Profile
Just like with social media platforms, you can post to your Google Business Profile about announcements, offers, events, and products. Posts are created in your Google My Business dashboard and show up on the "Updates" section toward the bottom of your Business Profile. However, they might become more prominent based on the search query.
Here's how posts help you to optimize your Google Business Profile:
Posts increase the number of actions taken by consumers who find your profile.
Posting regularly sends positive ranking signals to Google in the same way that adding photos does.
Consumers have higher intent on search engines versus other posting platforms (i.e., Facebook and Instagram, where they are leisurely scrolling), so they are more likely to engage with your Google posts.
Consumers can follow your Business Profile and get notified of new posts and updates.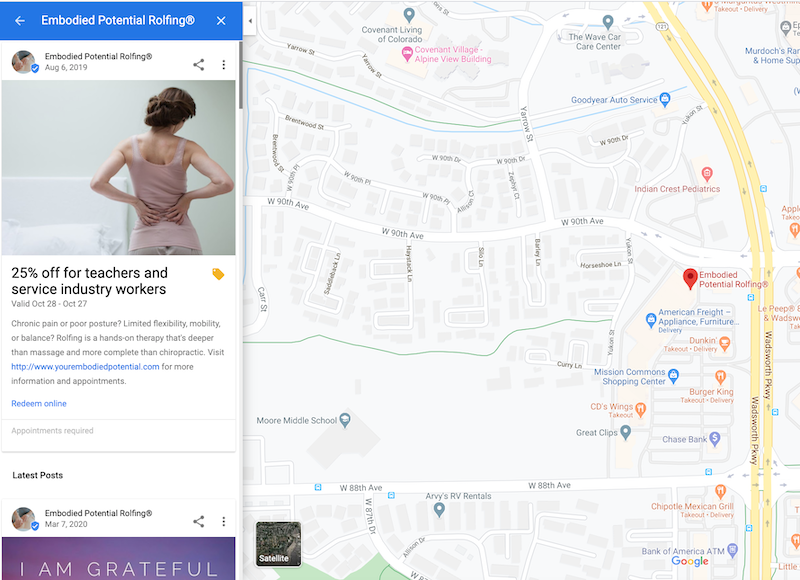 Your Google My Business posts will even appear on Maps—it's free advertising for your local business!
Here are your tips for optimizing your Google Business Profile with posts:
Post regularly. Not just to send signals to Google, but also because certain post types expire every seven days.
Use event and offer posts for marketing campaigns that have a timeline. You can choose a date range and the posts will stay live for the duration of that timeline.
Include links and CTAs in every post.
10. Ask and Answer Questions


Have you noticed on Amazon that in addition to the product description and customer reviews, there is a section for questions and answers? Google offers the same feature in Google Business Profiles.
Answers to these questions may be the reason for a customer deciding to choose your business. However, this section is particularly important to optimize because not only can anyone ask a question on a business's Google profile but also anyone can answer. This can lead to inaccurate information on your profile, or even worse, something like the Q&A on this pizza restaurant's profile:
You cannot turn off the Q&A feature of your Business Profile, but there are ways to optimize it:
Set up alerts so you can stay on top of questions and answers posted to your profile.
Seed your own Q&A section. Make a list of the most frequently asked questions your business gets. Then ask, answer, and upvote your answer on your own profile. This does not go against Google's terms and conditions. In fact, Google encourages it.
Keep keywords in mind. Questions and answers that contain keywords can help improve your Business Profile's ranking for that keyword. So, keep your keyword strategy in mind when seeding your Q&A section, but use them loosely and organically, and do not keyword stuff.
By monitoring and seeding your Q&A section, you can ensure accurate information, highlight your best features, and reduce common barriers to entry.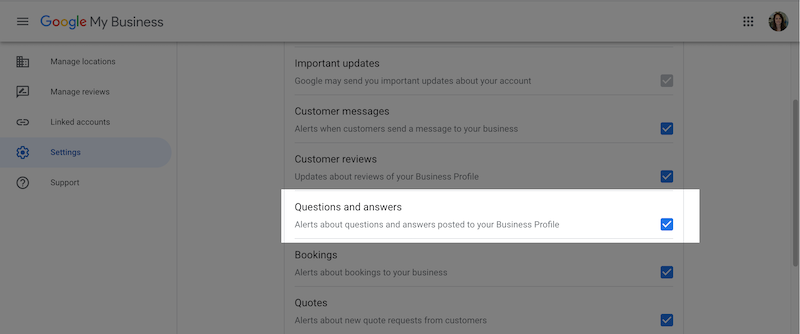 11. Add Products and Services
Adding products and services is especially helpful if your offerings are not made clear in your business name. Populating this section also adds content to your profile that can help it to rank for even more relevant searches.
Bonus Material: FREE Google My Business Checklist
When adding products and services, include the name, description, and price (if applicable). The full description will show up once a searcher clicks on the product. Also, Google may link to your products from your category section.
12. Set Up Messaging
This feature gives searchers the option to send a text message to your phone directly from your Google Business Profile. With 82% of smartphone shoppers (92% for millennials) using their device for local search, this is a great opportunity for customers to get in touch with you.
To enable messaging, select the "Messaging" tab in your Google My Business dashboard, and you have the option to install this via Google Play or the Apple App Store.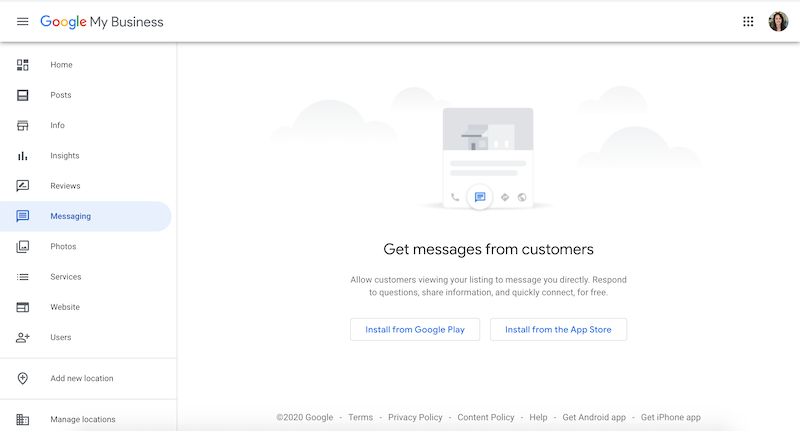 Two notes on Google My Business messaging:
You do not need to worry about displaying your personal phone number.
Be sure to set up alerts for messages in your Google My Business dashboard. Head to settings and check off "Customer messages."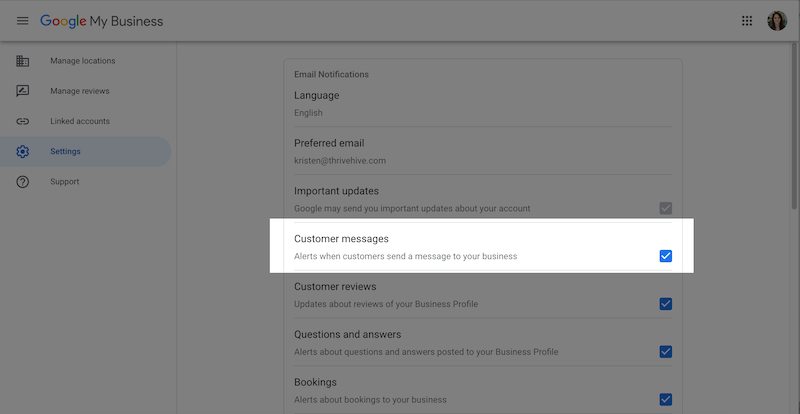 13. Maintain Your Business Profile with a Solid Google My Business Strategy
As you can see, a Google Business Profile is not a one-and-done marketing task. It's a local marketing tool that requires ongoing action in order to maximize your benefits.
This includes:
Updating information, even as minor as a change in suite number.
Publishing posts and uploading photos.
Keeping a steady stream of reviews coming in.
Monitoring and responding to reviews.
Staying on top of new features so you can ensure you're using your profile to its fullest potential.
Just like any Google SEO strategy, your Google My Business strategy should center around providing as much quality information about your business as possible —your website, review site profiles, and even your social media accounts.
Focus on using your Google My Business dashboard to get your Business Profile to represent your business as accurately and thoroughly as possible, and then make sure to maintain this, and you will reap its benefits.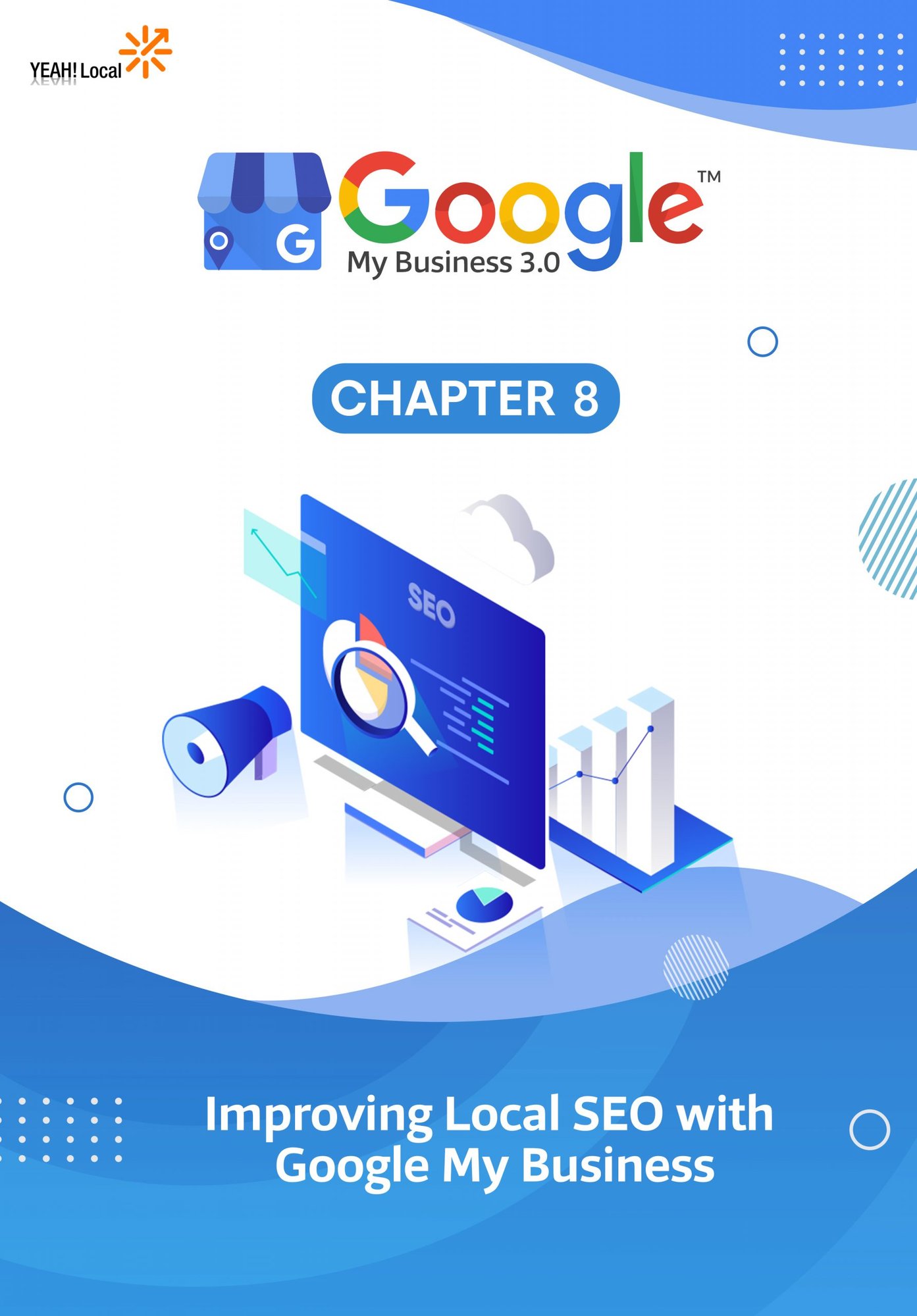 What is Google My Business and Local SEO?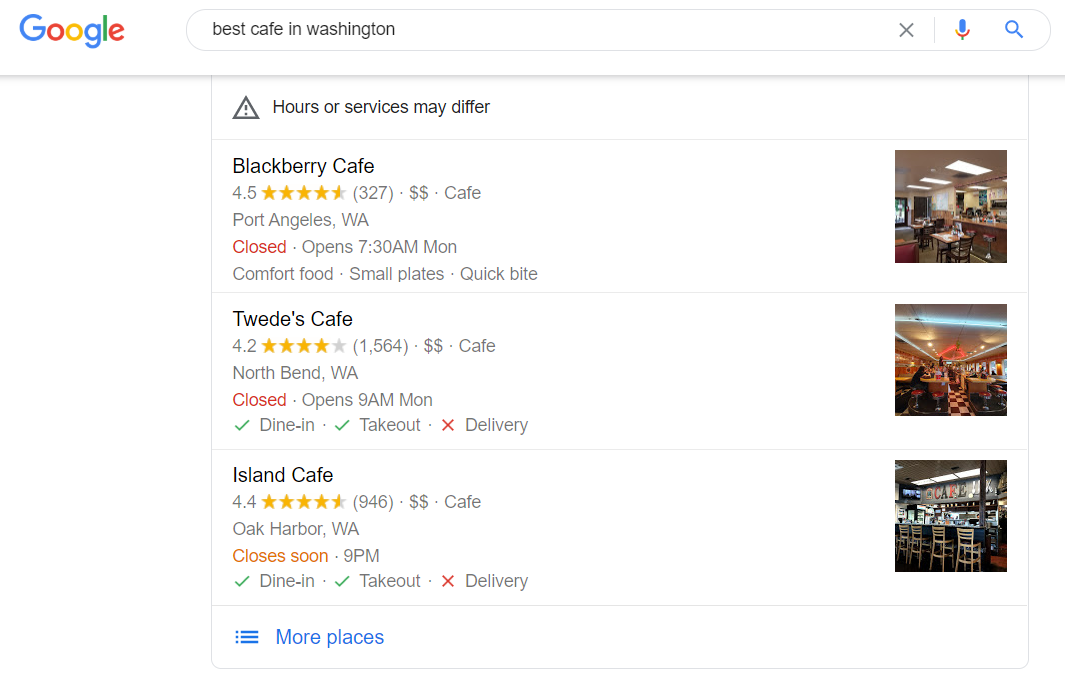 Have you come across something like the image on the search engine?
This is called the local search result, the result of a local search. Local means relating to an area or region.
A local search is a search that references a product or service that is typically consumed locally, such as "restaurants" or "nail salon", is an implicit local search. An example of a local search would be, "Good Chinese Food in New York".
When you do a local search, the search engine result page shows you a 3 pack. It is just like the one in the image above.
It clearly helps to boost your business' visibility. There are several businesses like yours. So, how can your business be a part of the 3 pack?
To answer the question above, your business can be a part of the 3 pack by doing Local SEO.
What is Local SEO?
Local SEO is the optimization of your business listing for your local audience. It is a set of activities carried out which purely focuses on getting your listing shown at the top of the search engine. It is like standard SEO except in this context, it is to rank locally. But before you do Local SEO, you need a Google My Business Listing.
Local Ranking Factors for Google My Business
According to Google My Business, Google decides local ranking based on 3 main factors. They are relevance, distance, and prominence.
Relevance: the similarity between the local listing and the users' search.
Distance: the proximity of the potential search result with the location searched.
Prominence: the popularity of a business. Takes into consideration popularity in the offline world as well as information obtained by Google from across the web.
But… you can improve your local ranking as well by doing the following:
1. Enter Complete Data
First things first, you need to include all information available regarding your business, so users understand your business better. When they understand your business, they are more likely to engage with your business.
2. Provide Accurate Data
Yes, more data allows users to understand your business better, but they are utterly useless if they are inaccurate. It may even leave a bad impression and experience for the users. Ensure that you keep your hours, location, and other important data accurate.
How To Do Local SEO?
There are many ways you can do Local SEO. We will list down a few that have a significant impact here.
1. Google My Business
Once you have your GMB listing, it is time to optimize it. Take note of the information in the Knowledge Graph and work on the details you want to show to your users. Here are a few things you can do:
Add photos and videos
Write an enticing business description
Create Google My Business Q&A
Create Google My Business Posts
Add a Menu and Product Collection
2. NAP Citations
NAP stands for Name, Address, and Phone. To optimize locally, you will need to provide accurate NAP information. According to the case study by Moz, which was mentioned earlier, Citation signals account for 13% of the ranking factor.
Studies have found that 93% of consumers say they are frustrated by incorrect information in online directories and 71% of consumers had a negative experience because of incorrect local business information found online.
So, pay close attention and ensure that you give accurate data. You would not want your audience to visit you at the wrong location, would you?
3. Local Reviews
As Google mentioned, Google takes into consideration the information found on the web. Local reviews will have an impact on local search ranking. So, start encouraging your customers to leave a review of your business. Be it good or bad, always remember to reply so users know that you take your customers seriously.
Having your business profile on the search engine makes you visible. But local SEO will help you optimize for local search. Take the case of local 3 pack, if you are not in the local 3 pack, chances are your prospect will head to another business.
Common GMB Mistakes and How to Fix Them
If you want customers to find you, especially new customers who aren't just searching for your business name, you need a fleshed out and properly optimized GMB account. Unfortunately, many businesses make mistakes with their GMB account that need to be addressed. Let us talk about seven common mistakes and how to fix them.
1. Not Verifying Your Business Listing
What's Wrong: Some businesses assume Google will list their business whether or not they verify it or believe that there is no reason for them to verify it if they are already showing up in local search results. Failing to verify your business in GMB damages Google's confidence in your location and status as a legitimate business and reduces the chances that you will show up in search results.
Verifying your GMB account also allows you to modify your listing, correct inaccuracies, improve your branding, show off pictures of what you do, and more.
How to Fix: Most businesses verify by mail on a desktop computer as follows:
Sign in to GMB
Select your business and click Verify now
Verify that your address is correct on the postcard request screen, update it if it isn't, and include an Optional contact name from your CRM to make sure that the postcard goes to the person in charge of setting up your GMB account
Click Send postcard
You will receive your postcard within two weeks. Don't make any changes to your business name, address, category, or request another code during this time, or you will slow down the verification process.
After getting your postcard, log in to GMB and select the location you are verifying
Click the Verify now button
Enter your 5-digit verification code into the Code field
Click Submit
For other verification methods, or if you are verifying by mail with a mobile device, see Google's guidelines.
2. Using Spammy Techniques for Your Business Name
What's Wrong: Some businesses attempt to game their SEO by using an inaccurate business name. They believe including keywords in their business name will allow them to rank better in local search results. Instead, doing so is a violation of Google's guidelines and may get you penalized.
How to Fix: Use your business name as it is consistently used on your signs, logos, website, and any business listing that shows your name, address, and phone number.
3. Using Your Legal Business Name Instead of Your Widely Recognized Name
What's Wrong: If your legal business name and the name used across all your platforms are identical, there is no problem. However, if your logos, signs, and business listings list a popularized business name that is different from its legal name, this leads to discrepancies that will reduce Google's confidence in your business's location.
How To Fix: Make sure that your GMB business name is the same as the one listed on your website, business listings, and on your signs and branding, as opposed to your legal business name, if they are different.
4. Bad Business Description
What's Wrong: Businesses often enter a long-winded business description that does not sell users on the business quickly enough to positively impact their decision about whether to visit your location. Google only displays the 250 characters of the description, and users will be comparing you next to dozens of other businesses when they decide.
How to Fix: Use a business description that clarifies what your business is for and how it is different from competitors as quickly as possible. Prioritize the things that customers tend to be most curious about, questions about your business that often come up in phone calls or walk-ins about what you can do for them.
Bonus Material: FREE Google My Business Checklist
5. No Reviews
What's Wrong: Reviews are the most important factor for local search. If your business has no reviews, this dramatically hurts your chances of showing up in local search results and in Google Maps listings. Even if you do, a lack of customer reviews harms consumer trust, and users will be less likely to choose your location over others without any information from other customers to guide them.
How to Fix: Start incorporating the process of asking for reviews into your business processes:
Train your staff to ask after completing a job or interacting with a customer
Ask through emails or when you send a bill
Ask at the end of your phone calls
Show customers how to leave a review
6. Solicited or Fake Reviews
What's Wrong: Some businesses incentivize users to leave reviews by offering a discount or coupon, or more egregiously, outright paying others to leave reviews. Doing so violates Google's guidelines and could result in your listing being removed from local search results entirely.
Google requires that reviews left by customers who have visited the location and that they do not receive compensation for leaving a review.
How to Fix: Implement a clear and strict policy against rewarding customers for leaving reviews on GMB. If any incentives are in place to reward staff for encouraging customers to leave reviews, they must be very carefully chosen to avoid incentivizing staff in any way "bribe" customers.
7. Duplicate Listings
What's Wrong: If you add a GMB location that already been verified, your business will not show up in listings, and it will show up as a "Duplicate listing" in your GMB account.
How To Fix: You will need to remove the duplicate, making sure not to delete the verified listing:
Sign in to GMB and go to Duplicate locations in your Account Summary
Click the duplicate location
Click Delete this listing
To remove multiple listings from the Duplicate locations section, check the boxes next to each listing, click the three-dot menu icon, and click Remove
If you do not have access to the verified listing, you will need to get access to it. See Google's instructions on gaining access of an already verified listing.
If your duplicate listings are mistakenly listed at different addresses, or at the same address with different names, you will need to remove the incorrect listing. These will not be listed as duplicates in your account summary and will need to be identified manually.
8. Wrong Category Placement
When creating your GMB account, you are required to choose a category for your business. But this can be quite difficult to narrow down – as there are nearly 4,000 categories available. Google only allows you to select one primary and 10 subcategories.
If you select the wrong category, you could potentially receive penalty points from Google and be excluded from local searches if customers file complaints. To correct this information, follow the steps mentioned in the above chapters.
9. Leaving The Q&A Section Blank
Leaving the Q&A section of your GMB page blank could be hurting your ranking ability when customers are looking for specific services or information. This is the primary place to include FAQs about things like service offerings, hours of operation, special deals (like happy hour for restaurants), and other important questions (like whether your building has parking).
Be sure to regularly check and see if customers have submitted any questions and take the time to provide detailed answers. Also note that if you do not see a Q&A section on your GMB, you may need to update your app. You will also need to be signed into your Google Maps app to receive notifications when a new question is submitted.
10. Not Updating GMB Posts
Another feature that many business owners ignore is using GMB posts, which allow you to publish content, including:
"What's new?" announcements
Events
Special offers
Welcome offers
You can also include CTAs that will appear if a customer selects these posts to receive offers, learn more, make a purchase, or contact your business.
These mistakes plague businesses that are new to local SEO. The good news is that tackling these issues will put you ahead of a fair number of your competitors and put you on the map. Put this advice to use, and you should expect to see some gains in your GMB insights.
Conclusion
Maintaining your online reputation is a cornerstone of digital marketing. While creating and optimizing a Google My Business listing might seem like a challenge to busy business owners, the payoff is worth it.
A professional cover photo, essential business information, and positive customer reviews will help promote your business to a new local audience.
As long as your local business meets Google's guidelines, your Google My Business profile can help give your company FREE exposure on Google's search engine. Not only can potential customers quickly see your business' name, address, and phone number, but they can also see photos of your business, read online reviews, find a description about your company, complete a transaction (like book an appointment) and see other information that grabs a searcher's attention — all without them even visiting your website.
That is powerful stuff!
Follow our step-by-step Google My Business guide and you can take your business to new heights this year.
Bonus Material: FREE Google My Business Checklist