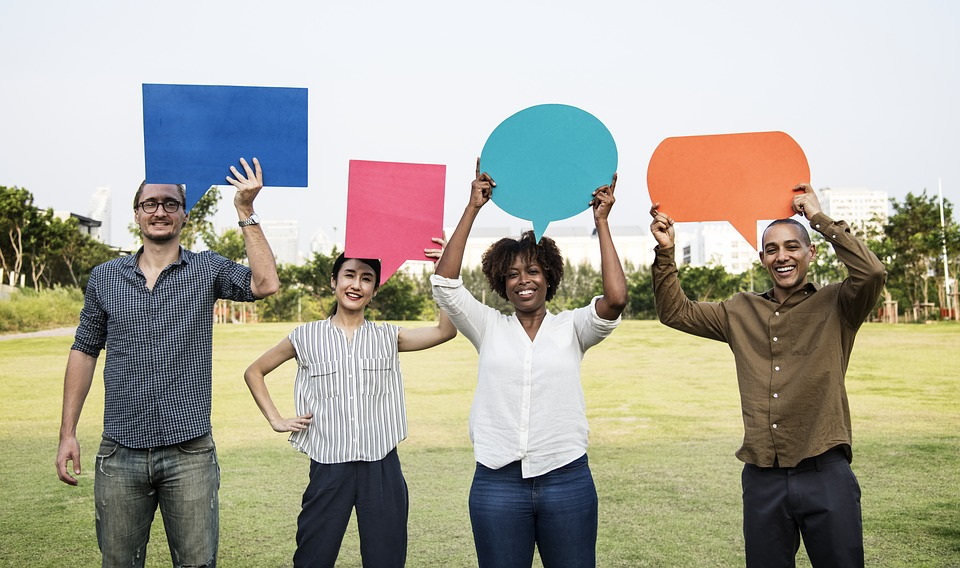 If you've been in the digital playing field for a few years, then you know what a solid customer review profile can do for your business.
Download 7 Online Review Request Templates Instantly
You've experienced how it can boost your brand visibility, establish your brand as an authority in your niche, and how it can ease the path to conversion among people who are curious about doing business with you.
The best part is, it's not that difficult to have a great customer review profile.
In fact, you might be amazed at how you may already be doing things that can help you garner more reviews. What kinds of activity am I talking about, you might ask?
Well, you might already have an active blog, YouTube channel or even a podcast that you use as marketing assets for people to find you and start benefiting from your expertise.
And although these content formats aren't exactly your products themselves, they are extensions of your brand. They're items that audience members often enjoy reviewing.
So even if you don't have so many reviews of your company or its products, you can still cultivate a sense that the general public likes what you've got to offer, by encouraging people to review your articles, video clips, and audio programming.
Read on for the details, mi amigo.
Reviews of Blog Posts
Your website's blog posts can be a wonderful source of customer reviews.
And since you're already taking the time to publish helpful content for your content marketing campaigns, then you just need to make some minor adjustments in how you write your content so the engagements you'll get out of your blog posts aren't just comments, but actual reviews.
Here's a top-level view of our game plan. When writing your blog posts, be sure to:
Talk about your readers' problems.

Mention your services and how it can solve the problems that you're discussing — their problems.

Add a call-to-action asking your readers to leave a comment on how your product or service was able to help them, and the results they've garnered out of it.
Because of the last step, your previous (or existing) customers will be encouraged to comment on your blog post with their experience of your product.
There are even plugins that collect star ratings on articles, which can then aggregate to Google search results for increased click throughs.
Also, since the comments in your blog posts are public, your readers (those who aren't your customers yet) will see the positive reviews/comments made by your customers.
These reviews can then compel them to work with you or buy your products.
Here's an example use case. Supposing you're a SaaS company that helps business owners create professional-looking websites through your web development platform.
You can then write a blog post on how your customers can create an aesthetically-pleasing website in minutes while positioning your online tool as the platform that they need to create their websites.
At the bottom of your article, you can then leave a CTA telling them to "Start creating your websites now using (insert your brand name here), then leave a comment below regarding your experience with our platform."
If your content is compelling and provides value, then there's no reason for your readers not to follow your CTA.
They will use your platform to create their websites — using your blog post as a guide to the process — and they will leave a review in your article's comments section about their experience with your web development platform.
As you can see, just by making some minor adjustments to how you write your articles and adding the right CTA, you'd be able to generate customer reviews.
Reviews of Your YouTube Channel
Let's take a closer look at some of the ways you can go about using YouTube to generate customer reviews.
Create a product tutorial video:
This one's pretty cut and dry. The idea is, you'll create a video detailing how your product or software works, then leave a CTA telling your viewers to comment about their experience with your software.
This type of video works well with people who have already subscribed to your services, and are in need of a guide on how your software works. In this video, you can expect several questions, suggestions, and positive (or negative) feedback about your product.
Create an instructional video or a guide on how to solve your viewers' challenges:
Let's say you're into digital marketing and you're looking to help your viewers with local lead generation. You can create a video on tips to generate local leads using your services or tools. You can then ask your viewers to try the tips that you shared, so they can get back to your video at a later time and comment with the results they've garnered.
As you can probably imagine, you will get comments like, "I tried using X strategy while using your tool and I was able to generate countless sales." That right there is a big win for your audience and yourself.
Create a short video interviewing your happy customers:
If you're going to use this strategy, then you need to come up with an incentive of sorts to get your customers to say "yes" to your interview request. So, basically, you will just interview your customers regarding their experience with your company.
You can ask them things like what their struggles were previously, how your company has helped them, what kind of positive results they're getting now, etc.For the most part, if your customers aren't too busy, they'll be more than happy to help you with the review.
But if they're overwhelmed, then they just might decline your request. To keep that from happening, you can offer incentives like a discount coupon, a free upgrade, or even a raffle entry with prizes.
Reviews of Your Podcast
If you're already into publishing podcasts, then you probably know that it's easy and inexpensive to list your podcast on various aggregators and audio content discovery platforms.
And some of the leading ones, including iTunes and Stitcher, have extensive listener review components.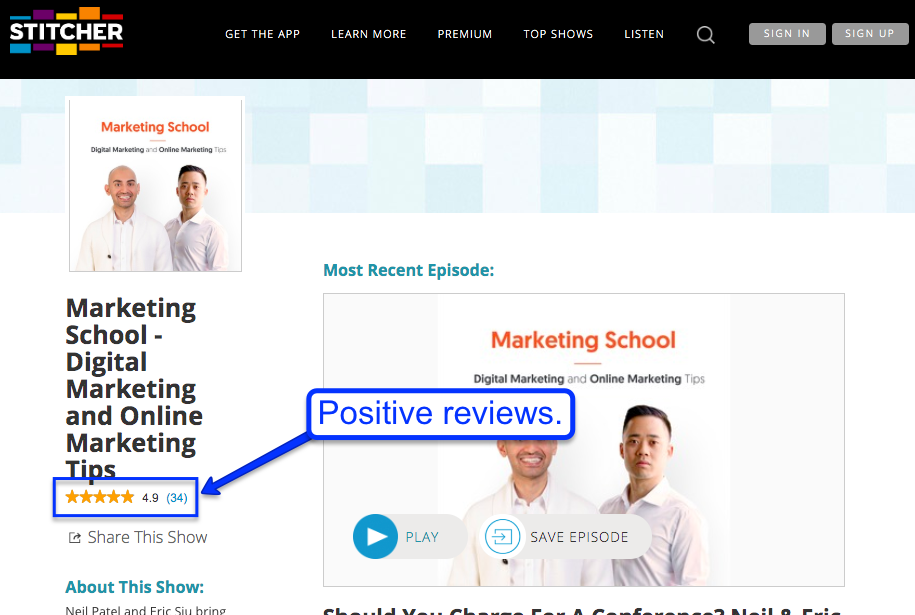 Through his Marketing School – Digital Marketing and Online Marketing Tips podcast, for example, Neil shares golden nuggets of marketing wisdom to engage his audience, provide massive value to his community, and get positive reviews.
And it doesn't make a major difference if they're reviews of the Neil Patel Digital agency or reviews of Neil Patel's podcast – they all help.
Check these out…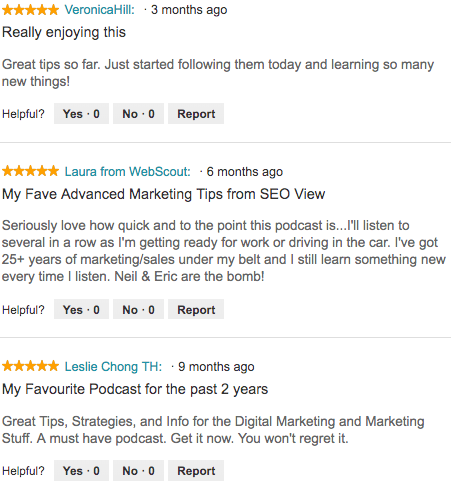 Pretty awesome, huh? Regardless of the niche you're in or the type of service you're offering (with very few exceptions), you can almost always do a podcast about your industry.
If you own a restaurant and you want people to say positive things/reviews about your brand name, then you can do a podcast on how to cook delicious food. You can share recipes, cooking techniques, and some tools that you know can help your audience.
The more value you offer, the bigger your chances are of getting positive reviews.
It's also worth pointing out that whether your audience will say positive things about you, personally, or your brand, you can still benefit from the review. Your authority will still grow and your business name will still garner traction.
Quick tip: On your podcast, be sure to mention your business name several times (strategically, at that), so your name and your business name becomes inseparable.
What's Next?
What are some of the best methods you're using to generate customer reviews?
While the tips I shared are effective in and of themselves, there are countless other methods you can employ to generate more reviews. Share what's working for you in the comments below.
Download 7 Online Review Request Templates Instantly