ClickFunnels Review 4.7/5
In this review, I'm going to break down ClickFunnels main features, why I think it's the best sales funnel solution, and how it compares with other tools so you can decide whether it's right for you.
One of the first things I ask new clients is, "What does your sales funnel look like?"
I tend to get answers that range from "We have a thank you page set up" to "What is a sales funnel?"
A sales funnel can make your business work like a well-oiled machine, providing actionable data for you to optimize it and grow your business.
It can also make your business highly scalable.
Once you have an optimized funnel, your main focus becomes driving traffic into that funnel.
The more traffic you're able to drive (while making sure your net revenue remains within an ideal range) the more your business grows.
Back in the day, building a sales funnel was a major headache.
If you didn't have the skills yourself, you would need to hire a team to build it out and handle any technical issues that arise.
And, trust me, technical issues would arise in abundance.
These days, many tools can help you build different parts of your sales funnel with no coding knowledge required.
Even experienced marketers can follow a simple outline to get their first sales funnel up and running in no time.
What is a Sales Funnel?
A sales funnel is essentially a step-by-step sequence prospects go through to introduce them to a product or service and induce them to purchase it. There are many ways to set up a sales funnel, but they typically include three elements:
An optin form

Landing page(s)

Email autoresponder
Within this funnel, you can set up upsells, downsells, and cross-sells to maximize your revenue per customer. And you can run A/B tests to optimize each part of the funnel.
The biggest issues with sales funnels are setting them up (the technical knowledge) and building one that converts (the marketing knowledge).
One of the most popular sales funnel solutions is ClickFunnels.
It's one of the only true all-in-one tools for creating sales funnels and it's my favorite for creating full-fledged funnels within one platform.
Visit ClickFunnels Now for a 14 Day Free Trial
Why Sales Funnels Are Crucial
A website without a clear sales funnel is simply not optimized for conversion — hands down.
You might be attracting prospects, and they might be buying from you, but it's probably happening haphazardly.
And if it's happening haphazardly, there is a lot of room for growth.
I place creating/optimizing sales funnels near the top of my agenda when working on a new website.
That's how important it is.
It makes every other marketing initiative more effective, and it can mean the difference between a business that's struggling and one that's thriving.
A sales funnel acts as a guiding force that sends the right prospects through the right buying cycle, as opposed to sending all prospects through the same cycle.
It also gives you the ability to measure how your marketing/sales are performing and make adjustments at each stage in order to maximize conversions.
A sales funnel is an essential weapon in any business's arsenal.
ClickFunnels Overview
Let's get a high-level look at what it's like to use ClickFunnels:
Ease of Use
As will many all-in-one tools, ClickFunnels is not the easiest to use. It's feature-rich, which makes it versatile but also daunting for inexperienced marketers.
If you take the time to get comfortable using the tool, the process for building out your funnel(s) becomes quite intuitive.
But the learning curve can be too steep for people who aren't used to using marketing tools.
However, ClickFunnels does understand this, so when you first sign up they walk you through how to set up a funnel and all of the available features: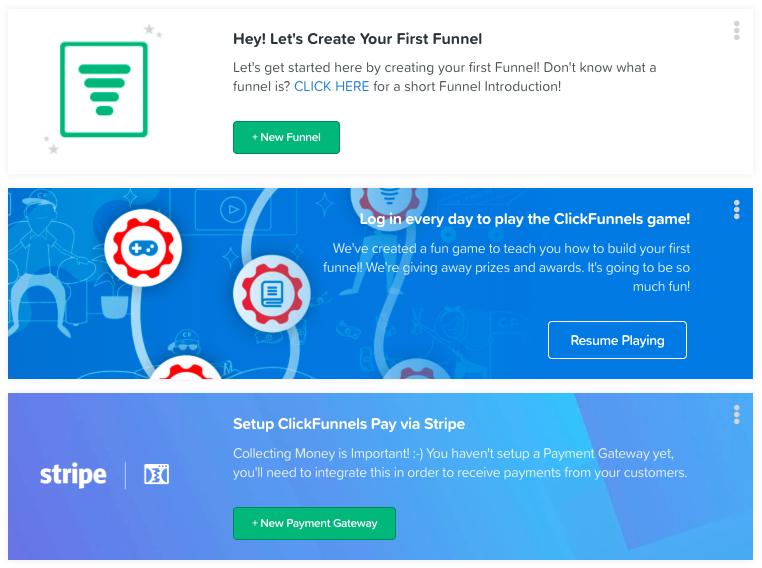 ClickFunnels Pricing
ClickFunnels is one of the more expensive landing page builders/sales funnel solutions.
This is largely because it's one of the few that allows you to set up your entire funnel under one platform.
Right now, they have two tiers: one for up to 20,000 monthly visitors ($97 per month) and one for more than 20,000 ($297 per month).
The lower tier limits the number of funnels and pages you can create.
I've found this is a good tier for most small to medium-sized businesses.
The Etison Suite is more suited to businesses running large-scale marketing funnels for many different market segments.
However, certain features like affiliate management, email open/click tracking, and the visual email builder is only available with the Etison Suite.
In terms of being a single tool, you are paying a premium to have everything you need under one roof.
Visit ClickFunnels Now for a 14 Day Free Trial
ClickFunnels Support
ClickFunnels offers a vast amount of searchable support documentation if you get stuck with anything, as well as live chat, email support, and a Facebook group.
With a tool this feature-rich, having quick and knowledgeable support is important.
My experience with their support has been positive. Most questions were answered in a timely manner and I got my issues solved, but I have read a few people complain about long wait times.
ClickFunnels Main Features
Here is the bread and butter of ClickFunnels:
The sales funnel templates are by far my favorite part of ClickFunnels.
Using the marketplace, you can find premade templates for optins, memberships, webinars, product launches, landing pages, and more.
Some are paid but many are free to use. You simply import them into your account and adjust them for your needs.
You can even create your own templates and sell them on the marketplace.
The landing page builder is one of the features I use most.
You'll be using this to create/edit your optin pages, sales pages, thank you pages, etc.
I've used more than my fair share of landing page builders (they've been around for a while), but I would put ClickFunnels near the top of the list in terms of versatility.
One of my favorite aspects of ClickFunnels is how easy it is to add upsells, downsells, and cross-sells to your sales funnel.
These types of offers are crucial for maximizing your revenue.
ClickFunnels allows you to create these offers quickly, your customers don't have to input their information again, and you can reorder them within the funnel with a quick click and drag.
ClickFunnels also integrates with a ton of other email marketing, e-commerce, webinar, and payment processing tools.
If you're using a tool, it likely integrates with ClickFunnels, making your marketing toolset work seamlessly together.
Finally, I love ClickFunnels' A/B testing capability.
You can split test any part of your funnel and figure out which variation performs best in order to optimize your conversions.
Visit ClickFunnels Now for a 14 Day Free Trial
ClickFunnels Drawbacks
One of the biggest complaints against ClickFunnels is that it's cheaper to use multiple tools to do the same job.
This is true, so if you'd prefer to save money (but go through some hassle making the different tools work together to create your funnel), then that might be the right option for you.
But if you'd like to keep everything under one roof, I think it's worth paying extra for everything to be integrated already.
To create your funnel with multiple tools, you would need an optin solution, landing page builder, and email autoresponder plus they would all need to integrate with one another.
The nice thing about ClickFunnels is that you don't need to worry about feature changes in one of your tools causing issues with how it works with another tool.
Adding a funnel to your account can also be slow sometimes.
Who ClickFunnels Is Best For
ClickFunnels is best for more experienced digital marketers who are used to learning new tools and have an idea of how sales funnels work.
However, if you're newer to digital marketing and you're willing to learn a more advanced piece of software, I'd recommend giving it a shot, as it's an all-in-one solution that can have a big impact on your business in the long run.
ClickFunnels Free Trial
ClickFunnels offers a 14-day free trial on their pricing page.
ClickFunnels Core Feature Overview
Sales Funnel Templates
Using their templates is super easy. Simply head over to the marketplace and use the filtering options on the left to narrow your search.
For example, if you're looking for a product launch template, you would simply check the box on the left and it will pull up all of the templates that relate to product launch funnels.
You can then organize them by top rated, newest, best selling, and price:
Click into any that seem interesting and check out what the funnel looks like.
If you think it would fit what you're trying to do, then simply click "Get Template" and the template will be added to your account.
From there, go through each page and edit it for whatever product you're selling.
This is one of the easiest ways for someone who isn't experienced with sales funnels or using a tool like this to get an effective funnel up and running ASAP.
ClickFunnels Lead Generation (Optin)
Lead generation is one of the most important aspects of any sales funnel.
For most digital marketing funnels, lead generation involves capturing email addresses using optin forms/pages.
ClickFunnels allows you to create optin funnels which are optimized to convert visitors into subscribers, essentially sending them into your funnel on autopilot.
To create an optin funnel, you click on "Funnels" and add a new one:

Then choose "Collect Emails":
The email funnel consists of two steps: optin page and thank you page.
The optin page is where people convert into subscribers, and the thank you page is where they get sent immediately after opting in.
You can then select from a ton of templates for each page and start customizing them for your offer.
Visit ClickFunnels Now for a 14 Day Free Trial
Afterwards, all you need to do is drive traffic to the page to start generating leads into your sales funnel.
ClickFunnels Upsells and Downsells
Upsells and downsells help maximize your revenue.
An upsell is simply a higher-priced offer you promote after someone has already purchased your product/service, and a downsell is the same but a lower priced offer.
ClickFunnels makes it easy to add these to your funnel.
To create and upsell or downsell, you add a new step in the funnel and select one-click upsell or downsell from the "Sales" dropdown and select one of those templates:
Then drag and drop that step so that it comes after your order page.
Your customers won't need to enter their payment information again, so abandoned carts won't be an issue.
ClickFunnels Landing Page Builder
Some people complain about ClickFunnels landing page builder, but I'm a big fan of it. I think it's intuitive, easy to use, and they've made a lot of improvements.
In most cases, you will be working from a template, so a lot of the heavy lifting is done already.
After that, you'll be editing text, colors, and adding elements.
There are a ton of page elements to choose from — images, videos, progress bars, pricing tables, countdown timers, etc.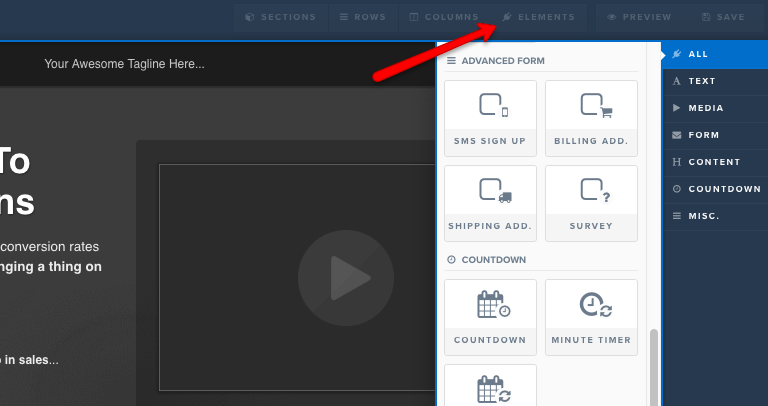 Then it's simply a matter of dragging and dropping different elements to design your page the way you want it to look, no coding required (although, you can add your own code if you would like).
I think it's one of the most intuitive landing page builders on the market.
ClickFunnels Autoresponder Emails
An autoresponder is a crucial aspect of any sales funnel, because you want as much of it to be automated as possible in order to minimize the manpower needed to keep it running.
ClickFunnels autoresponder capability allows you to send automated emails during different steps of your sales funnel.
These emails nurture new leads, explain your offer, and ultimately drive them to your landing pages.
ClickFunnels A/B Testing
ClickFunnels allows you to split test every step of your funnel.
This allows you to test different variations of a page, or completely different pages, to see which converts best.
A/B testing is a crucial part of any marketing strategy, and it's dead simple with ClickFunnels:
You go into your funnel and select the step you want to split test. Then click "Create Variation."
From there, you can either duplicate the page if you would like to test a specific element, or you can select from a template to test whether an entirely different page will perform better.
Once you're done creating the variation, simply start the split test and ClickFunnels will divide up your traffic between the two and tell you which is converting best.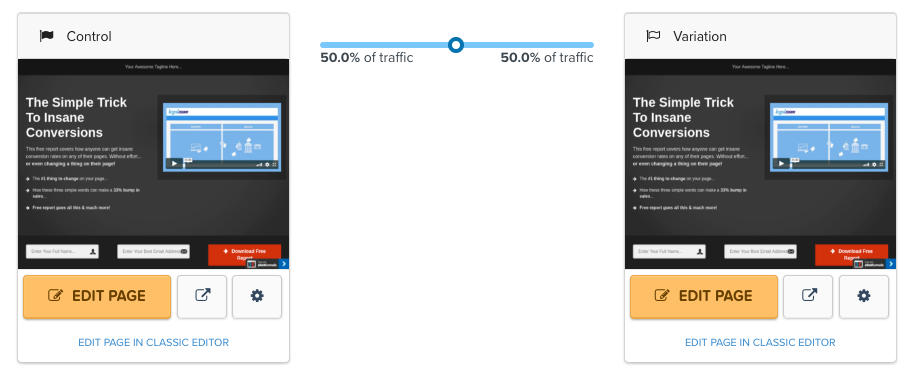 ClickFunnels Integrations
ClickFunnels integrates with a ton of other tools.
They're split up by email marketing tools, webinar tools, messaging, delivery, and actions — with the bulk being email and webinar.
ClickFunnels Other Important Features
Purchase History
ClickFunnels also keeps track of your purchases.
Although you should probably have a separate solution for this, it's nice to see your purchases coming from your funnels within the tool.
Affiliate Management
If you're interested in creating an affiliate program for your product or service, you can do so within ClickFunnels.
This includes attracting, managing, and paying your affiliates, all from within the platform.
No Need For Your Own Domain Name
Unlike many other services, you don't even need to have a website to use ClickFunnels.
You can host all of your pages under a subdomain.
Actionetics
Actionetics is ClickFunnels' version of website tracking, as in tracking the web behavior of each visitor and creating profiles based on that behavior. Not only that, it can find those peoples' social media profiles and a host of other data about them.
You can then use this data to create lists and send them follow-up funnels and broadcast emails. This makes your email marketing much more targeted.
How Does ClickFunnels Compare With Other Tools?
The most closely related tool to ClickFunnels is LeadPages.
ClickFunnels is first and foremost a landing page builder with optins and email marketing attached to it. LeadPages is only a landing page builder (for the most part).
It is an excellent tool and I've used it extensively. But it just doesn't do as much as ClickFunnels.
Visit ClickFunnels Now for a 14 Day Free Trial
Is ClickFunnels Cost Effective?
Like any tool, you need to actually make use of it for it to be cost effective.
Many businesses, especially larger ones, get excited about a new tool, sign up for it, and use it for a few weeks.
Then they let it sit there for months before either using it again or getting rid of it.
The nice thing about ClickFunnels is that it's a tool which directly relates to increasing revenue, so as long as you're making more than you're spending on it, it's cost effective.
But you do still have to put in the initial work to set up your funnel(s) and optimize them.
ClickFunnels Summary
ClickFunnels is a smart choice for people who are looking for an all-in-one lead generation, landing page, and email marketing solution.
Their sales funnel and landing page templates can help anyone get started with their first funnel quickly, and ClickFunnels' A/B testing feature is excellent for further optimizing your funnels.
I'd recommend ClickFunnels to anyone who wants a full-fledged sales funnel and email marketing solution under one roof.
Do you have a question about our ClickFunnels review or pricing? Feel free to comment below.
Visit ClickFunnels Now for a 14 Day Free Trial
ClickFunnels Review 4.7/5
Heads up: The tool reviewed here is selected by YEAH! Local's team and meets our rigorous standards for awesomeness. If you click on one of the links and sign up, we may earn an affiliate commission.