I will break down 7 data-backed reasons to ramp up your Google business reviews and reputation marketing this year. Each is backed by a key stat from the study.
Google business reviews and reviews in general matter more than ever before.
Consumers are turning to them more often to make purchasing decisions, they trust them more, and they're actively reviewing businesses on a more frequent basis.
A recent 2021 study by BrightLocal on local customer reviews backs these findings up (and much more).
The survey reveals some interesting trends in customer review behavior from 2010 to 2021.
However, the most important information is what this data means for businesses in the modern digital era.
Because Google reviews for your business (or lack thereof) are already having a meaningful impact on your business and your competitors.
In this article, I will break down 7 data-backed reasons to ramp up your review and reputation marketing this year (especially for Google).
Each is backed by a key statistic from the study (or two) and the reasoning behind it.
But first, let's go through a brief overview of the study…
About the Survey
The local consumer review survey was conducted and updated in late 2021 by BrightLocal.
The survey digs into how consumers read and use online reviews — focused specifically on local business services (not general products).
1,062 individuals in their U.S.-based consumer panel completed the survey.
Overall, the findings provide a compelling argument for increased investment in reputation management/marketing and review marketing.
Here are seven findings that should stand out to almost any business:
1. Most Consumers Read Reviews Before Making a Decision
All survey images by Bright Local
Key Statistic: 91% of consumers regularly or occasionally read online customer reviews to determine whether a local business is good or bad.
This statistic indicates a vast majority of consumers turn to Google and other online reviews when determining how they feel about a business before engaging with it.
The social proof inherent in reviews and hearing about other people's experiences is valuable information for an undecided consumer.
Since most people are reading reviews, businesses need to take their reviews seriously.
They are an extension of word-of-mouth–meaning what people say about you can theoretically be read by thousands of people, not just individuals in a customer's immediate network.
And these reviews drastically affect your reputation in the marketplace.
2. People Trust Online Reviews as Much as a Personal Recommendation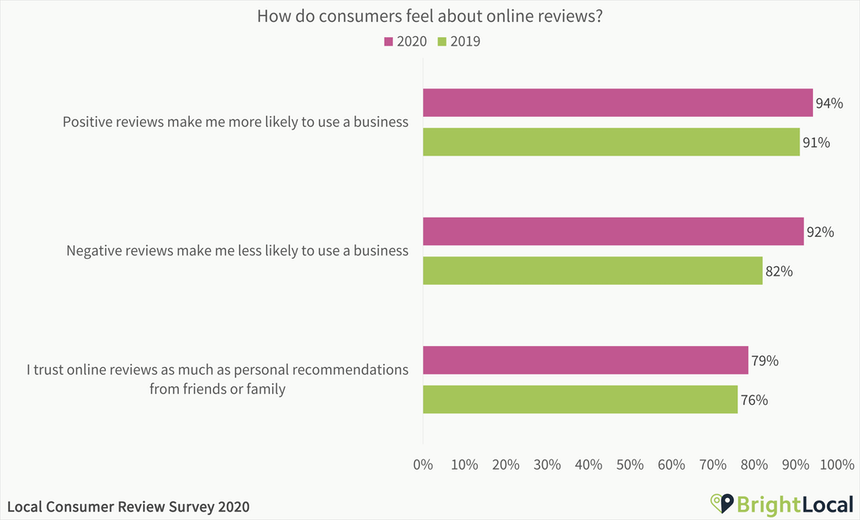 Key Statistic: 84% of people trust online reviews as much as a personal recommendation.
Word-of-mouth has long been one of the most powerful marketing tools.
A recommendation from a friend, coworker, family member, or acquaintance carries a lot of weight due to the trust inherent in the relationship.
More people are trusting online reviews at a higher rate than ever.
84% of people trust online reviews as much as a personal recommendation.Click To Tweet
And this trust is equal to a personal recommendation from someone in their network.
The importance of this cannot be understated:
If word-of-mouth is one of the most powerful marketing tools, and online reviews are being trusted just as much, then customer reviews are also one of the most powerful marketing tools.
But this also means they can work powerfully for or against you, depending on the nature of the reviews. (The impact of positive reviews will be discussed later on.)
Note: The perceived authenticity of the reviews is also an important factor. If consumers feel like the review is fake, bought, or has otherwise been "planted" there, this can affect their decision making.
3. Most Consumers Will Leave a Review if Asked To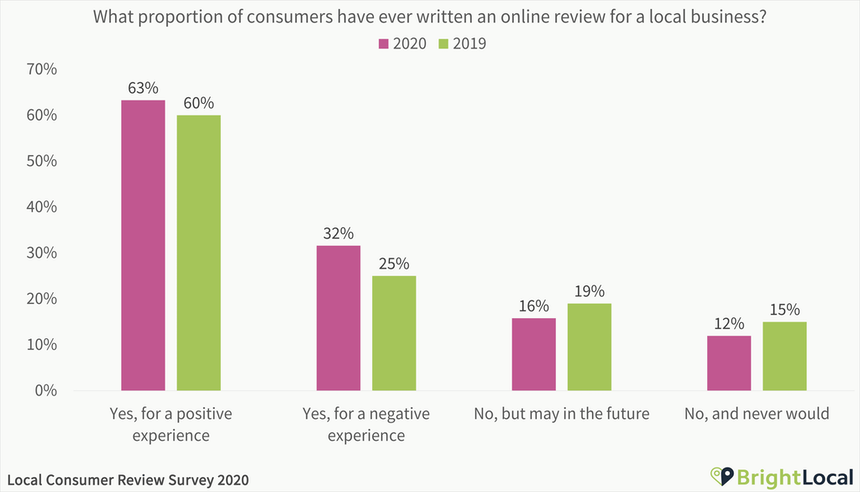 Key Statistic: 7 out of 10 consumers will leave a review for a business if they're asked to.
A common concern among business owners is wanting more reviews but also not wanting to pressure their customers to leave them.
This statistic helps to qualm those concerns.
To ramp up your review marketing, you need calls-to-action asking for more Google reviews.
Not only is it difficult to get more reviews without asking (unless your business is gaining customers at a steady rate), but not asking for them while your competitors are will leave you falling behind.
You don't need to shove it in their face at every turn.
Just place reminders around your store, on your website, or email and text them to leave a review of your service.
(And if you're nervous about getting too many poor reviews, you might need to audit your service so it's providing maximum value.)
4. Maximizing Positive Reviews Can Pay Quick Dividends
Key Statistic: 90% of consumers read 10 reviews or less before they feel they can trust a business.
A quality review system within your review marketing plan helps maximize your positive reviews.
And data shows this can pay quick dividends.
How?
Because 90% of consumers read just 10 reviews or less before trusting (or not trusting) a business.
In decision-making terms, this is an extremely short amount of time.
It's also a testament to just how much consumers trust the information they gain from local business reviews.
You want to make sure as many of those 1-10 reviews are positive.
If most are negative, consumers will make a quick decision which will most likely lead to them researching your competitors.
If most are positive, consumers will make a quick decision which will most likely end up in increased business and revenue.
It's that simple.
The quicker you ramp up your review marketing (especially Google) and maximize those positive reviews, the faster you will reap these rewards.
5. Positive Reviews Can Result in Direct Lead Generation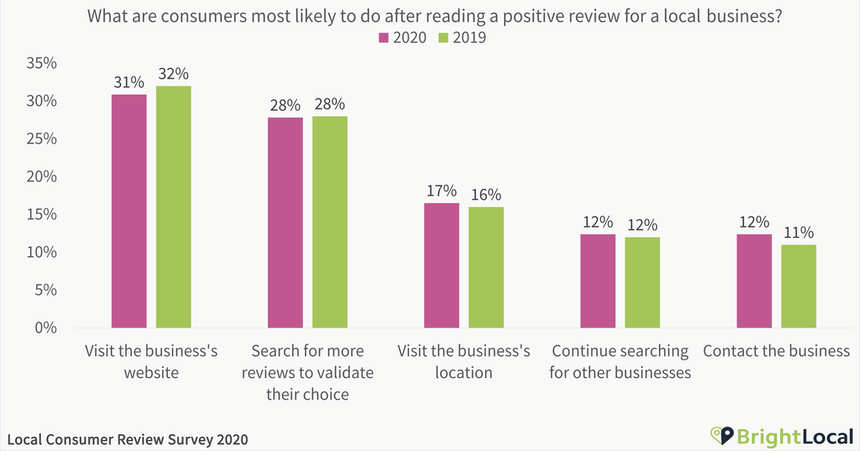 Key Statistic: 54% of people will visit the website after reading positive reviews.
After reading positive reviews (and usually 10 or less of them) data shows most people will visit your website.
Here, they will gather more information, learn more about what you offer, and begin making a final decision about whether or not to do business with you.
(For comparison, the study found 19% of consumers will visit the business right after reading positive reviews, and 17% will continue to search for more reviews about the business.)
This means most people go directly from reading positive reviews to becoming potential leads, where your website does the final selling.
So reviews have increased their power to maintain a customer's attention and trust.
6. Consistent New Reviews Can Increase Consumer Trust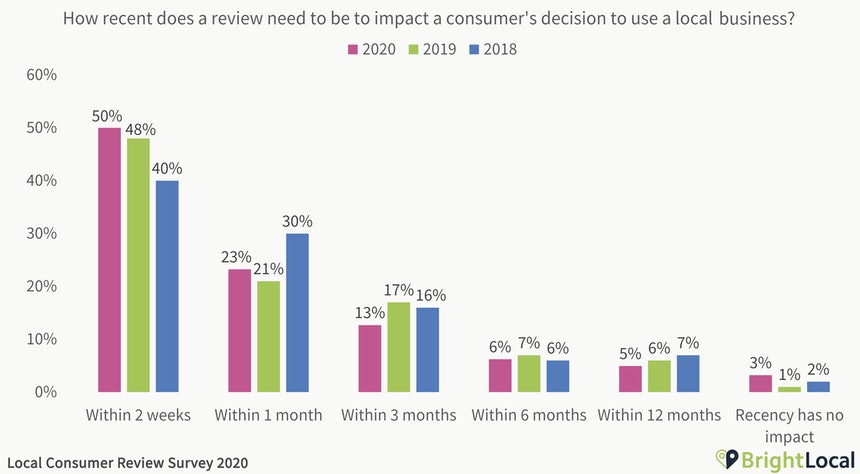 Key Statistic: 73% of consumers think reviews older than 3 months are no longer relevant.
This statistic provides insight which is twofold:
If your more recent reviews are older than three months, they lose most of their trust with the market (and, therefore, their value to your business).

The more recent your reviews, the more trustworthy they are (and, therefore, their potential value to your business increases).
As long as your reviews are positive, a consistent amount of new reviews can be extremely valuable.
They maintain all of their trust with the market and serve your business in a beneficial way.
However, if your reviews are recent but negative, or if they're outdated (whether positive or negative) they can suddenly become either irrelevant or detrimental to your business.
Review marketing involves actively seeking out new reviews from your customers, along with optimizing them for positivity.
As these trends continue and consumer reliance upon reviews increases further, a review marketing plan can become a valuable asset.
7. Improving Your Star Rating is Key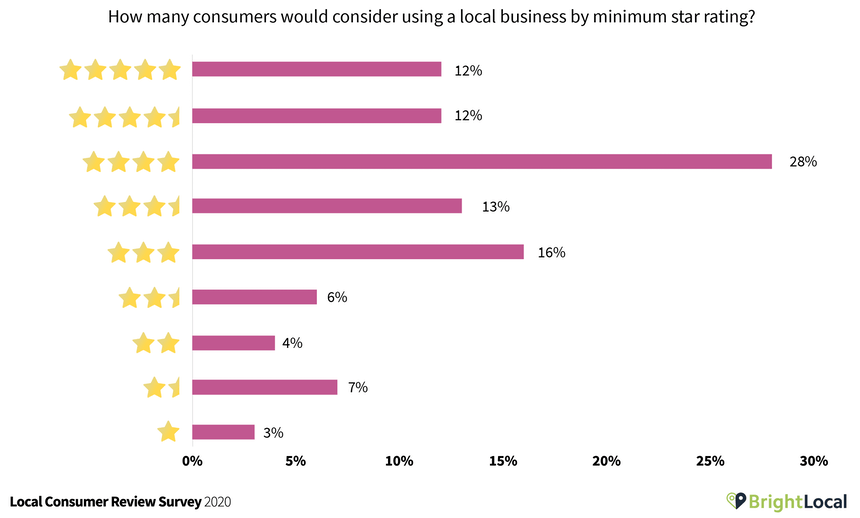 Key Statistic: 58% of consumers say the star rating of a business is most important.
87% of people also say a business needs a rating of 3-5 stars before they will use them.
Star ratings provide an overall ranking of your business based on the cumulative reviews of every customer.
It's a quick and easy way for consumers to gauge the value of a business compared to its competitors and their other options.
For most consumers, a business must have a minimum of 3 or 4 stars before they will use them.
This should be your goal if you are at 2 stars or below.
4 Ways to Get More Online Reviews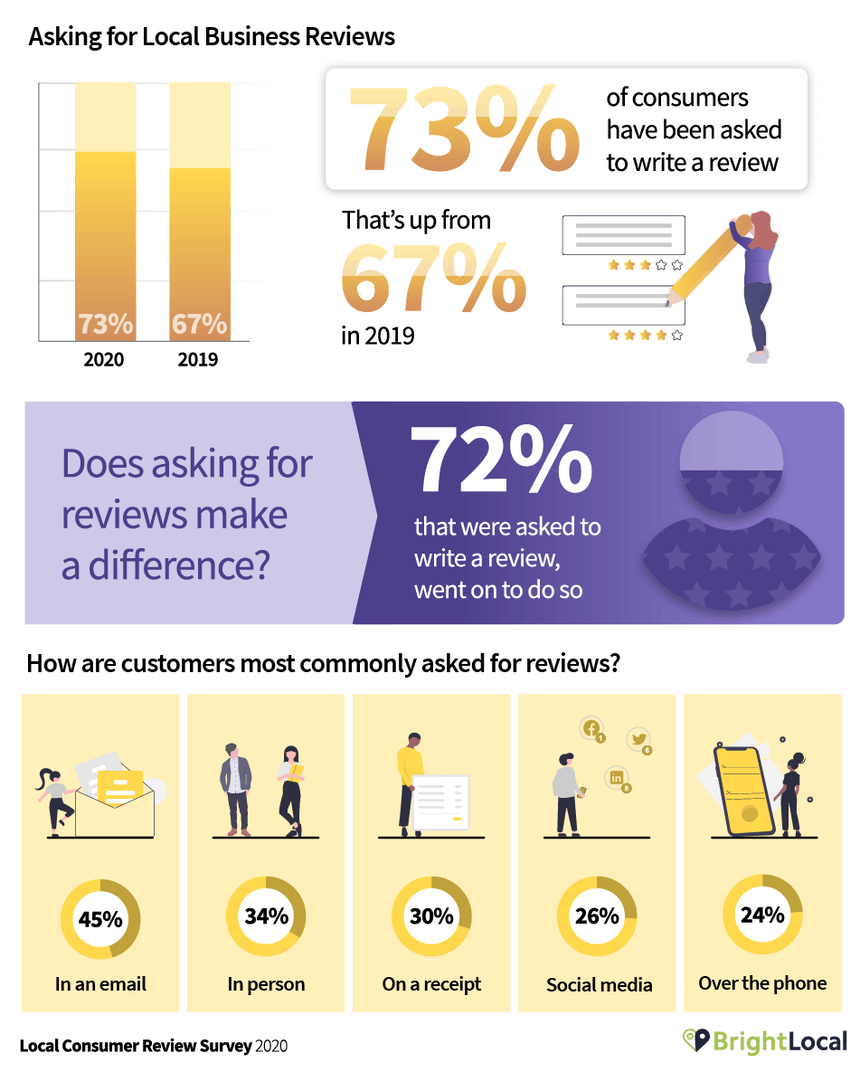 Most businesses offer a good enough service to garner mostly positive reviews from their customers, clients, or patients.
The main issue is getting enough Google My Business reviews for them to stay relevant, to increase their rankings on review websites, to gain more exposure, or to increase their overall star rating.
Here are a few ways to get more online reviews for your business:
1. Offer An Excellent Service
It goes without saying that offering a fantastic service to your customers will generate positive reviews from them.
But it will also attract more reviews because when people experience a service that blows them out of the water they feel compelled to write a glowing review.
(On the flip side, when they experience a service from hell, they also feel compelled to write a negative one.)
So offering an excellent service will net you positive reviews and more of them.
2. Ask For Reviews
As evident in the study, most people will leave reviews if you ask them to.
Many business owners simply need to get over the psychological hump of asking for a review after already "asking" for the sale.
If you're providing a great service that provides more value than you receive from customers, you should feel 100% comfortable asking for 1 minute of their time to provide feedback on their experience.
Place reminders around your storefront/office, on your website, and send them an email or text.
You can also ask your social media followers to leave reviews.
Just make sure to spread it out so they don't feel overwhelmed.
3. Engage With People Who Have Already Left Reviews
Most review sites allow you to comment or reply to individual reviews.
Use this opportunity to engage with these people, both positive and negative reviews.
This shows people reading your reviews you care about people's experiences.
This will increase the likelihood of them leaving a review (because they know you care about the feedback) and it will show people the service you provide is a top priority.
With positive reviews, simply say thank you for the review, address any concerns they might have brought up, and communicate you're always working on improving your service.
With negative reviews, it's usually best to acknowledge their concerns, say you will take action on them (only if you are actually going to), and thank them for their honest feedback.
4. Make It Dead Simple to Leave a Review
Many would-be reviewers are repelled from the activity because they see it as cumbersome and inconvenient.
Creating accounts, searching for the business again, and leaving the review sounds like a hassle that isn't worth it.
However, if you make it as easy as possible to leave a review, and you let people know the process is simple, you will convert as many of these would-be reviewers as possible.
A clever review marketing funnel helps make this happen plus a fully optimized Google My Business listing.  Here's a checklist from Moon & Owl Marketing that can help.
Moving Forward
Based on this data and the insights gathered, you know ramping up your Google business reviews is a smart move in 2019, but you need to get started. 
We've gained a lot of experience in the review marketing field, and our local SEO company in Atlanta can set up a review funnel to maximize your positive reviews in no time.