If you are not doing keyword research then your SEO strategy is incomplete.
In this article, I am going to walk you through your keyword research weak or missed points to make you confident with your SEO.
Find out not only how to do effective keyword research but the best tips to use right now.
1. Start with Seed Keywords
Seed keywords are the foundation of your keyword research.
They define your niche and help you identify your competitors.
If you already have a product or business you want to promote online, coming up with seed keywords is as easy as describing the product or service with your own words or brainstorming how other people might search for it.
For example, let's say you're starting a website selling med spa services..
The Google searches (keywords) you would first think of are:
That's a no-brainer, right.
2. "Niche Down" Approach
You can start with a super broad keyword and niche down until you see an interesting opportunity.
For example, you pick "music" as your super broad niche and your keyword explorer tool gives you almost 5 million keyword ideas for the seed keyword.
In order to "niche down," you need to focus on longer and more specific keywords which have the word "music" in them.
So now you will use the "Words" filter to narrow down the huge list of keyword ideas to those with exactly 4 words.
And here's what you should be able to find:
"music making software free" – You could start a review site and cover all the latest releases and updates.
"game of thrones music" – People want to download music they hear in movies, TV series, TV shows, etc. And given that new TV content is released regularly, this could be a fun niche.
"gifts for music lovers" – There are a lot of famous music bands and leading music labels have a ton of merchandise for their fans to buy. Not to mention musical instrument brands like Gibson, Fender, etc. They must have some affordable gift options too.
"music games for kids" – Who would not love to play some fun music games with kids.
These niche ideas are obviously far from perfect but invest a little bit more time and you'll inevitably stumble upon something awesome.
3. Generate Keyword Ideas
The next step is to generate a mammoth list of relevant keyword ideas while also getting a good understanding of what people in your niche are searching for in Google.
There are at least four good ways to do it.
1. See what keywords you already rank for
If you own a website that's been around for awhile, you should already be ranking in Google for a few hundred keywords.
Knowing what they are is a perfect way to kick-start your keyword research.
A good source of this information is a report called "Search Analytics" in Google Search Console: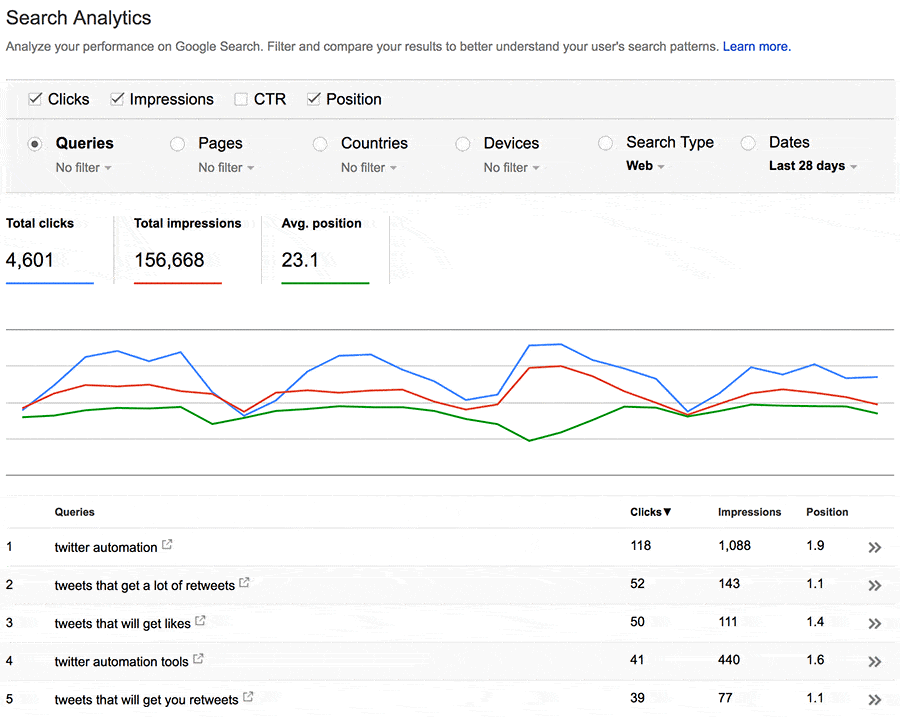 Search Console shows your average position for each of the keywords you rank for and how many impressions and clicks this brings you.
However, they don't show the monthly search volume and you're limited to 1000 keywords only.
Resource: Take the Keyword Research Guide with you and download a PDF instantly!
2. See what keywords your competitors are ranking for
Chances are your competitors have already performed all the tedious keyword research work for you.
So you can research the keywords they rank for and cherry-pick the best ones.
If you don't know who your competitors are, just put your "seed keywords" into Google and see who ranks on the front page.
Let's do this with a seed keyword – "gifts for music lovers."
You will see an interesting website ranking on the front page, uncommongoods.com.
Let's now plug that website in the keyword research tool Ahrefs and browse the keywords it ranks for:

Sometimes even a single competitor can supply you with enough keyword ideas to keep you or your SEO team busy for months.
But if you're hungry for more, you can go to the "Competing domains" report to find more sites like your competitor.
And we've just closed the "competitive research loop":
a. Put your seed keyword into Google and see who ranks on top
b. Plug their site into Ahrefs to see their best keywords
c. Find more relevant websites via the "Competing domains" report
d. Go back to either step 1 or 2 and repeat
The trick to almost unlimited keyword ideas is to repeat this process over and over.
And don't neglect tapping into related industries.
You might discover a lot of great keywords which don't necessarily relate to whatever you're offering but can still bring very targeted visitors to your website.
3. Use keyword research tools
Good competitor research is often enough to fill your spreadsheet with a ton of relevant keyword ideas.
But if you're one of the leaders in your niche, that strategy is not quite feasible for you.
You have to be looking for some unique keywords that none of your competitors are targeting yet.
And the best way to do it is by using a decent keyword research tool.
Luckily, there's no shortage of them on the market:
Most tools will pull their keyword suggestions from the following sources:
scraping keyword ideas directly from Google Keyword Planner

scraping Google auto-suggest

scraping "similar searches" in Google
These methods are great, but they can rarely give you more than a couple hundred suggestions.
For example, UberSuggest shows only 316 keyword ideas for "content marketing."
There are also advanced keyword research tools (Ahrefs, Moz, SEMrush) that operate a keyword database of their own and therefore will give you vastly more keyword ideas.
You can easily go bananas trying to sift through a keyword list of that size, so we have some great filtering options in place:
Keyword difficulty

Search volume

Clicks

Clicks per search

Cost per click

Return rate

Number of words in a keyword

Include/Exclude terms
4. Study your niche well
The aforementioned keyword research strategies are extremely effective and provide an almost unlimited amount of keyword ideas.
But at the same time, they kind of keep you "in the box."
Sometimes, just by studying your niche well (and adding a pinch of common sense), you can discover some great keywords no one in your niche is targeting yet.
Here's how to kickstart "out of the box" thinking:
Get in the shoes of your potential customers: who they are and what bothers them

Talk with your existing customers, get to know them better, study the language they use

Be an active participant in all your niche communities and social networks
For example, if you're selling waterproof headphones, here are some of the "out of the box" keywords you might try targeting:
How to survive a hard swim practice

How to make swim practice go by faster

What do you think about when swimming

Best swimming style for long distance

Reduce water resistance swimming
People searching for these things are not necessarily looking to buy waterproof headphones, but they should be fairly easy to sell to.
4. Understand Keyword Metrics
While executing the aforementioned strategies, you'll find yourself sifting through thousands of keyword ideas and trying to decide which of them deserve to be shortlisted.
To help you separate the wheat from the chaff, there's a bunch of cool keyword metrics to consider.
1. Search volume
This metric shows you the overall search demand of a given keyword, i.e., how many times people around the world (or in a specific country/city) put this keyword into Google.
Most of the keyword research tools pull their search volume numbers from Google Keyword Planner, which was long regarded as a trusted source of this data.
But not anymore.
For the past few years, Google has been consistently taking data away from SEOs.
But this time, we were able to get away with a cool chrome extension workaround – What's My Serp
It shows keyword search volume on for most place you are looking on the internet.
Another thing to always keep in mind is the dynamic nature of search volume.
For example, a keyword like "christmas gifts" will naturally spike around Christmas time while having almost zero search volume during the rest of the year.
To check the search volume trend of a keyword you can use a free tool called Google Trends:

So the search volume is basically an annual average.
And if you're in doubt about the "seasonality" of a keyword, make sure to check the trends.
But there's one problem with search volume.
It doesn't always accurately predict the search traffic.
2. Clicks
Let's take a keyword, "Donald Trump Age," which has a search volume of 246,000 searches per month (according to Google Keyword Planner).
That huge search demand implies you should get a massive amount of traffic if you rank at the top of Google for this keyword.
But let's see what the search results look like: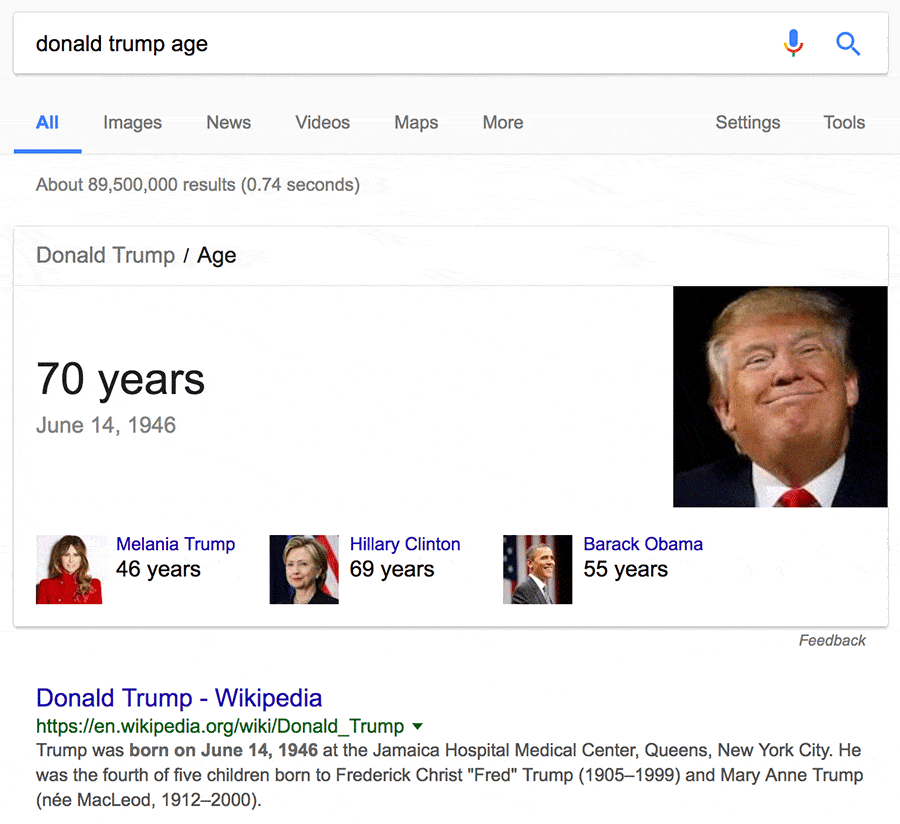 A fair share of Google's real estate is taken by an instant answer to this search query: 70 years.

These "uncommon" search results are known as "SERP features" and there are quite a few different types of them:
Knowledge cards

Featured snippets

Top stories

Local packs

Shopping results

Image packs
Some of them will vastly improve search traffic to your website, but others will steal it away from you.
On the above screenshot from a keyword research tool, you can see 86% of searches for "donald trump age" don't result in any clicks on the search results.
All because searchers are presented with an instant answer via a Knowledge Card.
The clicks metric is totally invaluable in weeding out the search queries with huge search demand but miserable traffic.
We're able to show you how many of the clicks get "stolen" by search ads:
On the above screenshot, you can see that a fair share of clicks for "wireless headphones" go to search ads, while clicks for "best wireless headphones" are almost entirely organic.
3. Traffic potential
Search volume and clicks are great metrics to understand the popularity and traffic of a single keyword.
But the keyword may have a ton of synonyms and related searches, all of which can be targeted with a single page on your website.
An example : The keyword "I'm sorry flowers" doesn't look very promising in terms of search demand or traffic:

The #1 ranking result usually gets no more than 30% of all clicks.
This means you can hope for around 60 visits per month if you rank #1 for the keyword "I'm sorry flowers."
And this is a bit of a discouraging projection, right?
But let's look at how much search traffic the #1 ranking page for "I'm sorry flowers" keyword actually gets:
On the above screenshot, you can see it is attracting almost 300 visitors from Google per month.
That's because it ranks for 48 different keywords and not just the "I'm sorry flowers" keyword alone.
We've been advocating the importance of long-tail keyword traffic for quite a while, but it doesn't hurt to stress it again.
People search for the same things in all sorts of peculiar ways.
So a single page on your website has a potential to rank for hundreds (if not thousands) of related keywords.
So it's time to stop evaluating keywords just by their search volume (or clicks) alone.
You need to look at the top-ranking results and see how much search traffic they get in total.
4. Keyword difficulty
Unquestionably, the best possible way to gauge the ranking difficulty of a keyword is to manually analyze the search results on Google and use your SEO experience (and gut feeling).
But that is something you can't do at scale for thousands of keywords at once.
That's why the keyword difficulty metric is so handy.
Each keyword research tool has their own methods of calculating keyword ranking difficulty score.
The more quality backlinks they have, the harder it would be for you to outrank them.
RECOMMENDATION
High competition is not always a reason to give up on a keyword.
It all comes down to the balance between the business value of the keyword and its ranking difficulty.
Some keywords may be super easy to rank for, but the visitors they bring to your website will never become customers.
So it doesn't make sense to waste your effort there.
On the other hand, some insanely competitive keywords can be the best thing that could happen to your business if you rank for them.
So they're well worth the investment (and wait).
5. Cost per Click
This metric is most important for advertisers rather than SEOs.
However, many SEO professionals treat CPC as an indication of keywords' commercial intent (which actually makes a lot of sense).
One important thing to know about Cost Per Click is it is much more volatile than organic search volume.
While organic search demand for a keyword fluctuates on a monthly basis, its CPC can change pretty much any minute.
Therefore, the CPC values you see in third-party keyword research tools are nothing but a snapshot of a certain timeframe.
If you want to get the actual data, you have to use Google Ads.
5. Group Your List of Keywords
So you've generated a ton of promising keyword ideas and used the aforementioned metrics to identify the very best ones.
Now it's time to bring some structure to your list.
1. Group by "parent topic"
The days of targeting one keyword with one page are long gone.
Now SEO professionals and business owners are facing a brand new struggle:
Should I target a bunch of relevant topics with one page or create a separate page for each set of keywords?
We know one page can rank for hundreds (if not thousands) of relevant keywords.
But how much is too much?
And how do you know which keywords fit your topic and which don't?
For example, the main keyword of this article below is (obviously) "keyword research."
And you want to know what other relevant keywords you can also rank for along with it.
So you take the #1 ranking page for "keyword research," put it into a Site Explorer and sift through the keywords it ranks for: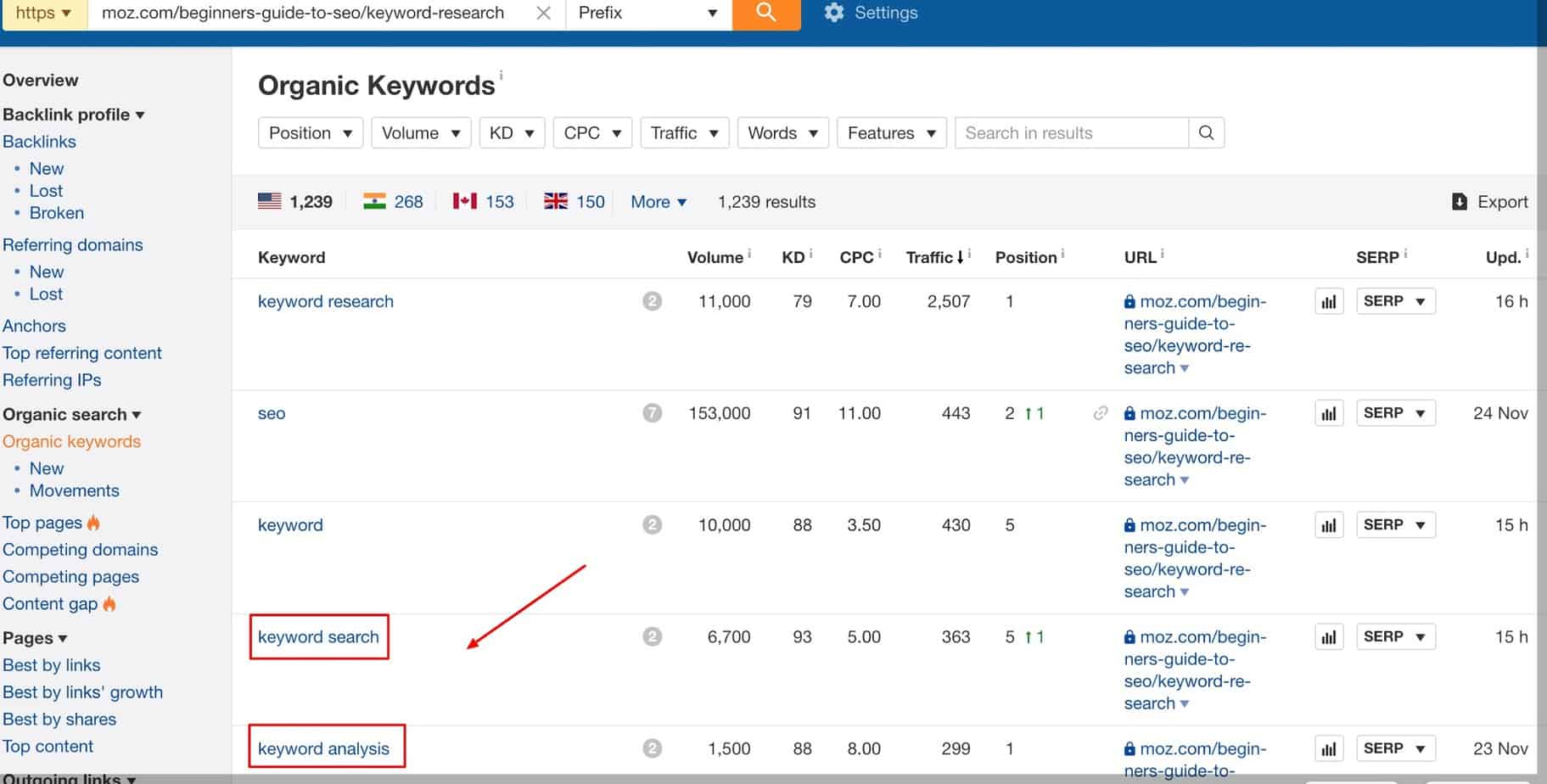 And in an instant, you will see two decent keywords:
keyword analysis – 1,400
keyword search – 6,200
This means you don't need to create separate pages to target each of these keywords (though maybe they actually deserve it), but try to rank for them with this single post.
So that's the very first step in bringing some structure to your random list of keywords.
You need to find which keywords are semantically and contextually related and group them under a "parent topic" to target with a single page.
SIDENOTE: "parent topic" is the highest volume keyword that a page ranks for.
2. Group by intent
So you have grouped semantically related keywords by "parent topic" and mapped them to different pages of your website.
The next step is to group these "pages" by the so-called "searchers' intent."
Behind every search query people put into Google, there's a certain (and oftentimes very specific) expectation.
Your goal is to decipher this expectation upfront, so you could build a page to perfectly match it.
This could be quite challenging at times.
Let's take a keyword, "roses," for example.
What's the searchers' intent behind it?
Most likely it's one of these two:
See some pictures of roses

Learn more about the flower
The best ways of deciphering intent behind the search query is to Google it and see what comes up first.
Google is getting better and better in identifying the intent behind each search query, so the search results usually talk for themselves.
The SERP above serves both these intents with an image strip, followed by a Wikipedia link.
But then you get Guns'N'Roses Twitter profile. What are they doing in the search results for the keyword "roses"?
Well, it looks like Google has identified that it's what people looking for the keyword "roses" want to see.
Once you figure the intent behind your keywords, you might want to map it to the stage of the sales cycle that it represents:
Unaware

Problem aware

Solution aware

Product aware

Fully aware
The bullet points above are just one of the many ways different marketers map out the so-called "Buyers' Journey."
Here's an alternative look at it:
Source: customerjourneymarketer.com
Whether you want to map your keywords to any of the existing models or come up with your very own one is entirely up to you.
For example, Everett Sizemore from GoInflow.com suggests mapping keywords/topics to user personas.
Stick with whatever makes the most sense for you.
3. Group by business value
This grouping is actually closely related to grouping by intent.
But this time, you need to figure out which intent drives the best Return on Investment (ROI) for your business.
If you're mainly looking for traffic and brand awareness, you might focus on keywords that will bring tons of visitors but won't necessarily convert into leads or sales.
That's what HubSpot does with content on their blog.
Take a look at their top-performing articles:
There are tons of people looking for "how to make a gif" and HubSpot is generating almost 100k visitors from this single article alone.
If you have an unlimited marketing budget, you can fire all cannons at once.
But most businesses can't afford this luxury so they have to think about which keywords will drive their business metrics and which ones will only drive their vanity metrics.
Don't ignore good keywords just because they don't have commercial value.
For example, other than bringing tons of traffic to the HubSpot blog, the article on "how to make a gif" also attracts a ton of backlinks.
6. Prioritize
Prioritization is not really the "final step" in your keyword research process, but rather something you do naturally as you move through the prior steps.
While you're generating keyword ideas, analyzing their metrics, and grouping them, you should be noting the following things:
What is the estimated traffic potential of this keyword (group)?

How tough is the competition?

What would it take to rank for it?

How many resources should be invested in building a competitive page and promoting it well?

What's the ROI of the traffic? Does it only bring brand awareness or actually convert into leads and sales?
You can go as far as adding dedicated columns in your keyword research spreadsheet to give scores to each keyword idea.
Then, based on these scores, it should be fairly easy to pick the "low hanging fruit" with the best ROI.
Always remember, it's not the "easiest to rank for" keywords you should be looking for.
It's the ones with the best ROI.
Conclusion:
There's obviously more to keyword research than everything we discussed, but this is a simple process which can be universally applicable to any website or industry.  Good luck and let me know if you have questions in the comments below.