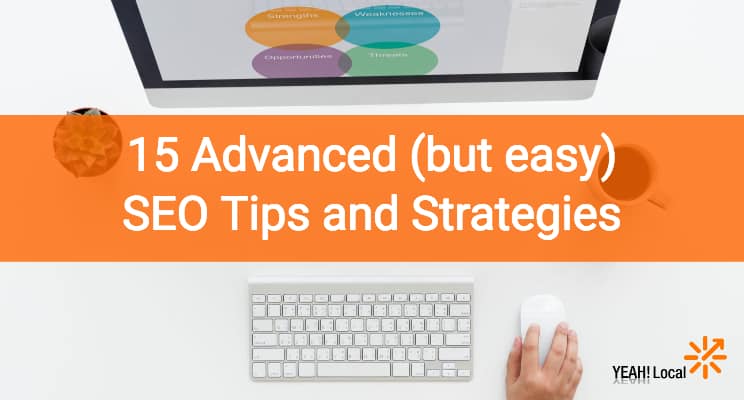 The below is chapter 2 in my new book "The Ultimate, No Fluff, Take You by the Hand, Step by Step Guide to Dominate With SEO" which you can download here: https://yeah-local.com/seo-book/
Based on WordPress data, there are 1.59 million blogs published every day.
That's only WordPress. 
It's estimated there are 2.5 – 3 million articles published every day.
If you're a business owner looking to rank on the first page of Google, we've got you covered.
1. Mobile Friendliness is Paramount
Mobile internet usage surpassed desktop usage for the first time in history in 2017 and the trend is only going to get stronger.
Google understands how important the mobile experience is to its users and harshly penalizes websites which offer an underwhelming mobile performance.
When creating your website, be sure to optimize for mobile, removing items which might slow a mobile load time down and also updating your web page's design and layout so that it offers a smooth and speedy mobile experience.
Mobile SEO Actionable Tip
Run your website through a Google Speed test and learn two things – your site's speed and mobile score. Both numbers range 0 – 100, with higher scores being better.
2. Write About One Topic First
For many industries/businesses, writing about one specific topic will showcase your company as an authoritative, professional voice in your industry, and Google loves authority.
When starting a blog, we suggest focusing on one niche topic and making 80% of your initial posts about that specific subject.
For example, say you are a home restoration company.
Instead of making your first handful of blogs about all different topics like one post about drywall, one post about patio restoration, one post about flood damage repair, and one post about home painting choose just one.
Write everything on "home painting" and make almost all of your initial blogs about that topic.
Posts might include: How to Paint the Interior of Your Home, What Are the Best Brands of Paint for the Exterior of My Home, How to Correctly Mix Paint, etc..
Focusing on one specific topic will help present you as an expert in that particular niche.
You will be more likely to begin ranking for a multitude of keywords regarding your niche topic and invite an audience of users looking for more in-depth expertise on your subject of choice.
3. Learn Important Keyword Metrics
Search volume – Average number searches each month

Clicks per search – How many average clicks per search

Keyword difficulty – A score of 0 to 100 with higher scores being harder to rank for.
Try to find out what these metrics mean for your business.
4. Inbound Link Anchor Cloud
Within Ahrefs and Google Search Console you are given access to your Inbound Link Anchor Cloud. It shows the popularity of different anchor text phrases based on the number of backlinks pointing to your site.
Here's an anchor cloud for one of the properties which reviews headphones: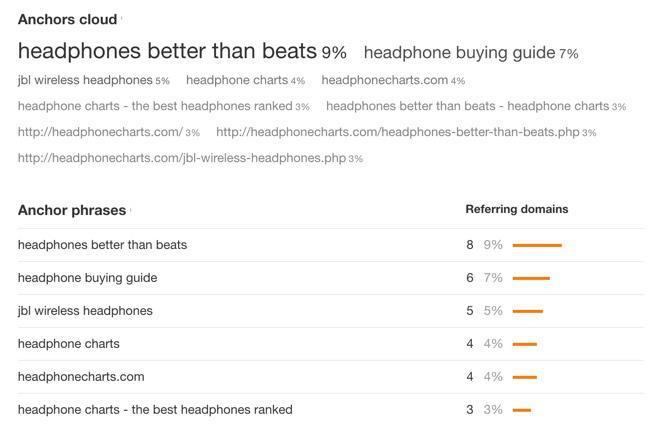 Based on this example, you can recognize 9% of their backlinks contain the anchor text "headphones better than beats".
This makes sense because they have a popular post on Headphone Charts literally called Headphones Better than Beats.
A post they put a fair amount of time into and some effort link building for it.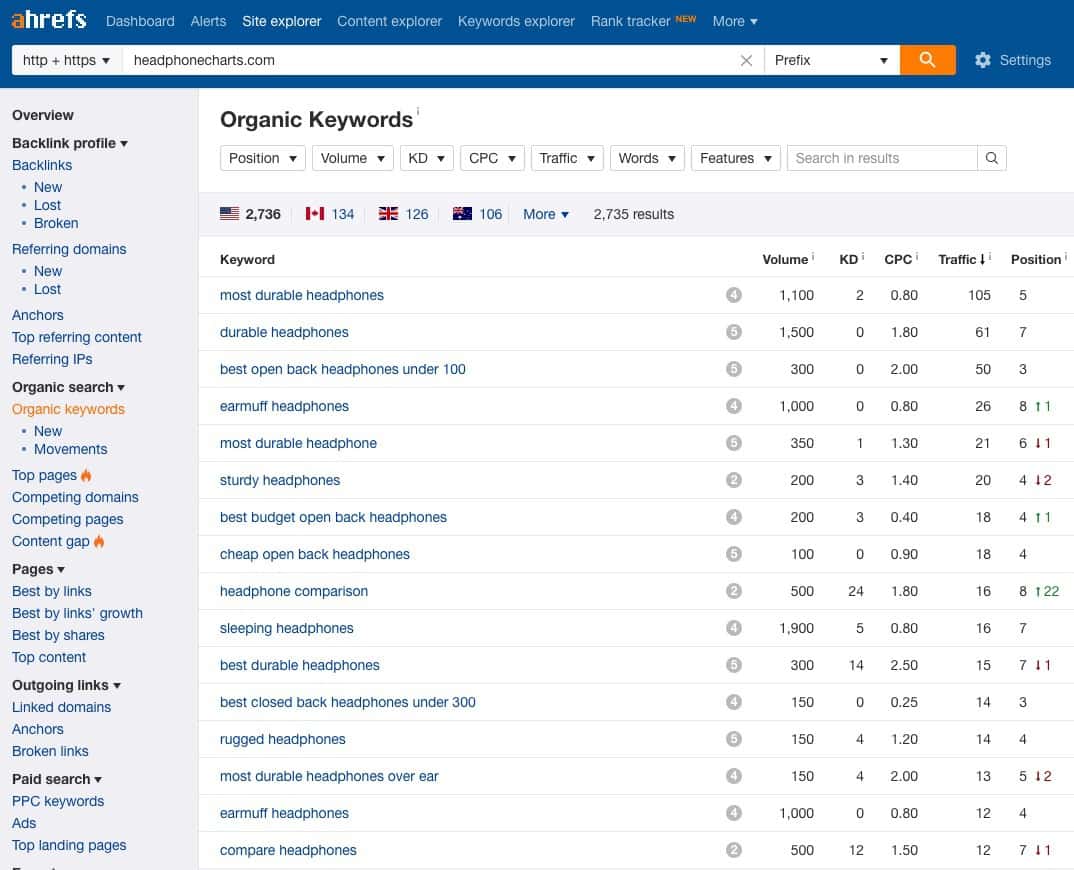 When you view your anchor cloud and notice a lot of your anchor keywords are irrelevant or not the types of keywords you want from prospective customers, you will need to make updates to your website link portfolio to rectify it.
Including creating content containing the keywords you want to rank for and then be sure to build strong relevant backlinks by sharing your new content on other high authority websites.
5. Focus on White-Hat SEO
An outdated and short-sighted black-hat link building technique focuses on spending money to buy backlinks from shady websites trying to sell "easy SEO" solutions.
These are companies who would rather just spend money in exchange for improved Google rankings than spend the time and energy to utilize REAL SEO solutions.
The problem with this strategy is Google is getting very adept at knowing the difference between high quality relevant organic backlinks and low-quality irrelevant ones.
This makes paid-for links not only useless, but they can absolutely get your site penalized by Google and cause your site to sink like a stone within Google search results.
6. Use SEO Software Starting Day 1
If you're going to put in all of the hard work needed to create a high-quality website, it is mission critical you begin monitoring your site with advanced analytics starting on Day 1.
Free SEO Tools:
Google Analytics

Google Webmaster Tools

Google Optimize – A/B Testing (just released last year)

Screaming Frog – Ugly interface, but great on-page SEO audit tool
Paid SEO Tools

:
Ahrefs (our most used tool at YEAH! Local)

SEM Rush

Moz

Majestic

Screaming Frog (Paid account allows you to crawl more than 500 pages)
7. Diagnose and Eliminate Technical On-Site Issues
Most webmasters are often ignorant of the many issues their website has in regard to how effectively they can be crawled by Google's spiders.
Designing and coding your website without an emphasis on SEO can leave your site in a vulnerable position, as there is plenty of competition within your industry that has an SEO understanding and has already eliminated the majority of their on-page web issues.
This makes them appear more authoritative in the eyes of Google.
NEW BOOK: The Ultimate, No Fluff, Take You by the Hand, Step by Step  Guide to Dominate with SEO  >> Download it FREE
A few examples of issues your site might have (and often can be easily fixed)
Pages with missing meta titles/descriptions

Images missing an alt-text attribute

Pages with broken links (both internal and external)

Pages with titles which are too long

Multiple pages with duplicate meta information

Pages missing language declarations
8. SEO is Constantly Evolving, Keep Up
Our lives as SEOs would be much easier if we believed we could continually offer the exact same services to our clients all the time, forever.
However, this is incredibly naive and short-sighted of us to assume we can continue to always do the exact same things and expect the exact same results.
As we touched on in our introduction, Google regularly updates their internal algorithms to create better experiences for their users.
It is up to SEO experts to learn about and understand these changes and know how to implement new services and techniques in compliance.
9. Build Links from Websites with Relevant Content
One of the best ways to bolster your site's credibility is to focus your link building efforts on sites which produce high-quality content relevant to your site's industry.
We cannot stress enough that this process is not easy, and sadly, there is no magic technique which will automate it.
You have to sit down and do the hard work of finding backlink opportunities and physically reach out to the site's administrators in hopes of creating relationships which might yield future backlinks.
10. Optimize Your Page Titles
When you enter a search into Google you will see each search result shows a title for the link (in blue text) and a short description of the page directly beneath it.
The blue title text is officially known as your Meta Title and it is vitally important you do a good job of optimizing these titles.
Titles over 70 characters will not be fully shown in search results, and it comes off as quite unprofessional to users who can't view the whole title.
11. Create Easy to Read/Understand URLs
One mistake we see many companies/people make unwittingly is creating pages with really long URLs.
This is often an issue we see on WordPress sites (though they are certainly not limited to WP sites) because many websites offer a default setting where the URL slug is automatically generated by duplicating the page's title.
Google likes and suggests a simple URL structure. From Google's content guidelines: "Whenever possible, shorten URLs by trimming unnecessary parameters." – Google content considerations
12. Become an Early Adopter
This isn't just an SEO tip. This is a LIFE TIP for anyone in business.
Always immerse yourself in the latest news regarding your industry and be on the lookout for anything new.
This can be new products, new techniques, new technologies, and write about them as soon as you feel confident you have something valuable to add to the conversation.
Early Adopter SEO Actionable Tip
Use Google Trends to see what and when people search for keywords. You can even look at keywords over a 5 year period to see growth or negative search trends.
It's not only great for keywords you are interested in but also showing you what trends the world cares about in real time. Great way to find topics in your market which are trending.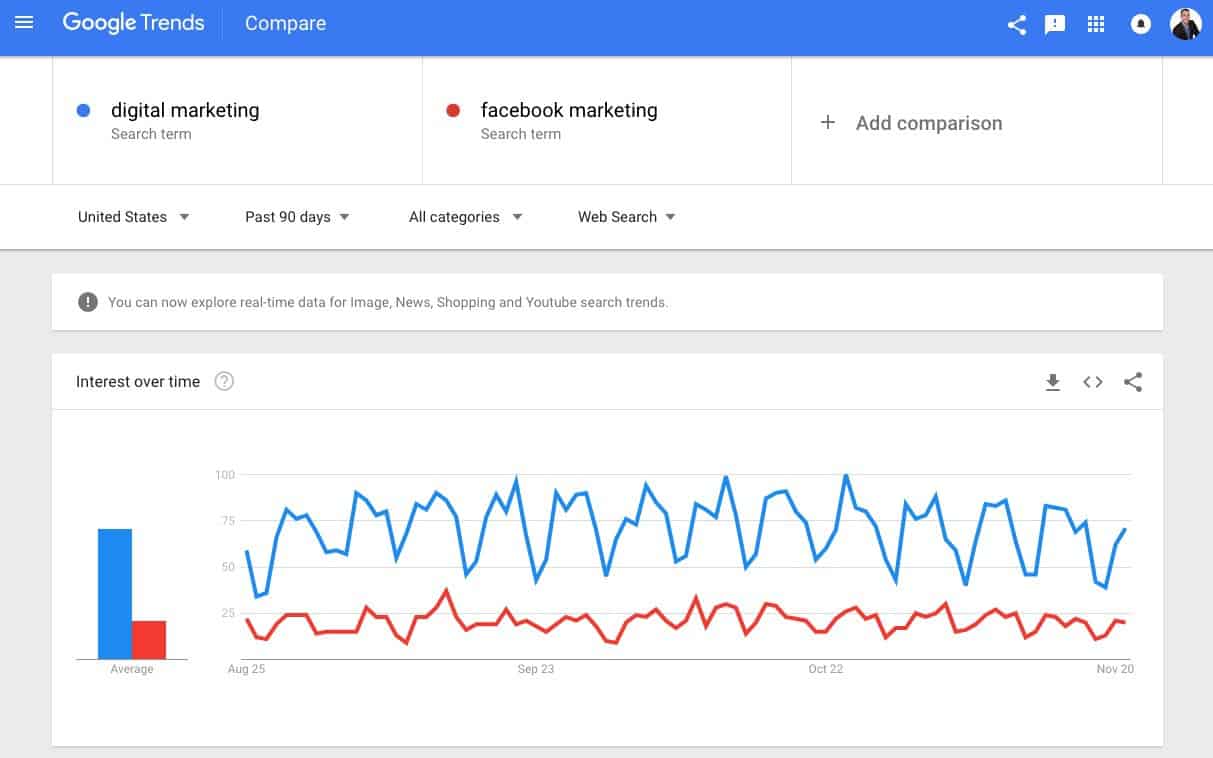 13. Focus on Referring Domains, Not Just Links
When creating backlinks, it is not only important to build as many as you can from high-quality sources, it is also important to show Google your website is well-balanced with regard to its backlink profile.
Remember, there are many other link types than simply dot-coms — there's .com, .org, .net, .gov, .edu, and many more.
These are the main ones and are referred to as generic top-level domains (TLDs). Your TLD profile is taken into consideration by Google as they score your website and sites that are well balanced are generally well-received.
For example, a website which features 5 .com backlinks, 5 .org, 5 .gov, and 5 .edu within its backlink profile will look authoritative to Google.
This website will probably rank higher than a similar website that has 20 .com backlinks.
The second website in the example may have the same overall backlink total, but they are not nearly as well balanced as the first website.
50 links from one domain have less SEO value than 3 links from 10 different referring domains (total 30 links from 10 referring domains). This is a super overlooked SEO tip!
14. Don't Forget About Geo-targeting
Geo-targeting is a useful tactic if you own (or represent) a local business, particularly one with a real storefront.
In today's mobile age, people are constantly searching for businesses on their smartphones near where they are at that given moment.
Websites which clearly state their geographic location have an advantage of being listed in local searches over those which do not.
Including your business' location clearly and consistently formatted within your web content will help Google understand where you are located.
[thrive_leads id='3631′]
15. Structured Data aka Schema Markup
Schema Markup is a powerful tactic to make your Google search results appear more professional and eye-catching than your competition.
Schema Markup is code you can add to your site which helps search engines return more informative results.
Check out this example…When you search for "Stonewood Grill Menu", you are presented with this as your first result: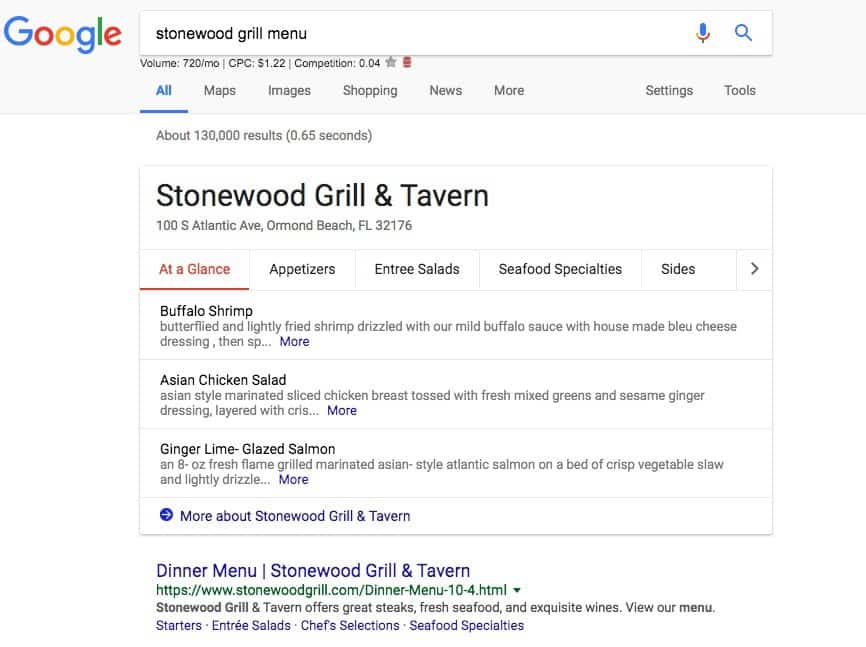 The benefit is when Stonewood Grill updates the menu on their website the changes will also be displayed in the above SERP (The image above).
This is cost effective since the menu is maintained in one place online.
It is also a better experience for the user who wants to just dive into the menu.
Conclusion:
Ultimately, SEO is rapidly changing from one year to the next—even from one month to the next.
Business owners and marketers have to adapt quickly, but it's still possible to give your business website the edge on your competition.
Just remember to focus on solid content creation and copywriting fundamentals, engage your viewers deeply, and stay aware of technical trends like backlinks, SEO health, site speed, and schema.
NEW BOOK: The Ultimate, No Fluff, Take You by the Hand, Step by Step  Guide to Dominate with SEO  >> Download it FREE