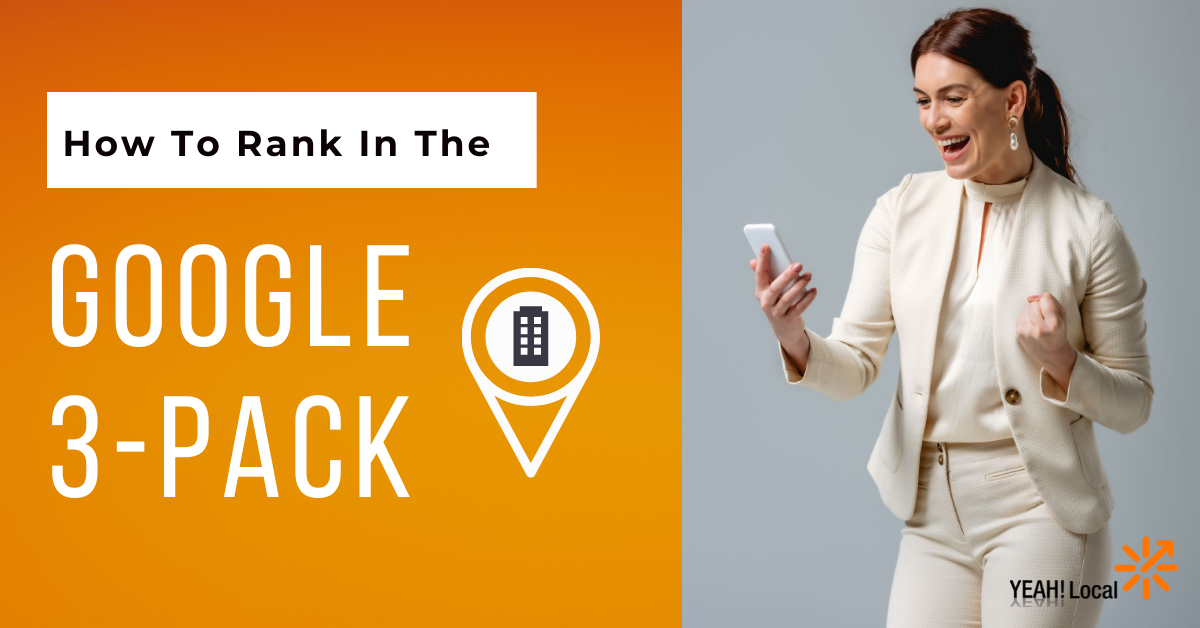 Introduction
As a business owner, you know the importance of being listed in the Google 3-pack. The 3-pack is one of, if not the, most important online directory your business could be listed in. Like any other kind of advertising or promotion you do online, it is not enough to simply create a listing and leave it untouched.
Not every business ranks in the Google 3-pack, as the search engine giant only chooses the most relevant listings to display. To make sure that yours is one of them, you need to know what the best practices are when using it, and then put those practices into action.
Fortunately, all the information you need to know about how to rank in the Google 3-pack is all right here in this article.
Claim Your Google Business Profile Listing
Sometimes, the most obvious thing to do is the right thing to do, and that holds true with Google Business Profile too. You simply can't do anything to make your listing better and boost it into the 3-pack without first claiming your listing. However, there is another important reason to claim your GBP listing.
Google wants its online directory, GBP, to be more successful than any other. As such, they want to have as many business listings as possible, and they want those listings to be complete and accurate.
To obtain more listings, Google scours the Internet looking for information on businesses to add to listings. Even if you don't claim your listing, Google will create one for you. Despite the search engine's best efforts, that listing may not be entirely accurate, which will hurt your business.
It's important to claim your GBP listing so that you can make sure all of the information contained within it is accurate. Additionally, even if you don't claim your listing, users can still leave reviews, ask questions, and even upload pictures to it. Without claiming your listing, you won't know when it has been active, so you won't be able to respond to it.
Claiming your listing will allow you to control it better and it's the only way to have any chance of appearing in the 3-pack.
Verify Your Google Business Profile
Part of claiming your Google Business Profile listing is verifying it. Again, Google wants to make sure GBP is a complete listing that provides users with accurate information. As such, they want to make sure that your business is legitimate and that the information you provided is true. Part of doing this is by asking you to verify your business.
You can verify your business in a number of ways, including text messages, emails, phone calls, postcards, and video verifications. Still, it can take anywhere between five and ten days to verify your listing, and you cannot fully manage it until it has been verified. Due to this, you should verify your listing as soon as you have a telephone number for your business.
Many business owners created their GBP listing some time ago, and can't remember if they verified their listing at the time they created it or not. Some also handed over the task to an employee or third party and so they aren't sure whether verification ever happened.
You can check whether your listing has been verified right within the dashboard of your listing. If your listing is not verified, you will see a notification asking you to verify. If you don't see this notification, your business has already been verified and you don't have to take this step again.
Optimize Your Google Business Profile Listing
The businesses listed in the Google 3-pack are taken from Google Business Profile, one of the largest online directories there is. To make your listing in GBP stand out to the search engine, you must optimize it.
Optimizing your listing really just means to make sure the information is accurate, and that it is consistent with other online directories. Your profile should include information about your business, including your hours, location, videos, photos, maps, menus, and links to your social media profiles.
  A few tips that can help you optimize this information are as follows:
Use keywords and key phrases in the Description and Title section of your profile.
Choose keywords and key phrases that line up with your website content, as users will search the same terms.
Make your listing more appealing by including photos and videos.
Encourage others to leave ratings, reviews, and other helpful details about your businesses and the products and services you provide.
Use an online tool such as Surfer Local to audit your Google Business Profile every so often.
Research the Right Keywords to Use
To ensure you rank in the Google 3-pack, and that you attract new customers, you must choose the right keywords to use in your local listing. Unfortunately, this is not a task that can be completed quickly. Choosing the right keywords and key phrases involves a lot of brainstorming. You can start by using a Keyword Planner such as the one available from Google. 
You can also determine which keywords to use by reviewing your competitor's website and checking what keywords they are using. Use these keywords any time you post to Google Business Profile or when you add an image or video. You don't want to stuff your listing with keywords and phrases, but you also want to make sure that they are present enough that they will get picked up by Google.
Use a Local Phone Number
It is not uncommon for local businesses to use a toll-free number, particularly if they conduct business out of state or internationally. Even if you have a toll-free number, though, you should only include a local contact number within your Google Business Profile listing.
A local number will have a very specific area code that is another indication where you are located. This will confirm with Google that your business is at a certain location, building trust and authority with the search engine, which could increase your chances of appearing in the Google 3-pack.
Add Local Business Schema Markup
Of course, you likely know that you should include your NAP on your website. After all, this is the only way to let customers know where and how to find you. However, when you include your NAP on your business' website, you should also wrap it in a schema markup. A schema markup is essential a type of language that is part of a protocol adopted by not only Google, but also Bing and Yahoo. 
The purpose of schema is to make it easier for the search engines to determine databases within certain web pages. Once you have wrapped your NAP in schema, you send a signal to Google that is of much higher quality that shows the superiority of your website's relevance and authority of the location, which can also help you get into the Google 3-pack.
Optimize Your Website Pages
You may not see a direct link between your online listing and your website, but one does exist and it is strong. You likely have at least one link to your website within your Google Business Profile listing. Google also wants to make sure users are only being sent to websites that provide useful information and that will be helpful to them.
As such, Google will consider the content on your website when choosing businesses to display in the Google 3-pack. To ensure yours makes the cut, it is critical that you optimize your website pages.
Optimizing the pages on your website means creating content that is easily indexable, readable, and user-friendly. This requires a combination of making sure your website is technically sound and developing a content strategy that includes keywords, key phrases, and other metadata. Including headings and sub-headings, lists, bullet points, and answering frequently asked questions are a few ways to optimize your website pages.
Some other tips to keep in mind include:
Do not stuff too many keywords into your content. Google will see this as spam and will penalize your listing rather than reward it by ranking it in the 3-pack.
Conduct SEO audits periodically so you can identify areas that need improvement.
Make sure your URLs also include keywords and key phrases.
Link content to other pages of your own website and use keywords to link the two.
Have a responsive website, which means having a mobile version that is easy to view using a smartphone.
Optimize your content using an online tool such as Moz Pro.
Get More Reviews for Your Business
Reviews are crucial for any business. Users trust reviews almost as much as they trust a personal recommendation from a friend or family member. The majority of consumers will also search for the reviews of a product, service, or business before they make a purchase. Due to this, the number of reviews you have in your Google Business Profile, the better your chances are of ranking higher in the 3-pack.
There are many different ways to garner more reviews for your business. These include:
Send an email or text to any customer who makes a purchase and politely ask them for a review.
Use an online tool to send emails to all of your customers, or a specific group of customers, and ask them to submit a review.
Check other sites such as Facebook and Twitter for potential reviews of your business. If a customer wrote something that could be considered a review, ask them if you can use it, or if they can repost it to your Google Business Profile.
Respond to any user that leaves a positive review, thanking them for it and stating that you are happy that your company could help with their needs.
Respond to any user that leaves a negative review. Ask how you can help correct the situation, and reiterate that you apologize for their unsatisfactory experience.
Reward customers who leave a review by sending a ten percent off coupon or other discount after you receive the review. You don't even have to tell them about the promotion. The surprise will only add to their experience.
Even if you don't want to provide a discount or other incentive to people who leave a review, send a thank you note. This will go a long way in making customers feel appreciated, and may garner you even more reviews.
Collect Backlinks
A backlink is a link to your website from another outside page. Every time someone else places a link to your website on their own, Google considers it a "vote" for your website. The more backlinks, or votes, you have the better your chances are of appearing in the Google 3-pack. You may not think it is possible to earn a significant number of backlinks, but that is not true. There are several ways to do it.
One way is to partner with people within the community or your industry and agree to link to each other on your website. For example, if you are a restaurant owner, you may use a bakery in the neighborhood for the bread you use in your sandwiches. You could include a link to the bakery on your website and in exchange, they could place a link to your restaurant on their site.
You can also contact local influencers in your community. Offer them something in return for linking to you on their own website. For example, if you run a woman's clothing store, you could reach out to a prominent influencer in your community and offer them a certain number of outfits for linking to your website. You'll see increased business from the influencer's mention, and you'll also increase your chances of appearing in the Google 3-pack.
Like any type of link used online, backlinks are only useful when they are working. It is very time-consuming to regularly visit the websites that mention you just to see if the backlink is still working. An online tool such as Monitor Backlinks can take over the task and ensure all backlinks are in working order, while freeing up your time to run your business. Also make sure that only quality websites have backlinks to your pages. To do this, you can check their domain authority by using a tool such as DA Checker.
Check to Determine if Your Business is Outside of a Major City
It's not uncommon for business owners to say that they are located in the nearest major city when they are actually located in a suburb or other rural area. For example, a restaurant owner in Long Grove, Illinois may tell people they are located in Chicago because it is an easy way to give an approximate location. Approximate locations are not good enough in Google Business Profile, though, particularly if you are using your location as a keyword.
Using the same restaurant owner example, the business owner may use "Chicago pizza" and "Chicago restaurant" as keywords. This information will not match with the location in Long Grove found by Google and so, the conflicting information can negatively impact a listing's ranking.
If you still want to reach people in a nearby city, there are some things you can do. Of course, the most impactful step would be to move the business to the desired city, but this is not always a viable option for everyone. If moving is not a possibility, implement a strategy to earn backlinks with anchor text that mentions the name of the desired city. You can also optimize your website and use internal links to make it clear to Google that your business has a presence in that city.
Make Sure Your Website is Secure
Today, the privacy of online users is important for everyone. Google places a very high priority on privacy and so, they will only rank your business high in the 3-pack if your website is secure. To secure your website, you must purchase a security certificate, which are very affordable.
To determine if your website is already secure, look at the URL of your website. If it starts with "HTTP" and not "HTTPS," it means your website is not secure and you should contact your web host or your marketing consultant to ensure that you have one.
Verify Your Page Speed
One aspect Google takes into consideration when determining the best businesses to list in the 3-pack is the speed of a company's website. Users will click on the link to the website once they find the online listing.
If the page takes more than just a few second to load, users will leave and go to one of your competitors. You can use a website such as WebPageTest to determine the speed of your site.
Create Posts in Google Business Profile Listing
Within Google Business Profile, you can create your own posts, and doing so is a great way to help you rank in the Google 3-pack. When creating your posts, remember to use your keywords and key phrases without using them so much the post will be considered spam. Using the keywords and phrases appropriately will help users find your listing when they are searching for your product, service, or business.
You don't need to post the same type of content over and over and in fact, you shouldn't adopt this strategy. Instead, mix things up by creating blog posts, vlog posts, checklists, and FAQs to keep the content interesting. Ideally, you should create a new post in GBP at least once a month but ideally, strive for once a week.
Include Photos in Your Listing
Internet users today are a visual bunch and the majority of them would much rather see pictures and videos than read long pages of text. To make your listing more engaging, and therefore helping it rank in the 3-pack, it is important that you add photos.
Displaying pictures of your business, staff members, events, and more tells the story of your business, which will build trust among new and potential customers. When you include these photos, it tells Google that you are detail-oriented and that your listing is helpful, which can boost it into those coveted top three spots.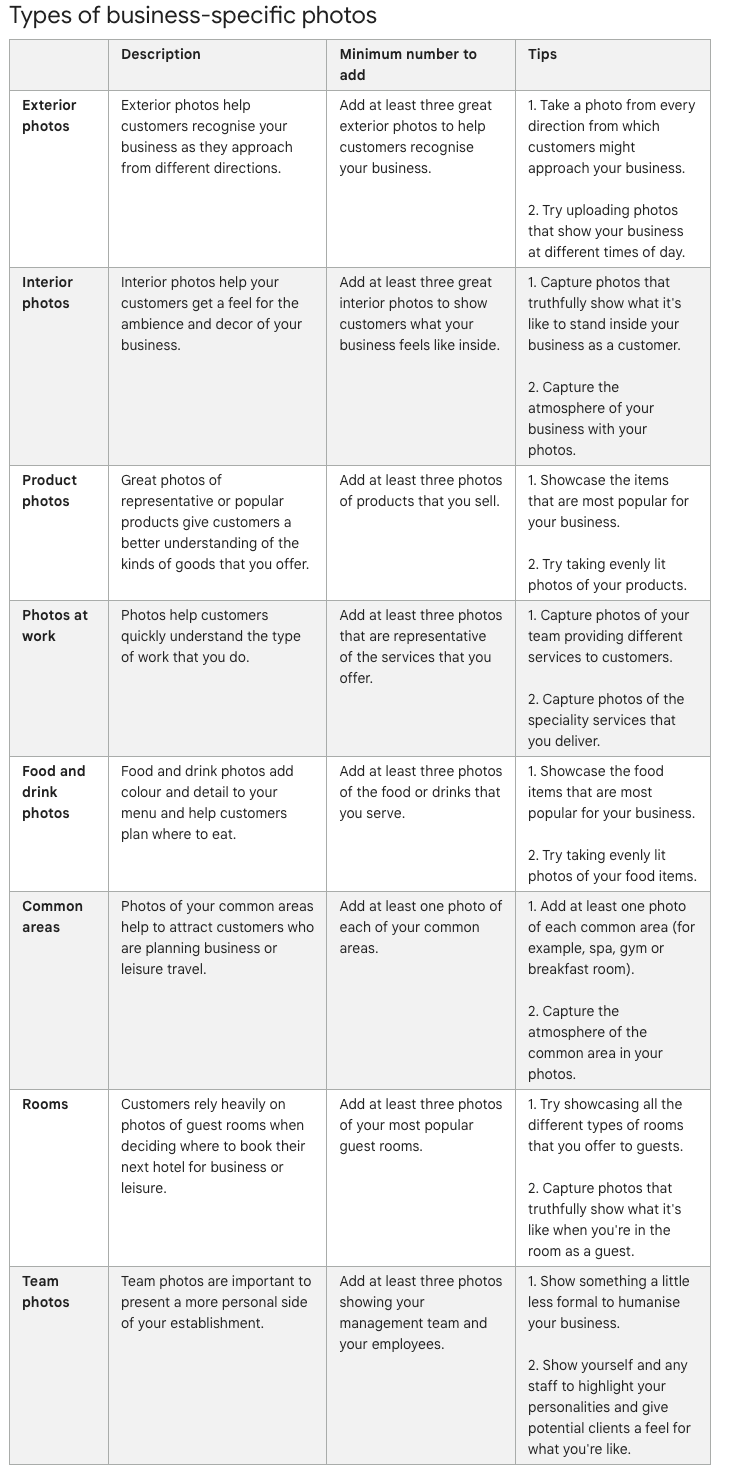 When adding photos to your listing, include as many as possible and be as creative as you can. You won't be able to add tags or titles to the pictures, but the artificial intelligence Google uses to identify pictures today will still take note of what's being added to the listing.
To boost the local aspect of your listing and make it more relevant to customers, make sure your photos are geotagged. You can do this through the camera or smartphone settings. You can also start your stock of photos in your listing by searching online for any pictures of your business and repurposing them for your listing.
Answer Every Question as Quickly as Possible
Within your GBP listing, users have the opportunity to ask you questions about your product, service, or business. A great way to show that your listing is worthy of the 3-pack is to reply to these questions as soon as possible. Replying with an answer not only tells the consumer that you care about them and want to help, but it also shows Google that you are engaged and that you keep your listing current.
Those factors can help you get into the 3-pack. Any time a user asks a question, you will receive a notice in your Gmail account, which you must have to create a Google Business Profile listing.
It is important to note that some business owners use the tactic of getting friends and family members, or even hiring third parties, to post questions for them. Google has no way of knowing where questions are coming from, or your relationship to the person asking it. However, the practice is still discouraged.
There are many tricky or even deceptive tactics used when marketing businesses online but business owners are typically penalized for them at some point. Having people post phony questions to your listing could be a slippery slope.
Monitor and Review Your Listing Regularly
You may be tempted to simply create a Google Business Profile listing and leave it there as a passive marketing tool. Unfortunately, that doesn't work. Your listing in GBP is only effective if it is complete and contains accurate information. Any change in your company will likely mean that your listing should also be updated, too.
For example, it is not uncommon for businesses to move from one location to another. You may make the move, but neglect to change your address in GBP. This is extremely detrimental to your business. If Google learns of the move, either through citations, reviews, or another manner, it will negatively impact the ranking for your listing. Not only will it make it harder for you to make it into the 3-pack, but it could also be enough to drop you out of the top spots. Of course, if customers can't find you, that will also have a negative impact on your business.
To ensure that your GBP listing is always accurate, it is important to review it regularly. This is the only way to ensure that all of the information within it is accurate so you have the best chance of making it into the 3-pack.
Use the Google Map on Your Website
One of the best ways to rank in the Google 3-pack is to insert the Google map showing your location on your website. When you place the map provided by Google Maps on your website, it confirms that you are located in the location listed in your Google Business Profile listing.
Fortunately, it's easy to place the Google Map on your website. Using Google, search for your businesses name. Because you are being so specific in your search and using the exact name and location, your business should be first, or one of the first, results returned to you. Click on the name within GBP and the listing will expand to show more information about the business.
In that expanded listing, you will see a "Share" icon. Click on the "Share" icon and a popup box will appear displaying a link. You will also see a line that says "Copy link." Click on that and the link to the Map will be copied. Then you can simply paste the link onto the "Contact" page of your website.
Regularly Check Your Ranking
It may seem as though your page ranking is a huge mystery and that you can put in all the work to increase it without really ever knowing if it's working. That is not the case. You can, and should, regularly check your ranking so you are working off the same information that Google is. If your ranking is too low, or it drops suddenly, you can then take immediate steps to increase it.
Start by using a free page ranker tool such as Sitechecker or SmallSEOTools. All you have to do is enter your website's URL and your ranking will be returned to you. If your ranking is lower than you'd like, there are several steps you can take to try and increase it. These include:
Ask owners of authoritative websites about a possible link exchange, where you each place a link on each other's website.
Review your listing in Google Business Profile to make sure it is complete and accurate.
Create a strong online presence while also collecting citations and reviews by creating listings in some of the biggest online directories, such as Yelp, Bing, and Apple Maps.
Keep Up to Date with Algorithm Changes
Google's algorithm is essentially a formula the search engine uses when ranking websites and listings within Google Business Profile. The exact details of the algorithm are largely a mystery, but it changes all the time and different requirements are placed on content, websites, and listings. For example, one of the updates to Google's algorithm focused on mobility while another placed a bigger priority on the security of websites.
It is important to stay up to date with any changes to Google's algorithm, as this will signify whether you need to make any improvements to your website or your listing. If you find that your ranking has suddenly dropped, or it's just not as high as you would like, you can run a search for "Google algorithms." If there has been a recent update, the results will be returned to you right away and you can start researching the specific update to determine if you are in compliance with it.
Conclusion
Clearly, creating a Google Business Profile listing and making sure it continues to rank high in the 3-pack is no easy feat. It is necessary, though, to make sure that customers can find you and your business.
Fortunately, you don't have to do all the work yourself. Reach out to a marketing consultant who will make it their full-time job to ensure your listing is as optimized as possible, and who will have the necessary skill and experience to make sure you comply with the many different guidelines.